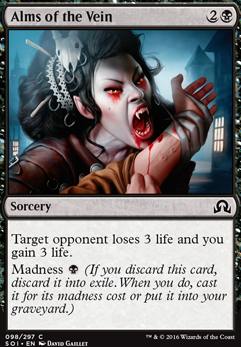 Legality
| | |
| --- | --- |
| Format | Legality |
| Pre-release | Legal |
| Magic Duels | Legal |
| Heirloom | Legal |
| Canadian Highlander | Legal |
| Vintage | Legal |
| Modern | Legal |
| Penny Dreadful | Legal |
| Block Constructed | Legal |
| Casual | Legal |
| Pauper EDH | Legal |
| Leviathan | Legal |
| Legacy | Legal |
| Frontier | Legal |
| Duel Commander | Legal |
| Unformat | Legal |
| Pauper | Legal |
| Commander / EDH | Legal |
Related Questions
Alms of the Vein
Sorcery
Target opponent loses 3 life and you gain 3 life.
Madness (If you discard this card, you may cast it for its madness cost instead of putting it into your graveyard.)
Alms of the Vein Discussion
1 week ago
Hi there, i'll share all the knowledge i've gathered after playing discard decks for more than 5 years (i've built monoblack creatureless discard, monoblack creature discard, UB discard, RB discard, Grixis discard, specter discard, etc.).
The first i see here is that you don't have anything to deal with the board, so you'll more than probably die to anything that hits the board, even a simple 3/1 two-drop. Your deck relies too much on damaging your opponent through giving him many cards and forcing him to discard not that many; the only card in your deck that punishes him this way is Liliana's Caress and that's it, it's not reliable. You also run two copies of Painful Quandary which it's ideal mechanics are to punish your opponent for having no hand, but since you are forcing him to draw so many cards, he'll always have the option to discard while playing a spell (only taking 2 damage from Liliana's Caress and only if you have the enchant on the battlefield).
You have many cards that allow you or your opponent to draw and discard cards, but you only have Alms of the Vein to exploit this mechanic, so get rid of those or stick in more madness cards.
The description says "the goal of this deck is to get your opponent as low as possible", but you can't do that quickly by relying only on 4 copies of Liliana's Caress while you'll be recieving lot's of threats and hits. Master of the Feast will for sure get destroyed by any of the thousands removal spells you'll force your opponent to draw, so it won't be dealing too much damage if any.
---
Suggestions
Let's work on the solution. First of all, you need your deck to have more consistant way to deal damage and you also need to get rid of your opponent's threats until you've reached mid-late game and you can develop your winning mechanics.
---
Which ones and how many
Pick the ones you like the most according to their mana costs and their price. Also consider the ammount of black mana symbols in their cost, because you'll be playing a two colors deck.

Try to keep it as balanced as you can in terms of cards functions. Maybe 30% draw/discard engine - 30% draw/discard punishment - 20% massive discard - 10% 1drops quality discard - 10% board whipe. You'll have to test and adjust the numbers.

I know most of those cards are black, but you can keep it UB if you want to. Best version I've made of this strategy was using Grixis (Blue Black and Red) because there's a lot of red cards that force both players to discard and draw like Burning Inquiry and Reforge the Soul for example. Grixis also enables the use of Nekusar, the Mindrazer , Blightning , Sedraxis Specter , Blazing Specter and Dack Fayden.
---
I hope it's helpful! Best wishes!
1 month ago
Syphon Life might be a touch better than Alms of the Vein for SB, since it's reusable and you need less lands against burn, anyway
Cheers!
1 month ago
Madness vampires are one of my favorite decks, but let me give you a few suggestions. Bloodhall Priest was always less impactful than I wanted her to be when I first had her in this deck, I instead replaced her with Falkenrath Aristocrat, who has won me countless games since. Also, Falkenrath Gorger is definitely a card you should consider having 4 of in your deck. Its never not useful. Heir of Falkenrath Flip is another card to consider. Shes one of my favorite vamps in the deck, and doesnt cause you to fizzle our as quickly as Furyblade Vampire, who requires a discard every turn. Heir has also won me many games. Stensia Masquerade is another card I had in my original deck but never proved as useful as just having more Stromkirk captains. They provide more bodies and an immediate boost in power to our other vampires. Lastly, at least in my meta, Lightning Axe and Dark Withering proved far more useful to have more of in this deck than Alms of the Vein, which is best against burn type decks. Also checkout Big Game Hunter for sideboard options. Hes a lot of fun.
Personal note: in addition to Falkenrath Aristocrat I added Bloodsoaked Champion to provide a sac outlet for her. Hes also an easy discard who you can play later on anyways.
Hope you find my thoughts useful and happy blood sucking!
1 month ago
Thanks for the feedback sally-the-weasel.So I think it would be a good idea to get in some tribal mechanisms to capitalize on the vampires. The reason I cut them from this iteration of the deck is, that I felt I had too many things going on at once with none of them working properly. I think the discard/madness interaction is working well now to create pressure and tempo. The Problem with Falkenrath Gorger is that it is too slow as a one drop I think. If I want to capitalize on the effect it provides I have to keep it save although I want to attack as much as possible and the effect itself is nice but I feel I have enough madness cards already so I don't really need it. Rakish Heir is alot better I think, but I have a lot of 3 mana cards already and I just feel like Drana, Liberator of Malakir is better.So for enchantments, sorceries and instants I think you are right. I should definately look into that. I originally cut Stensia Masquerade for the same reason as Falkenrath Gorger as I felt it was too slow for the deck. I do like the direction Crash Through is taking though. So I might replace some of my sorceries and instants with Stensia Masquerade or something like Crash Through. I think I can probably cut some copies of Alms of the Vein.I might think about adding some control there too.
2 months ago
I think that your deck could do without some of your lifegain sorceries. Cards like Alms of the Vein, Last Caress, and Vampiric Touch don't have a big enough impact to be worth including, particularly if you are playing a group game.
If you are looking to make the most of your extort cards, you could try to find engines that will give you increasing value over the course of the game. Whitemane Lion, Kor Skyfisher, Conviction, and Sun Clasp can all return themselves to your hand, giving you multiple opportunities to get extort triggers.
Unfortunately, Inquisitor Exarch and Orzhov Guildmage have never been printed as commons so you can't use them as part of your 99 (assuming this deck is meant for paper play, since I don't know about the alternate rarities in online formats).
2 months ago
i dont know if you want to play anger of the gods in a deck with 20 creatures.i think smash to smithereens is better than smelt, it deals damage and can destroy a chalice on 1 which is important in your deck.
Finally i dont like Faithless Looting, Alms of the Vein and Heir of Falkenrath Flip.on their own they are really bad in a burn deck and together they are just ok so id really cut them.Searing Blaze / Searing Blood is pretty Good because most decks run small creatures. Exquisite Firecraft and Shard Volley are fine as 1 or 2 of and Gonti's Machinations are also not bad with fetch/shocklands (you should really play 4 blood crypts and cut 2 basic mountains) and the damage your opponent will likely deal to you.
3 months ago
You probably need to add some more 1-drop Vampires to your list to start aggressing early. I've been playing a guy's casual Vampire deck since I first started playing Magic some 6 years ago, and I still have trouble beating it; it's just that powerful.
Viscera Seer is super great at filtering out bad draws, as well as being a sac outlet. Never underestimate sac outlets. Recommend as a 2-of.
Vicious Conquistador is the (almost) strictly better Pulse Tracker, and nothing's about as good as extra noncombat life loss. A playset is ideal.
For 2-drops, I see you have a playset of Gifted Aetherborn, which is top-notch, and I also recommend Kalastria Highborn for eking out the last bits of life from your opponent with suicide attacks. Gatekeeper of Malakir is also a beast; filling your curve and/or providing removal is efficiency at its finest.
Filling out Captivating Vampire to a playset would be the next ideal thing to do. Having all the lords you can always helps.
In terms of removal, Victim of Night technically hits the most creatures, but Doom Blade, Go for the Throat, Grasp of Darkness, Dismember, and Disfigure are also all good choices.
Throw in an extra copy or two of Blade of the Bloodchief. Its damn cheap to play and equip, and it gets stupid fast.
If you want cutting recommendations, Bloodbond Vampire isn't fantastic, you're not running boardwipes or discard for Sangromancer, Alms of the Vein doesn't have a madness outlet, Dash Hopes doesn't always work the way you want it to (but keep it in if you want; it's always fun to play), and while Viridian Longbow is cute, it's a bit too expensive to equip, and more often than not, you want to be aggressive with your creatures.
Hopefully this helps!
Load more