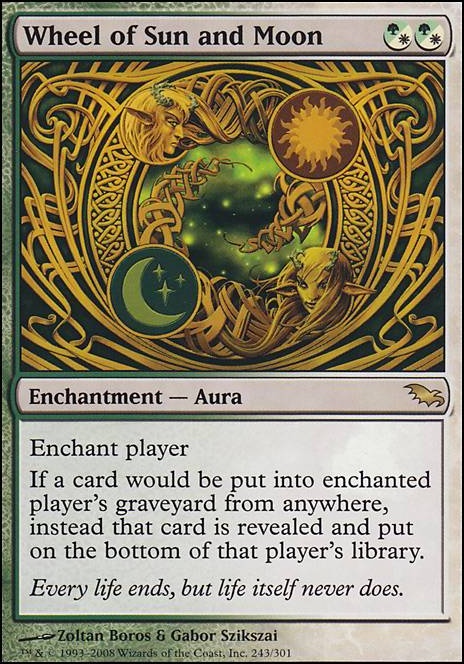 Wheel of Sun and Moon
Enchantment — Aura
Enchant player
If a card would be put into enchanted player's graveyard from anywhere, instead that card is revealed and put on the bottom of that player's library.
Browse Alters
View at Gatherer
Trade
Legality
| | |
| --- | --- |
| Format | Legality |
| Tiny Leaders | Legal |
| Noble | Legal |
| Magic Duels | Legal |
| Canadian Highlander | Legal |
| Vintage | Legal |
| Modern | Legal |
| Highlander | Legal |
| 2019-10-04 | Legal |
| Block Constructed | Legal |
| Leviathan | Legal |
| Legacy | Legal |
| 1v1 Commander | Legal |
| Duel Commander | Legal |
| Oathbreaker | Legal |
| Unformat | Legal |
| Casual | Legal |
| Commander / EDH | Legal |
Wheel of Sun and Moon occurrence in decks from the last year
Commander / EDH:
All decks: 0.0%
Wheel of Sun and Moon Discussion
2 months ago
Chivalry is Dead!
"Don't ask my name, it's long since I forgot
if once I had a name, a home, a wife?
No words of fame or valor is my lot,
and yet my quest continues past this life."
2 months ago
Moldervine Reclamation exists, making this card incredibly underpowered. I would either reduce the costs of the triggered ability to a single colored mana or reduce the mana cost to match that of Wheel of Sun and Moon.
2 months ago
Thanks for the comments, ksleazy and Darsul!
I'm going to consider several changes to the deck. As for the creatures with inspired, I'm probably going to include Disciple of Deceit. The other three don't really fit any spot in my deck, so I'd leave them out.
Reagarding Thassa's Oracle, I will get my hands on one copy as soon as possible, in order to make up for an alternative win condition. I don't know if I shoud try to run also some recursion for creatures at this point, since I have some graveyard hate in the deck alraedy with Grafdigger's Cage, but I'll see.
The inclusion of Fetid Pools didn't seem necessary two years ago when I first made the deck, but it definitely would make a good substitution with respect to a Submerged Boneyard.
Tuck effects like Expel from Orazca seem the only way to iteract with pieces like Wheel of Sun and Moon. I'll make a quick search on scryfall to see what I can find there.
I'm very surprised by Vizier of Tumbling Sands. It somehow slipped under my radar when Amonkhet was around. I really like the versatility it brings both through the cycle ability (which is an ability and not a spell, so it can be interacted only with a Stifle or similar), which can moreover be used at instant speed. The added bonus is the combo potential with Lotus Field (which I unfortunately traded away three months ago, screw me) and Pemmin's Aura/Freed from the Real. I'll definitely include it.
As multimedia said, I'll probably have to streamline the deck a bit more, removing janky combos in favor of consistency. It'll take some time, so I don't know when the update will come out.
I've tried the Naru Meha, Master Wizard + Ghostly Flicker shell that can interact with Phenax, God of Deception + Thousand-Year Elixir or with Altar of the Brood, or even to produce infinite mana for a Blue Sun's Zenith on an opponent to kill him or on me to combo out (even with Thassa's Oracle after the update). I however have a hard time in getting all the pieces, and many times I just found myself with one missing piece or no piece at all.
My main problem is that my playgroup doesn't like efficient tutors, so being able to keep a combo deck consistent is more difficult: for example, they may allow Lim-Dul's Vault, but not Scheming Symmetry (don't ask me why). Moreover, they don't like the presence of too many tutors, that's why I only run the vault - and I'll have to convince them to let me run Disciple of Deceit.
As a playgroup we have planned a meet up to talk about power levels and what is considered as taboo in the group. I'll have to convince them about tutors, but the social contract is something that gets hardly modified. Do you have any thoughts on how to improve or argument about it?
In the meantime, I'll try to use cards that can be both used as combo pieces and as value pieces, like the Oracle or the Vizier and to think of a streamlining of the deck.
3 months ago
So, with these colors every time people say its weak with enchantment/Artifact removal Nah, nah i say. we have cards like Expel from Orazca and other target permanent an opponent controls on top of its owner's library, then mill them (looking at you Wheel of Sun and Moon)
also, Fetid Pools is a very economical duel land that is strictly better then, Submerged Boneyard
3 months ago
Ohh great suggestions; I use Wheel of Sun and Moon to control discard, since its an enchantment. But no maximum hand size can be great too.
3 months ago
just watched your youtube video.. have you considered some tutors like Entomb Buried Alive, and maybe taking advantage of a beater or two, like Phyrexian Dreadnought, then there's plenty more similar cards ->found some here then was thinking on taking more advantage of grenzo and remembered this Wheel of Sun and Moon. you can enchant a player you know is playing fish hulk, early game, or you can keep it for yourself in case people kill your bears you can have them at a cheaper cost. and/or think of different paths to take with a different rout with stuff like Ashnod's Altar or Viscera Seer and crazy loops :)
3 months ago
Hi, KaraZorEl, thank you for the comment, feedback is always appreciated. However, it seems you have completely misunderstood the intention of this deck. This isn't an abzan midrange deck, this deck is about suddenly winning the game out of nowhere.
For instance:
Hexdrinker just straight up wins the game if left unchecked.
Carrion Feeder + Melira, Sylvok Outcast + Kitchen Finks wins the game.
Carrion Feeder + Melira, Sylvok Outcast + Murderous Redcap wins the game.
Carrion Feeder + Vizier of Remedies + Kitchen Finks wins the game.
Carrion Feeder + Vizier of Remedies + Murderous Redcap wins the game.
I will give you that Murderous Rider is the weakest link mainboard right now, but there's no other creature with converted mana cost 3 or less than can just straight up kill a creature or plainswalker like that.
Walking Ballista + Heliod, Sun-Crowned wins the game.
Walking Ballista + Devoted Druid + Vizier of Remedies wins the game.
Devoted Druid + Vizier of Remedies + Shalai, Voice of Plenty wins the game.
Castle Locthwain is actually turning out amazing. I need all the card advantage I can get, and the Horizon lands are great, but they die when used. I don't care about the loss of life or I wouldn't be playing Modern with shock and fetch lands.
I already have Abrupt Decay, and that can kill everything with converted mana cost 3 or less. Despark gets rid of anything that costs 4 or more, thus covering every mana cost that exists in magic. No need for anything else.
Wheel of Sun and Moon gets played a ton! It is perfect grave hate tech against the usual suspects like Dredge, Phoenix, Jund, and Yawgmoth, but also works wonders against Urza because it doesn't hate just on creatures. It stops the Thopter Sword combo in its tracks.
And lastly, never, ever Gaddock Teeg. The two biggest parts of the deck are Collected Company (a spell with converted mana cost 4 or more) and Chord of Calling (a spell with converted mana cost X in the casting cost). Why would I want to handicap myself like that?
3 months ago
I have considered both of those cards. Wheel of Sun and Moon is probably not going in since this deck uses more traditional ways of recursion and little tutors, i.e enchantments are more useful in my graveyard than they are in my deck. I could use it as way to shut down decks like Meren of Clan Nel Toth or Chainer, Dementia Master, but that seems a bit narrow. I'll think about it more though.
Archon of Sun's Grace is absolutely going in, as soon as I can get a copy of it.
The problem with planeswalkers in enchantress decks is that the creature count can be low, and enchantments like Propaganda don´t help you protect them. Estrid, the Masked

is an exception since her +2 can untap an enchanted Tuvasa to protect herself. Also, since I have an Academy Rector I can cheat Omniscience into play as well.
Load more