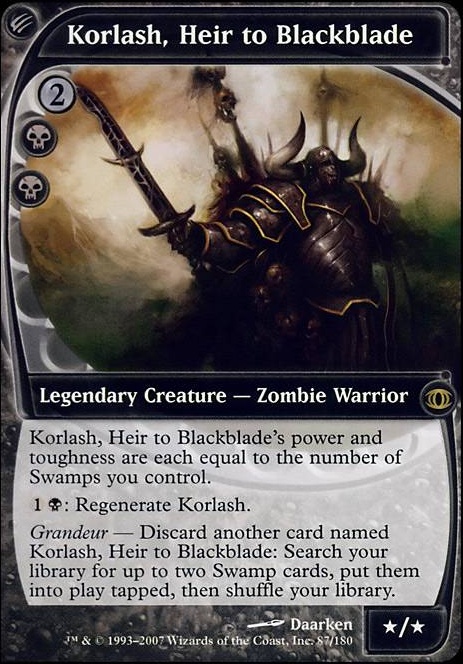 Korlash, Heir to Blackblade
Legendary Creature — Zombie Warrior
Korlash, Heir to Blackblade's power and toughness are each equal to the number of Swamps you control.
: Regenerate Korlash.
Grandeur — Discard another card named Korlash, Heir to Blackblade: Search your library for up to two Swamp cards, put them onto the battlefield tapped, then shuffle your library.
Latest Decks as Commander
Korlash, Heir to Blackblade Discussion
2 days ago
I think I would more or less do the same with the commanders you have laid out so I don't have much to offer there. Instead here are some deck ideas I have planned/currently working on:
Adamaro, First to Desire: Mono-Red group hug
Barrin, Master Wizard: Modular-control deck (Arcbound Ravager)
Firesong and Sunspeaker: Angel Spellslinging
Daughter of Autumn: Damage Redirection Deck (Pariah/Vigor)
General Jarkeld: Block everything! (Hundred-Handed One)
Kentaro, the Smiling Cat: No plains in the deck, maybe cat tribal
Baru, Fist of Krosa | Korlash, Heir to Blackblade: Utilize grandeur
Korvold, Fae-Cursed King: Food token and Stuffy Doll with Gyome, Master Chef and Asmoranomardicadaistinaculdacar as the secret commanders.
Kogla, the Titan Ape: King Kong theme (2005 Peter Jackson)
Yidaro, Wandering Monster: Battle Cruiser (Unpredictable Cyclone/Sneak Attack)
Any tribal deck because tribal is my favorite
1 month ago
I know it's a retired standard deck, but I think there are some decent budget options in modern that you could upgrade the deck with (don't get me started on modern manabases though ugh).
For warriors, there are a few decent options in BW colors. Gatekeeper of Malakir is a removal option. Hero of Precinct One makes soldier tokens instead of warriors unfortunately but it could be built around in a build with more multicolored spells. Korlash, Heir to Blackblade is one of my all-time favorite black cards but would require you to build a more expensive manabase. Resplendent Marshal is an interesting lord. Solemn Recruit can get big.
For hand control, if you want discard I think it's worth swapping out Duress for 4x Inquisition of Kozilek (around $3 each). Honestly, I don't think discard is needed in this deck since it's more aggressive and less of a midrange deck.
For removal, there are definitely better options. Fatal Push isn't that expensive, and neither is Path to Exile. Vindicate and Vanishing Verse are some higher costed removal choices.
2 months ago
There is a section in my Yargle deck where I describe how the deck went through an identity crisis at one point and (temporarily) switched up Commanders for a minute.
Sorry for the copy & paste, but here it is..
Upon seeing the original Yargle, Glutton of Urborg spoiler, I knew that the Meme-experience that is Yargle was going to become my next Commander deck. And so the epic Voltron-Meme deck was born, and it was good...
However over the course of playing and refining, off & on for over a year or so, I had eventually painted myself into corner. This led to me (temporary) turning this into a Korlash, Heir to Blackblade deck. But Korlash just never hit as hard as Yargle, and in the end just wasn't as strong overall...
Then the Happy Yargle Day Secret Lair came out. This inspired me to reconvert this back into a Yargle deck, in order to have a proper home for my copy of Fatal Push

.
The primary difference from the original build is that I largely retained the heavy emphasis on "hard" Ramp > Mana Rocks, and the general Swamp -based subtheme from the Korlash build.
5 months ago
CaveBoy - LOL, Thud is fantastic. I do have Fling in the Maybeboard. Thud economically is good value for sure -- 1 Red to fling our buffed creature? Fantastic! My only concern is the sorcery speed of Thud , however since a part of the idea of this deck is to lean more on the casual side, Thud does make a good fit if you wanted to go through the fling-card route. I'm holding off on that personally to give more of a chance for the Living Weapon themed Mortarpod to shine in combination with a pumped up Fireblade Charger , in terms of big damage. Thud / Fling is technically better, as it's basically doubling Fireblade Charger 's effect, but this is supposed to be a Living Weapons deck! I wanna use Mortarpod ! Haha. That being said, it does become even more compelling to use if you were to swap out Warren Instigator for the Maybeboard-card, Korlash, Heir to Blackblade . A lovely card for the deck in many aspects and to myself (I love the look of that Future Sight border sooo much -- they're my favorite aesthetically), Korlash, Heir to Blackblade with a Lashwrithe and/or Cranial Plating will make him a big boy. If you happen upon a 2nd copy in hand, you can buff while also ramp, and of course if you were to have Thud or Fling , you're dishing out some spicy damage. Lots of fun ideas here!
6 months ago
Atraxa, Gift of the Cenobite
Legendary Creature - Phyrexian Angel
Flying, infect, deathtouch.
Whenever another Phyrexian enters the battlefield, proliferate. If that creature has infect, scry 2.
4/6
---
Back in future sight, there was a mechanic called "Grandeur" (see Korlash, Heir to Blackblade and Tarox Bladewing ). Make another legendary creature with grandeur.
8 months ago
You should consider Korlash, Heir to Blackblade. He is an absolutely powerful beater that is extremely hard to remove. He would thin out your deck while becoming stronger and making it easier to cast spells.
Load more