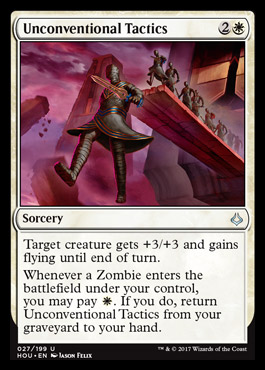 Legality
| | |
| --- | --- |
| Format | Legality |
| Pre-release | Legal |
| 1v1 Commander | Legal |
| Magic Duels | Legal |
| Vintage | Legal |
| Modern | Legal |
| Standard | Legal |
| Leviathan | Legal |
| Legacy | Legal |
| Duel Commander | Legal |
| Unformat | Legal |
| Pauper | Legal |
| Commander / EDH | Legal |
Unconventional Tactics
Sorcery
Target creature gets +3/+3 and gains flying until end of turn.
Whenever a Zombie enters the battlefield under your control, you may pay . If you do, return Unconventional Tactics from your graveyard to your hand.
Unconventional Tactics Discussion
4 days ago
As Jay said, Lord of the Accursed is a must, start considering embalmed and eternalised cards also, as the tokens themselves are zombies,
How about Sacred Cat to start with???
I'd probably have Temmet, Vizier of Naktamun over Aven Wind Guide but that's just me,
I'd also probably toss in some Unconventional Tactics because it's ridiculously good, word of advice, using the wizards card set archive on the main saite for scrolling through the sets, and picking out gems between the non-rares.