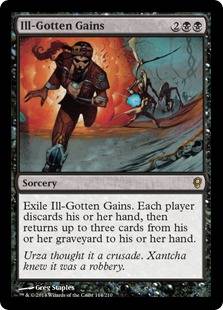 Legality
| | |
| --- | --- |
| Format | Legality |
| Pre-release | Legal |
| Noble | Legal |
| Leviathan | Legal |
| Tiny Leaders | Legal |
| Magic Duels | Legal |
| Canadian Highlander | Legal |
| Vintage | Legal |
| Vanguard | Legal |
| Legacy | Legal |
| Archenemy | Legal |
| Planechase | Legal |
| 1v1 Commander | Legal |
| Duel Commander | Legal |
| Unformat | Legal |
| Casual | Legal |
| Commander / EDH | Legal |
Ill-Gotten Gains
Sorcery
Each player discards his or her hand, then returns up to three cards from his or her graveyard to his or her hand.
Remove Ill-Gotten Gains from the game.
Have (11)
sneferie , gildan_bladeborn , killstars ,

s

a

j

0

2

1

9

, jstn.mrrtt ,

C

a

m

p

b

e

l

l

S

t

e

v

, chrishuffman95 , Mortiferus_Rosa , mziter501 , Ellyreia , zn.tportlock
Want (1)
TheBl0b
Ill-Gotten Gains Discussion
1 week ago
Hi there, i'll share all the knowledge i've gathered after playing discard decks for more than 5 years (i've built monoblack creatureless discard, monoblack creature discard, UB discard, RB discard, Grixis discard, specter discard, etc.).
The first i see here is that you don't have anything to deal with the board, so you'll more than probably die to anything that hits the board, even a simple 3/1 two-drop. Your deck relies too much on damaging your opponent through giving him many cards and forcing him to discard not that many; the only card in your deck that punishes him this way is Liliana's Caress and that's it, it's not reliable. You also run two copies of Painful Quandary which it's ideal mechanics are to punish your opponent for having no hand, but since you are forcing him to draw so many cards, he'll always have the option to discard while playing a spell (only taking 2 damage from Liliana's Caress and only if you have the enchant on the battlefield).
You have many cards that allow you or your opponent to draw and discard cards, but you only have Alms of the Vein to exploit this mechanic, so get rid of those or stick in more madness cards.
The description says "the goal of this deck is to get your opponent as low as possible", but you can't do that quickly by relying only on 4 copies of Liliana's Caress while you'll be recieving lot's of threats and hits. Master of the Feast will for sure get destroyed by any of the thousands removal spells you'll force your opponent to draw, so it won't be dealing too much damage if any.
---
Suggestions
Let's work on the solution. First of all, you need your deck to have more consistant way to deal damage and you also need to get rid of your opponent's threats until you've reached mid-late game and you can develop your winning mechanics.
---
Which ones and how many
Pick the ones you like the most according to their mana costs and their price. Also consider the ammount of black mana symbols in their cost, because you'll be playing a two colors deck.

Try to keep it as balanced as you can in terms of cards functions. Maybe 30% draw/discard engine - 30% draw/discard punishment - 20% massive discard - 10% 1drops quality discard - 10% board whipe. You'll have to test and adjust the numbers.

I know most of those cards are black, but you can keep it UB if you want to. Best version I've made of this strategy was using Grixis (Blue Black and Red) because there's a lot of red cards that force both players to discard and draw like Burning Inquiry and Reforge the Soul for example. Grixis also enables the use of Nekusar, the Mindrazer , Blightning , Sedraxis Specter , Blazing Specter and Dack Fayden.
---
I hope it's helpful! Best wishes!
1 month ago
Bloodghast, Braids, Cabal Minion, Hell's Caretaker, Kokusho, the Evening Star, Nether Traitor, Sadistic Hypnotist, Mind Slash, Blasting Station, Corpse Dance, Curse of the Cabal, Smokestack, Mimic Vat, Massacre Wurm, Sepulchral Primordial, Black Sun's Zenith, Insidious Dreams, Necromancy, Dance of the Dead, Attrition, Do or Die, Dread Return, Blood Artist, Words of Waste, Hypnotic Specter, Ill-Gotten Gains, Megrim, Mindslicer, Memory Jar are all options you could consider.
Memory Jar with Waste Not on the field is particularly dirty if you have your many doublers out and can drop your new hand onto the field. Bloodghast gives you a creature you don't even have to pay for to get back. Ill-Gotten Gains lets you run a second Dark Deal essentially. Megrim makes all the discarding you're doing kill them.
1 month ago
Hey there! so you splashed blue in the end, I hope you find it more consistent. I can see you want to keep your combo in the deck, but you're going to have to work around it so it's either your only win condition or you add in different winning cards . Your deck is a mill deck, so you should limit the amount of creatures you have to about 10. Additionally, you NEED to reduce your deck to 60 cards. I'll tell you in my opinion which ones you need to drop. And lastly, I'd recommend switching to Modern, Legacy is just too expensive to consider playing. If you do switch to Modern, you won't be able to play Ponder or Dark Ritual or Hymn to Tourach. But I think you'll have more fun playing in Modern.
1 month ago
Yea my deck needs more recursion for sure. I only have eternal witness and a flipped journey to eternity at this point.
I like Seasons Past as it shuffles itself back into the library.
Ill-Gotten Gains is interesting as well as it can enable archfiend and return 3 cards to hand but can also benefit opponents as well.
Malevolent Awakening, repeatable and can use tokens as sac fodder.
Genesis- can discard it and then use its ability from the graveyard.
Nostalgic Dreams - discard and return but like dreams, feels bad if countered.
Phyrexian Reclamation is probably just the best for creature recursion though.
You think of any other cards which can be useful?
1 month ago
All due respect, I find the deck a little thin on both graveyard recursions and hates, comparing to the sans-red counterparts. Rest in Peace and Timetwister may give rise to the current state, I guess. However, due to the fact Timetwister being a card that not everyone can afford, while Rest in Peace screwing us no less harder than the opponents, it might be necessary to find alternatives, decent if not better.
With Silent Gravestone and Grafdigger's Cage as the two most efficient pieces of graveyard hate apart from exiling, they each provide an approach to break parity. Grafdigger's Cage holds back casting from graveyards effects on one hand, namely Yawgmoth's Will, Past in Flames, and other cards that have or grant flashback, but gives permission to regrowth effects. That's the route sans-red decks have followed, and Ashes of the Abhorrent could be added to supplement the plan. On the other hand, however, while Silent Gravestone has nothing to do with graveyard casting, it does hamper cards like Regrowth, and common spell recursion in the form of Snapcaster Mage and Jace, Vryn's Prodigy

Flip. Problem is, the other card that have an identical effect is the green Ground Seal, which is out of question, and although Yawgmoth's Will is good enough, it's an one-off, and too often too mana-intensive casting a full combo. Meanwhile, Past in Flames, yawgwin's narrower counterpart, is just worse, usage confined in storm decks.
One can always pivot to the former plan, using sub-par recursion spells like Argivian Find, or even Replenish if enchantment heavy. Since the green counterparts can do better, why bother?
While itself being problematic, I propose Mizzix's Mastery as a backup plan. Worst case scenario, it's an over-costed removal spell. But once you've got Ad Nauseam, Angel's Grace, and probably Sickening Dreams in the bin, you can overload it and win on the spot. On more obscure occasions, a Quickened overload can be cast end of a turn of Necropotence. That said, not convincing enough even to myself, not to mention the conflict of the original version and Silent Gravestone.
Another possible solution might be Waste Not and Ill-Gotten Gains. It might sounds crazy, but with all the open information, the opponents might actually be more perplexed than us, especially when having a combo at hand. Plus, Waste Not has good synergy with wheels, act as a quasi Notion Thief, and works with Humility.
Hope you've got great results testing the deck. Good luck.
3 months ago
Thanks for the suggestions Rabid_Wombat, atm I'm still play-testing the deck and Ill-Gotten Gains and Reforge the Soul are definitely cards that should be tested. I'm also not entirely sure if this deck is going to be a more combo based or reanimoter in the future. Thus far, the combo strategy supported with reanimation works the best within my meta.
3 months ago
Great to see another Reanimation deck with a cool theme...Just traded for Karrthus yesterday so I'm wanting to build this list!
May I suggest the following cards to ditch your entire hand in the yard that will make the deck faster and more competitive Ill-Gotten Gains, Reforge the Soul and Fateful Showdown to dump those dragons in the yard as reanimation targets.
3 months ago
@shadow63: I was mainly pointing out that I like the flavor of it. There were some other "reprints" in there, but Ill-Gotten Gains I thought was a neat update.
Load more