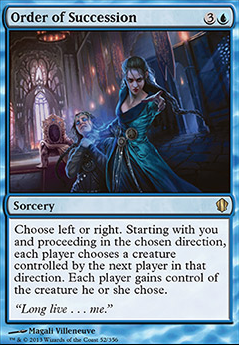 Legality
| | |
| --- | --- |
| Format | Legality |
| Legacy | Legal |
| Vintage | Legal |
| Commander / EDH | Legal |
| Duel Commander | Legal |
Order of Succession
Sorcery
Choose left or right. Starting with you and proceeding in the chosen direction, each player chooses a creature controlled by the next player in that direction. Each player gains control of the creature he or she chose.
Order of Succession Discussion
1 year ago
It seems to me that a different commander would be suited to this deck, especially with the preconceptions that come with Jhoira of the Ghitu. Since chaos is your goal, have you considered Arjun, the Shifting Flame? It adds an element of unpredictability to the game and lets your move quickly through your entire deck without putting things in your graveyard.
Speaking of chaos... Game of Chaos is hilarious. So to is Order of Succession, Thieves' Auction, Braids, Conjurer Adept, and Gate to the AEther.
Card draw and refilling your hand/everyone's hand seems like a theme for the deck too. Perhaps Day's Undoing, Wheel of Fate, and Dragon Mage?
Also, Homeward Path combos very nicely with Perplexing Chimera.