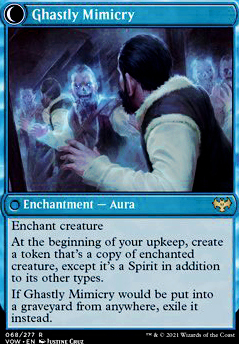 Front:
Mirrorhall Mimic
Flip
Tokens
Legality
Rules Q&A
1 year ago
You control Ghastly Mimicry, so the instruction to "create a token" applies to you, regardless of who controls the enchanted creature. A player who creates a token puts it into play under their control.
If it were the other way around, the Aura would have to give the ability to the creature, i.e.:
Enchanted creature has "At the beginning of your upkeep, create a token that's a copy of this creature."
1 year ago
If i cast Ghastly Mimicry, does the copy enter battlefield under my contol ?