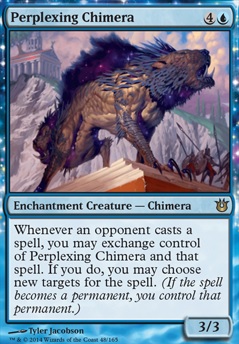 Legality
| | |
| --- | --- |
| Format | Legality |
| Tiny Leaders | Legal |
| Vintage | Legal |
| Penny Dreadful | Legal |
| Custom | Legal |
| Commander / EDH | Legal |
| Noble | Legal |
| Hero | Legal |
| Magic Duels | Legal |
| 1v1 Commander | Legal |
| Canadian Highlander | Legal |
| MTGO | Legal |
| Vanguard | Legal |
| Leviathan | Legal |
| Planechase | Legal |
| Duel Commander | Legal |
| Unformat | Legal |
| Heirloom | Legal |
| Modern | Legal |
| Legacy | Legal |
| Archenemy | Legal |
| Casual | Legal |
| Oathbreaker | Legal |
Perplexing Chimera
Enchantment Creature — Chimera
Whenever an opponent casts a spell, you may exchange control of Perplexing Chimera and that spell. If you do, you may choose new targets for the spell. (If the spell becomes a permanent, you control that permanent.)
Perplexing Chimera Discussion
12 hours ago
There are a couple cards I would suggest. Some of them are a bit more pricey tho.

Creatures

Sorceries

Instants

Enchantments

Atrifacts

---
I hope these suggestions are of some help to you. Many of the cards are simply upgrades of the weaker removal/ramp/draw cards contained in the precon.
If you want to make the deck more competitive, cards like
The Chain Veil
or
Felidar Guardian
can outright win the game in combination with
Altar of the Brood
or
Vela the Night-Clad
.
3 days ago
Ashiok's Dream Realm
Whenever a spell is cast, if it was cast from a player's hand, exile it.
At the beginning of each player's upkeep, they may cast one spell exiled with Ashiok's Dream Realm.
---
I'm genuinely unsure how to destroy it. I guess Cataclysm , Apocalypse ...I mean Merciless Eviction , Austere Command , Cleansing Nova , and all spot removal require a sizable amount of coordination.
Perplexing Chimera and Knowledge Pool , but slower and able to be played earlier.
I'd like to see someone else's most annoying card!
2 months ago
Hexproof can only apply to permanents and players. If your opponent plays something like a Conifer Strider , it can still be the target of spells or abilities before it resolves. Therefore, hexproof doesn't affect Perplexing Chimera .
As a side note, hexproof only says "This permanent can't be the target of spells or abilities your opponents control." (Rule 702.11b). Since Perplexing Chimera 's ability doesn't target, it could get around hexproof even if hexproof applied on the stack.
TL;DR: Perplexing Chimera can be used to take control of a spell with hexproof.
2 months ago
So for instance my opponent cast a creature with hexproof. I have Perplexing Chimera on the board. Would I be able to exchange the chimera for the creature with hexproof? My initial thought is no, because the card has to be "cast" for me to steal it so hexproof would be in effect, but I wasn't sure if the exchange would happen before the stack resolved.
Load more
Perplexing Chimera occurrence in decks from the last year
Commander / EDH:
All decks: 0.01%