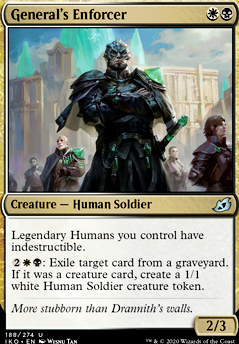 General's Enforcer
Creature — Human Soldier
Legendary Humans you control have indestructible.
: Exile target card from a graveyard. If it was a creature card, create a 1/1 white Human Soldier creature token.
Browse Alters
Trade
Tokens
Legality
| | |
| --- | --- |
| Format | Legality |
| 1v1 Commander | Legal |
| Arena | Legal |
| Block Constructed | Legal |
| Brawl | Legal |
| Canadian Highlander | Legal |
| Commander / EDH | Legal |
| Duel Commander | Legal |
| Gladiator | Legal |
| Highlander | Legal |
| Historic | Legal |
| Legacy | Legal |
| Leviathan | Legal |
| Limited | Legal |
| Modern | Legal |
| Oathbreaker | Legal |
| Pioneer | Legal |
| Pre-release | Legal |
| Standard | Legal |
| Tiny Leaders | Legal |
| Unformat | Legal |
| Vintage | Legal |
| Casual | Legal |
| Custom | Legal |
| Quest Magic | Legal |
Latest Decks as Commander
General's Enforcer Discussion
2 months ago
Sup lobsternips!
As a baseline, you'll need to add lands, which I'm sure you know. Since you're making Treasure and Gold tokens in this deck you'd probably be good with roughly 34-36 lands, leaning more to the most mana color you'll need, say like a 25/25/50 split if thats what you're going for.
That basically does it for my brief review, hope I was of some help!
1 year ago
I felt sorry for my opponent then. For 5 turns I was stopping their creatures from attacking without tapping additional mana while I was able to add to the board with discounted General's Enforcer's ability.
1 year ago
Evolving Wilds cannot fetch Savai Triome . Wilds says basic land unfortunately.
And the answer to all your rhetorical questions is: How do you win if I don't have X?
If the point of your Garrison Cat is to die, what happens if it doesn't?
Yes, Winota is great to cheat things in. But when you don't have Winota? What happens when you draw Reverent Hoplite ? If you have nothing better to cast, can you cast it with only 3 or 4 lands? What happens if you can't draw that 4th land to cast Winota? How do you win then?
You worry about Shatter the Sky because if you don't have the Luminous Broodmoth or General's Enforcer out, you probably get a 1/1 human from your cat, and you lose whatever you cast on turns 2 and 3. If you have a Winota out, you get to draw a card, but now you need to get another Winota out. Even if you do have Luminous Broodmoth out, it can't bring itself back. See the problem?
Granted, my remarks come from after playing 7 different aggressive Winota decks pre and post bans. You don't have to take my advice, but refer back if the deck isn't working out the way you hoped.
1 year ago
Personally, I'm a fan of using Sisay to fetch Etrata, the Silencer. Additionally, since many of your legendary creatures are human, an additional layer of protection would be General's Enforcer.
Looks like a lot of fun!
Load more