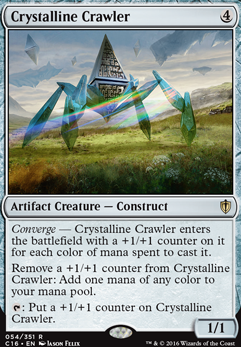 Legality
| | |
| --- | --- |
| Format | Legality |
| 1v1 Commander | Legal |
| Vintage | Legal |
| Pauper | Legal |
| Legacy | Legal |
| Duel Commander | Legal |
| Casual | Legal |
| Commander / EDH | Legal |
Related Questions
Crystalline Crawler
Artifact Creature — Construct
Converge — Crystalline Crawler enters the battlefield with a +1/+1 counter on it for each colour of mana spent to cast it.
Remove a +1/+1 counter from Crystalline Crawler: Add one mana of any colour to your mana pool.
: Put a +1/+1 counter on Crystalline Crawler.
Crystalline Crawler Discussion
1 month ago
I would swap out Workhorse for Crystalline Crawler. They are similar but the crawler makes any colour of Mana and is a 4 cmc as opposed to 6 cmc
1 month ago
if you're looking for creatures that won't ever die while Mikaeus is out, here is a list.
Crystalline Crawler (This card can also give you infinite mana)
Now you just need sac outlets.
Also, Black Market for mana and Noosegraf Mob might be helpful. (When the mob runs out out of counters it will come back with undying)
1 month ago
Cheap cards you want to add here:
Crystalline Crawler - take out one of your less desirable sac fodders and use this one to generate infinite black mana!
Also find a place to fit in Fleshwrither for another cheap 'tutor' type card that works great in this deck, especially once you add in the Crystalline Crawler, since it can go hunting for it, just like your Dimir House Guard.
Cards to tune this ever closer to victory:
Both these cards are designed for one thing and one thing only for you... getting Mikaeus on the board. All the combo's are wonderful and fun and nice and all... but they don't work without him. So getting him on the board to let your infinite sac mills spin into (un)life is the glass bottleneck this deck will probably struggle the most against when dealing with players who know how the deck runs out.
Cavern of Souls is expensive I know... so maybe go the Conqueror's Flail first if your picking these up :)
1 month ago
Also You have a birds of paradise but you dont have any of the other cheaper 1 drop mana rampers? 39 lands is a lot. One land could be Wild Growth. Another could be Crystalline Crawler that should be in every aatraxa deck I think. Your 1/3rd green so adding an Elvish Mystic and Llanowar Elves seems good. You also can run alot of cheap 2 drop rocks. You have 4 colors add the signets. All of them, seriously they are the best rocks for the price. Also White super friends usually = Oath of Gideon.
You really only need 32-34 lands unless your curve is busted to all hell and yours looks pretty good. The lands that enter tapped are un-ideal but if your playing casual it works. You need some ramp though man. Rampant Growth and Crop Rotation are good if you need a color your missing.
Load more