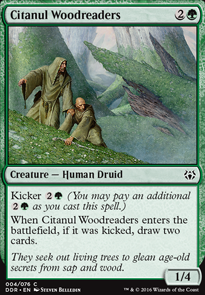 Legality
| | |
| --- | --- |
| Format | Legality |
| Noble | Legal |
| Leviathan | Legal |
| Magic Duels | Legal |
| Canadian Highlander | Legal |
| Vintage | Legal |
| Modern | Legal |
| Penny Dreadful | Legal |
| Casual | Legal |
| Pauper EDH | Legal |
| Vanguard | Legal |
| Legacy | Legal |
| Archenemy | Legal |
| Planechase | Legal |
| Duel Commander | Legal |
| Unformat | Legal |
| Pauper | Legal |
| Commander / EDH | Legal |
Citanul Woodreaders
Creature — Human Druid
Kicker (You may pay an additional as you cast this spell.)
When Citanul Woodreaders enters the battlefield, if it was kicked, draw two cards.
Citanul Woodreaders Discussion
3 months ago
A few suggestions:
1 year ago
Cool deck! But I do have some suggestions.
First of all, I think you can probably change most of those vanilla creatures for more versatile options without making the deck more expensive or too competitive. Citanul Woodreaders has a big butt while also optionally giving you some card advantage. Courser of Kruphix will get you life, improve your land drops and virtually draw you some cards. Selvala, Explorer Returned will give you life, mana and cards. Silklash Spider will wreck opposing flyers AND is a 2/7 body.
Also, some other random additions:
Since your creatures have such a high toughness, Pestilence can help you control the board (specially against the tokens you pointed as a weakness) while also chipping away at your opponent's life.

Asceticism will do wonders protecting your creatures with its Hexproof AND Regeneration.
If you want, take a look at my somewhat similar Ikra Sidiqi deck. It's also based on big-toughness creatures, but revolves more around Ikra's lifegain ability: http://tappedout.net/mtg-decks/ikra-shidiqis-big-butts/
2 years ago
I like the card Citanul Woodreaders however without the "defender" ability it doesn't really help out the deck very well, and getting to 6 mana to kick and cast the citanul, I would rather play x3 Overgrown Battlement, Wall of Omens, or x1 of Elspeth, Sun's Champion. Card draw in this deck is fine with 10 cards providing enter the battlefield card advantage anyway.
The Sprouting Phytohydra is a card i have never heard of before so great suggestion! However while he does help Overgrown Battlement and Axebane Guardian ramp for mana, he doesn't actively help me win as I have to pay 5 mana for him to create an extra mana. If his CMC was lower, I would definitely add him against aggro decks.
As for the 2 Primal Surge's, I agree that it is annoying hitting a Primal Surge into a Primal Surge but thats a risk I take, and with all other cards being a permanent, I have shrunk the chance of this card stopping to the minimum. Most of the time it will win me the game, the other times it will put enough cards to enable me to win the game, if you are unlucky then it will fizzle quickly but thats magic.
Load more