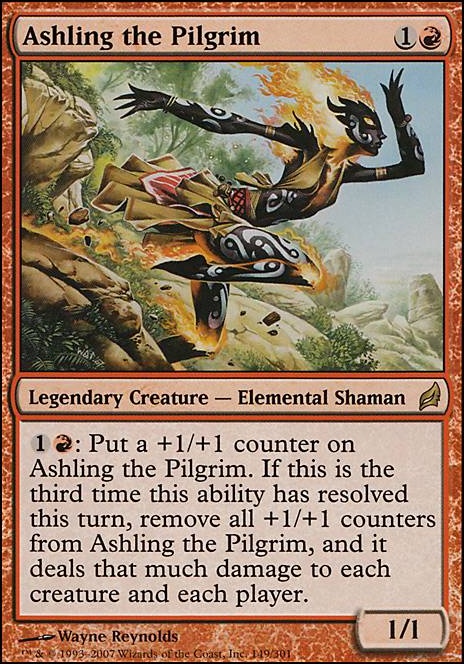 Legality
| | |
| --- | --- |
| Format | Legality |
| Noble | Legal |
| Leviathan | Legal |
| Magic Duels | Legal |
| Canadian Highlander | Legal |
| Vintage | Legal |
| Modern | Legal |
| Penny Dreadful | Legal |
| Vanguard | Legal |
| Legacy | Legal |
| Archenemy | Legal |
| Planechase | Legal |
| Duel Commander | Legal |
| Unformat | Legal |
| Casual | Legal |
| Commander / EDH | Legal |
Ashling the Pilgrim
Legendary Creature — Elemental Shaman
(1)(Red): Put a +1/+1 counter on Ashling the Pilgrim. If this is the third time this ability has resolved this turn, remove all +1/+1 counters from Ashling the Pilgrim, and it deals that much damage to each creature and each player.
Ashling the Pilgrim Discussion
1 month ago
A few suggestions:
1 month ago
Ashling the Pilgrim: Doesn't really do anything here. Sure, you can boardwipe, but there are better things for this.
Bogardan Hellkite: Eight mana for the effect? This is overcosted. Consider Inferno Titan or Ryusei, the Falling Star.
Dack's Duplicate is in a lot of Marchesa lists, and it shouldn't be. It's better in almost every way to run things like Captivating Crew or Sower of Temptation.
Drana, Kalastria Bloodchief Kinda just a goodstuff card, with a commander that doesn't want to be running goodstuff.
Duplicant: Allow me to introduce you to Patron of the Vein.
Niv-Mizzet, Dracogenius: Again, why is this here? This ain't a goodstuff deck.
River Kelpie is a trap. I have played this card EXTENSIVELY and I find it to be a "win more" card. It ONLY works when you have your board state set up, whereas Harvester of Souls or Dark Prophecy gives you cards regardless of whether or not the things that died slipped through the cracks.
Shadowborn Demon: It's a goodstuff card that isn't even good. Run Vindictive Lich or something else that actually has synergy with Marchesa.
Finally, why don't you have any sac outlets? Ashnod's Altar, Attrition, ect. I feel like you're not entirely grasping what makes Marchesa powerful. You need to find a way to build around her and abuse all of her abilities. I'm not even recommending my list, just that you look at what stands out about the general and go from there.
6 months ago
There are so many lands because I liked the idea of Ashling the Pilgrim, 99 Mountain, but wanted a more competitive deck. Having so many lands also helps with not missing land drops.
7 months ago
Thanks a lot!
Yes I Purphoros, God of the Forge for this deck would be... godlike :D
I haven't even considered any instant boardwipes to use after declaring attackers, like with Ashling the Pilgrim. That's a good strategy.
Yes, Skullclamp for a draw. I also use Herald's Horn and Vanquisher's Banner for draw since this is soldier tribal aside from commander itself.
7 months ago
Nice deck! Got some new ideas from it for mine like Thalia, Heretic Cathar.
I agree to your choice of Iroas as commander. You can do really go aggro with iroas without loosing your little creatures and also push a lot of the damage throught with the menace-ability.
Thought about Purphoros, God of the Forge. Should be even better in your deck than in mine, cause you play lot more token generators like Conqueror's Pledge and Nomads' Assembly.
Also consider Ashling the Pilgrim to wipe out opponents creatures during your attackphase before blockers are declared.
Maybe Skullclamp helps with the little acces WR have to card draw.
My own approach to Iroas aggro multiplayer is here: Iroas, God of War (Multiplayer EDH)
Greetings form Gottsplitter
Load more
Latest Commander