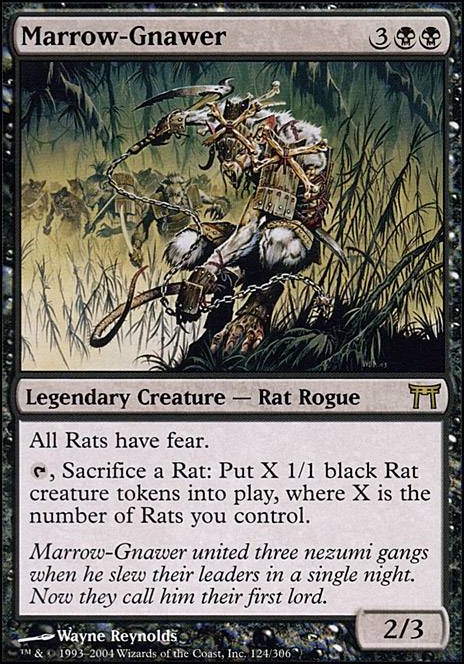 Marrow-Gnawer
Legendary Creature — Rat Rogue
Rat creatures have fear.
, Sacrifice a Rat: Create X 1/1 black Rat creature tokens, where X is the number of Rats you control.
Start Commander Deck
Browse Alters
View at Gatherer
Tokens
Legality
| | |
| --- | --- |
| Format | Legality |
| Highlander | Legal |
| 1v1 Commander | Legal |
| Legacy | Legal |
| Block Constructed | Legal |
| Tiny Leaders | Legal |
| Casual | Legal |
| Vintage | Legal |
| Leviathan | Legal |
| 2019-10-04 | Legal |
| Unformat | Legal |
| Modern | Legal |
| Oathbreaker | Legal |
| Duel Commander | Legal |
| Commander / EDH | Legal |
| Custom | Legal |
| Limited | Legal |
| Canadian Highlander | Legal |
Marrow-Gnawer occurrence in decks from the last year
Latest Decks as Commander
Marrow-Gnawer Discussion
1 week ago
Thanks for your help on my deck; I thought I'd return the favor!
First of all, +1 from me for rats! I've been working on a rats deck off and on for a while now, and I'll be taking some notes from your deck. ;)
So I know you said you're avoiding the high-CMC dudes like Ogre Slumlord in this version... but are you suuuuuure you don't want 1x Marrow-Gnawer??? I just think in a deck like this that's dropping so many rats, it makes for a great late-game play. In the right matchups, just dropping it and giving your rats Fear might win the game (though obviously side it out against opponents playing black / lots of artifact creatures). But if it can stick around one turn and get back to you, man, that tap ability will seal your victory. Obviously the issue with that is it'll be a major target for removal (assuming they haven't already used up their removal on your Pack Rats / Pipers), but on that note, consider....
Counter magic. Yep, in black. I've been playing around with both Imp's Mischief and Dash Hopes, but I think in the case of protecting specific threats like Pack Rat or Gnawer, I'd go with the former. No one sees it coming in black, so it can make for great game 1 blowouts.
Now, I love your Unearth find, and I'm thinking of trying it in my deck, but have you considered Call to the Netherworld as a discard target for Pack Rat? I know returning to play is better than to hand, usually, but hear me out:
With Unearth: You discard creature 1 to Pack Rat, pay 1 mana for Unearth, then discard creature 2 for another Pack Rat.
With Netherworld: You discard creature 1 to Pack Rat, discard Netherworld for another Pack Rat which you cast for free to return creature 1, and then you play creature 1 for 1-2 mana (you still have creature 2 in your hand).
The net result is that you pay the same or one more mana (depending on which creature you bring back), but you only use 2 cards to achieve two activations of Pack Rat plus an extra rat in play, rather than 3 cards. In other words, you have creature 1 in play and creature 2 in hand rather than creature 1 in play and creature 2 in the yard. I wouldn't recommend it if you had a lot of 3-CMC rats, but in your case, I think it's actually marginally better.
What I'm completely ignoring in that comparison is the Cycling on Unearth. Count how many times you actually cycle it instead of cast it, and consider that as well. Guess it might be matchup dependent.
In my deck, I haven't been keeping it format specific, so as my sac outlet, I'm using Diabolic Intent. It's perfect for getting the Pack Rat engine going, grabbing a late-game Merrow-Gnawer, searching up a removal spell, or just going for a big mana turn by tutoring a Cabal Coffers. Sadly, it's not Modern-legal!
Instead, I looked through all the free sac effects (either as an activation on a permanent or as an additional cost on a spell), and the best one I think is Village Rites. It's only 1 mana, it turns on BOTH Tragic Slip's Morbid and Fatal Push's Revolt, it's instant-speed so it pairs nicely with that removal, and it adds card draw to your deck, which is great in a deck where you empty out your hand quickly due to a low curve and discard effects.
The only other option I found is Fiend Artisan. Not a rat, unfortunately, but it's the closest thing to Diabolic Intent you can get in Modern. It not only provides a sac outlet, but it also tutors straight to the battlefield, and because of your low curve, you'll only ever be paying 2-3 mana.
Well, that about does it for me. I ended up writing quite a lot more than I originally thought I would, hence adding the accordion, so I hope at least something in all that rambling helped!
---
P.S. If you don't mind me prying, where do you live that Time Spiral cards are hard to come by? Feel free to ignore entirely if you'd rather keep your location private. :)
2 weeks ago
For mono-black, Castle Locthwain is a fairly common one to toss a couple copies of. There's not much in the way of mono-black card draw, and at a glance that's what I see being the biggest constraint. Getting things out quickly can be nice, but against a control deck your creatures won't last long and then you'll be stuck Topdecking.
You might look at some early 1-mana Discard options to further play into your strategy/theme. Thoughtseize is by far the most common (and best) choice for this, but it can also be quite expensive to purchase singles of.
Other less costly options (albeit with more restrictions/conditions) for 1-mana discard spells are Duress or Specter's Shriek.
The newly released Mind Drain is vastly superior to Mind Rot, and is literally identical in its casting cost and card type; just an upgraded version.
I have a mono-black Hand Hate deck which I play regularly on MTGA online, and I've found Davriel, Rogue Shadowmage to be an excellent card to include. He serves beautifully as guaranteed damage per turn in longer games once the hands are cleared out, and he also provides a mana-free discard option for multiple turns while he's in play early so that you can keep the pressure on the opponent.
I have won numerous games on the back of Davriel, just by having enough creatures in play to act as stalemate blockers and then just keeping the opponent's hand empty and letting him tick each turn. Stalemate blockers can be amazing, and he's only a few cents to order singles of.
Drainpipe Vermin can be a useful 1-drop which would play into both your Rat and Discard mechanics, and it pairs very well when sacrificed to Nezumi Bone-Reader.
Ravenous Rats is an identical card functionally to Burglar Rat, in case you find this a useful card and wish to rebuild to include more than 4 of them by including both types.
Other neat suggestions you might want to try (depending on how this playtests) are Rancid Rats, Ratcatcher and/or Marrow-Gnawer
Beyond that, you mentioned Instants - I'd suggest control options even if they're cheap ones like Murder or Unmake (in case Indestructible is a thing you run into frequently) to handle things your Rats can't take care of straight away. There's also other permanents like Basilisk Collar which could make your weakling rats a real blocking threat, and it has a cheap enough Equip cost that you can attack with it on a creature, and typically afford to move it to an untapped Blocker immediately after. If the collar is too expensive or you don't like the Equip cost on it, you could go an Instant route with things like Deadly Allure, Lash of Thorns, Virulent Swipe, or Touch of Moonglove.
Even if none of these suggestions help, I like your build! +1
2 months ago
Speaking from experience, I really think that Rat Colony is stronger in EDH than Relentless Rats. The fact that colony counts all your other rats synergizes so well with Marrow-Gnawer. The toughness limitation can actually help you too if you use cards like Skullclamp to get loads of cards, or Grave Pact/Dictate of Erebos to punish your opponents' boards. I also love that it's 2 Mana so it is very easy to flood the field with them. I do think that if you do prefer relentless, take out the colonies and go all in with them; in my own deck, I found that they compete for the same space so running both weakened their strengths.
You may also want to consider having some big mass recurssion to bounce back from board wipes. I really like Twilight's Call, Balthor the Defiled, and especially Patriarch's Bidding.
Good luck! :)
3 months ago
Living Death seems really good for your deck. It's both a board wipe and a reanimation spell for you. It gets even better with cards like Bojuka Bog, which you should definitely replace a swamp for.
In the same vein, Patriarch's Bidding will most likely get you a lot more targets than anyone else.
I think you could swap out Eldrazi Monument for Coat of Arms for insta-kills.
Marrow-Gnawer should be finding its way to the maindeck somewhere. Mirror Entity as well.
In terms of cuts, Bad Moon is not great, since just having another rat pumps the same amount of power. Same with Shared Triumph. If you care about toughness, great. If not, these are easy cuts. Lurrus seems a bit grindy for you and could be better served as more card draw or something.
5 months ago
Marrow-Gnawer has an... interesting... phenomenon with Thornbite Staff. But going infinite is typically considered uncool for most people.
6 months ago
enpc: Thank you for the feedback. I do think adding a mana cost isn't necessary actually. As mentioned above, the ability is similar to Marrow-Gnawer. The two main differences besides the creature type are these:
1: Nastja isn't a squirrel herself, so you definitely need at least her token to go nuts.
2: Although she brings a food token with her, the tokens the activated ability produces aren't food, so you'll always need some external food source. Compare this to Marrow-Gnawer who can sacrifice his own tokens to activate.
Considering the fact that Marrow-Gnawer isn't the strongest card although there are plenty of powerful rats, I really feel like adding a mana cost to Nastja would weaken her unnecessarily.
Load more