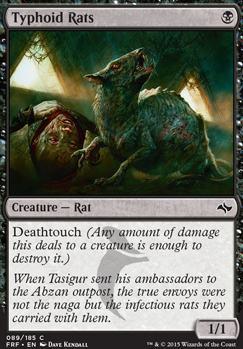 Typhoid Rats
Creature — Rat
Deathtouch
(Any amount of damage this deals to a creature is enough to destroy it)
Have (11)

P

e

p

s

i

A

d

d

i

c

t

e

d

, Tanis44 , Raistlin911822 ,

V

a

m

p

i

r

e

A

r

m

y

, saj0219 , zachi , leftkeh ,

a

e

o

n

s

t

o

r

e

m

y

l

i

v

e

r

, ironax , Fatred ,

C

o

m

i

c

a

l

f

l

o

p

Want (0)
Typhoid Rats Discussion
2 days ago
FAMOUSWATERMELON i was thinking maybe one or two copies of the card could be helpful for some removal of annoying creatures, something like Typhoid Rats or Fog Bank could stall and the ability to deal damage to these would let you attack a little easier. I feel like as a sideboard card at least it could help with certain match ups.
3 days ago
I like Liliana Vess but she is gonna be really hard to get ahold of. I like Ruthless Ripper for being a direct upgrade of Typhoid Rats and to give me options on turn 1 for black. Otherwise I might have a swamp and an Elvish Mystic in my hand that will set me back. I'm always looking for different suggestions, though. What would you recommend I run instead of Ruthless Ripper and to fill my 4mana hole?
2 weeks ago
Here are some suggestions for you:1: Add 1 drop creatures, Mardu isn't really midrange, so add maybe Mardu Hateblade or even Typhoid Rats2: Chief of the Edge doesn't really fit, you only have 1 Warrior, which defeats the object for her. Instead place Gurmag Swiftwing. It's abilities make Mardu Ascendancy Hell.3: I always suggest Brave the Sands because it just makes this style of deck nigh impossible to slow down. I will be putting my Mardu deck up soon so keep an eye out.
Otherwise +1 bru
2 weeks ago
CommanderOfBolas LoLs , I only like slivers man AND Typhoid Rats .I still wait for a block to be based around slivers xD.As for the biggest threat , I would want a new one to immerse.Bolas , is behind everything man, that's for sure. I don't think though , that he is so much evil. I mean , he hasn't done the crimes of yawgmoth. I mean, HOW THE FUCK can't you notice sarkhan? I don't believe that because he might not know him at that time, he couldn't recognize him. Ugin and Bolas, have completely anti-diametrical abilities, so I believe Bolas can too time travel.The phyrexians , are in a way or another in his control.He will know what to do most of the times. I would call him more like an assassin. He doesn't get dirty , when there is no need to.I don't know about you man, but I think the whole point of magic, is to show us how strong dragons are :D . See Ugin, Bolas, Niv Mizzet etc.I am kinda disappointed though, that they won't make a full set about dragons.
3 weeks ago
You are all a bunch of fools... The most ferocious being on the multiverse, are rats. I mean look at this fucker... Typhoid Rats. They can kill both phyrexians and eldrazis. If they team up, they might be able to infect bolas with typhus. Joke aside though , I would love to see a sliver eating a planeswalker. To be more specific, I want to see a battle between phyrexians and slivers. Then, a sliver eats Tezeret, Agent of Bolas . and slivers , manage to take planeswalking abilities...Upon hearing the news , bolas would shit his pants. The eldrazis, are only 3.The fucking slivers, share everything they have.The new planeswalker, would boost majorly the slivers, while it would act like a sliver queen. It would guide the slivers through the plains and unite them.On the other hand, I don't think that slivers are as parasitic as the eldrazis. They don't want to destroy the plain they are into. Just because the queen is gone they act like rebels.
Now , to conclude, Bolas, is hands down the smartest being in the multiverse. This is definitely a bad thing when it comes to battle. The eldrazis, just DON'T care man. They wanna eat. Even if someone manages to kill them , they would just continue to eat till the last moment. This is their strongest point. When someone doesn't care about death, he will simply fight more freely in a battle. Bolas though ,can't take part in a battle, that might even hurt him.A second disadvantage of Bolas, is that he plans everything from the start, when this simply can't be done. You won't know all the factors that will define a battle from the beginning.Correct me if I am wrong, but he left "victorious" from tarkir. with ugin dead, while sarkhan was there and revived him. He planned everything, but he didn't have in mind that there is a possibility that sarkhan would be there and help his rival ugin.
In a nutshell, apart from Bolas being smart, he is arrogant too, which might be his Achilles heel. I don't think there is such thing as most powerfull being, because you have to take into consideration all the facts of a battle and sadly they are too many.(P.S. sorry for some syntax mistakes, English is not my native language :D)
3 weeks ago
I personally would drop the Typhoid Rats and a Temur Battle Rage for 3 Hordeling Outburst. My reasoning is that your deck is looking to be aggressive and all out attacking your opponent and the rats are typically used only as a blocker. Aggro decks of this style don't really want to be blocking so much as hitting the opponent harder than they can hit back. And the hordeling outbursts are going to give you all kinds of sac fuel for your butchers. If you're trying to stay on a budget you can ignore these upcoming suggestions.
Your mana base could use some work as well. 4 Bloodstained Mires would help you a ton. If you're running fetches you typically want 5-8 basic lands.Also I personally would also run 2 Nomad Outpost, 2 Temple of Malice and 2 Temple of Triumph. Other lands that would help you a lot would be Caves of Koilos and Battlefield Forge. Maybe 3 of each of those.
| | |
| --- | --- |
| Power / Toughness | 1/1 |
| Color(s) | Black |
| Cost | B |
| Converted cost | 1 |
| Avg. draft pick | 6.27 |
| Avg. cube pick | 10.36 |
Legality
| | |
| --- | --- |
| Format | Legality |
| Standard | Legal |
| Legacy | Legal |
| Vintage | Legal |
| Commander / EDH | Legal |
| Modern | Legal |
| Pauper | Legal |
| Duel Commander | Legal |
Related Questions