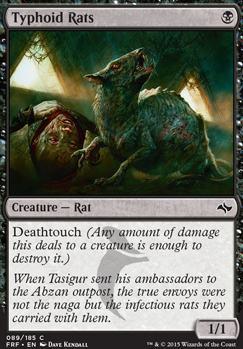 Typhoid Rats
Creature — Rat
Deathtouch (Any amount of damage this deals to a creature is enough to destroy it)
Have (19)

s

a

j

0

2

1

9

, calaw00 , mrpulsar , Glitched_One , brent29 , Will.Kill , Tommuz , afumblez , RageKnight , dragonbladeice , ironax , gurman , Dark_Shadow , ArmstrongD , Gromvari , superburke ,

P

e

p

s

i

A

d

d

i

c

t

e

d

, higgybaby , slaggy_slagwurm
Want (1)
FraserWM
Typhoid Rats Discussion
4 days ago
I would highly recommend Ulamog, the Ceaseless Hunger over Desolation Twin. Desolation twin is fine and dandy, but all it takes to stop him is a Typhoid Rats or the pretty popular Rakshasa Deathdealer, because the twin lacks trample. Ulamog gets you a double Vindicate only better when you CAST him (meaning worst case scenario you get a "double vindicate only better for 10 mana"), and he dodges board wipes, literally every one in standard, and he puts your opponent on a consistent 2-3 turn clock depending on how much they're drawing, and if they are playing Treasure Cruise, Dig Through Time, or a slow play style, it can often times come down to a one turn clock. Hope this helps! Cheers!
6 days ago
This seems like a similar build to mine! I personallyhad Typhoid Rats in Blisterpod's spot, I decided additional hand disruption and a couple Hangarback Walker's would be a safer bet though. Check mine out if you like!
http://tappedout.net/mtg-decks/abzan-post-bfz-rotation-tentative-list/
2 weeks ago
I've been play testing this against my modern G/W Hexproof aura deck Slippery Slappers and it is a hard match up to manage. Great deck. Only suggestion I'd have is move Thoughtseize and/or Inquisition of Kozilek from SB to MB and drop the Typhoid Rats. The rats are weak and the hand disruption will buy you time better than they can. This also loosens up your mana base as the colorless Swarmyard can be replaced with something more useful to all the B/G heavy casting cost spells you have.
2 weeks ago
It does, but it also won't deter an attack and it can't kill anything, so it doesn't fit this build. Typhoid Rats on the other hand, will buy more time given its deathtouch (first strike or evasion excluded), is more likely to attract removal, and later if left around can be quite good as a reusable sniper with Setessan Tactics or Ulvenwald Tracker and Swarmyard.
| | |
| --- | --- |
| Power / Toughness | 1/1 |
| Color(s) | Black |
| Cost | B |
| Converted cost | 1 |
Legality
| | |
| --- | --- |
| Format | Legality |
| Standard | Legal |
| Legacy | Legal |
| Vintage | Legal |
| Commander / EDH | Legal |
| Modern | Legal |
| Pauper | Legal |
| Duel Commander | Legal |
Related Questions