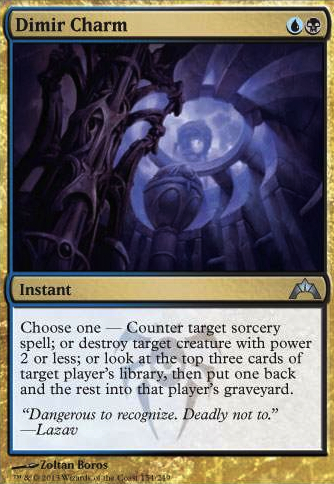 Dimir Charm
Instant
Choose one Counter target sorcery spell; or destroy target creature with power 2 or less; or look at the top three cards of target player's library, then put one back and the rest into that player's graveyard.
Dimir Charm Discussion
2 days ago
Maybe Dimir Charm for countering the large board-wipe spells (most of which are sorceries, I think)?
5 days ago
Well, i have to admit, Countersquall is pretty decent when it comes to removal, but Dimir Charm does give 3 options on what to do, which is nice if I cant remove my opponents creatures.
5 days ago
Dimir Charm is kinda meh. I really only like the counter clause of it and at that point Countersquall is more optimal. Black has so many more options when it comes to creature removal.
5 days ago
What about Dimir Charm? It may not be as good as Silumgar's Command, but it does have a lower CMC and it kind of fits the title pf "No Friends Aloud".
1 week ago
Double checked, and you are totally right about Vesuva.
I don't think my creature count is high enough to reliably trigger Nether Shadow, and a large chunk of those creatures don't stay in the graveyard for very long. Is a single Narcomoeba strong enough? It only recurs once, and it's only a 1/1. Hm. Might be worth some testing.
Dryad Arbor is very interesting. Can get it back with Life from the Loam and search for it with land tutors. Seems like a good replacement for Vesuva.
Give the Life from the Loam gameplan, I do quite like Gemstone Mine in this deck. I kinda see your point with Lotus Vale, as it doesn't actually increase your mana count on a turn, and it may put some useful utility lands in the bin. Maybe I should replace it with either another basic or another manland like Assembly-Worker or Mutavault.
I might replace Darkblast with Dimir Charm. The extra dredge is nice, but it isn't a very powerful effect.
1 week ago
So i mean i don't think vesuva and dark depths creates the marit lage. In modern Dimir Charm has won me essentially the game with my sultai control deck. I feel like DRS should be main boarded b/c he can lock down graveyard, and even if he doesn't lock down the strategy, you still benefit from all three of its abilities. Also what about Narcomoeba and/or Nether Shadow? I also don't like Gemstone Mine and Lotus Vale here. Consider Dryad Arbor (which is not good against burn) and Birds of Paradise.
1 week ago
By not a thing, do you mean the meta is shaped against it, or that there is a technical reason it no longer works? If it's the former, that's why I'm trying to back the deck up with recurring threats (which, as a plan, could arguably use some more work), but if it's the latter I need to do some major reconstruction.
Spellskite in the board is a very good call. Definitely adding it in.
Not sure if Dimir Charm does enough, though the flexibility is definitely attractive. I think Deathrite Shaman may work against the recursion mechanics that I'm developing. Maybe as a sideboard card?
1 week ago
Review from the Advertise your Deck! forum:
"The reason you should not use it for a creature is because of Blind Obedience, because of this enchantment every creature hits the battlefield tapped, so again extra counters for your Gideon's Avenger."
I don't think this works this way. Wording on Avenger is 'becomes tapped' and wording on Blind Obedience is 'enters the battlefield tapped'. While still good control, I don't think that Avenger gets any more counters.
There used to be a lot of control decks back in 4th ed when Icy was a power card. Haven't seen anyone try to run it recently and I agree that Tumble Magnet may be a better fit, but I think I would take a different approach entirely to this and one that might not break the bank.
I see 2 avenues:
I would look at dropping Tideforce, Lawkeeper, and Blustersquall, Merciless eviction, and Blind Obedience to make room.
==============
The Training Grounds route gives you an enchantment subtheme that you could use to fill out the deck with utility enchantments like:
It also lets you abuse cards like Ethersworn Adjudicator which is just awesome.
==============
I like the ghostly flicker version as it lets you run a lot more control cards that give you a better chance at an endgame against more competitive decks.
Synergy with Deathbringer Liege:
Good Flexibility:
This avenue also gives you good synergy with all of the in color Titan's, which could be included as finishers. Frost Titan seems especially strong
| | |
| --- | --- |
| Color(s) | Black Blue |
| Cost | UB |
| Converted cost | 2 |
| Avg. draft pick | 5.87 |
| Avg. cube pick | 3.21 |
Legality
| | |
| --- | --- |
| Format | Legality |
| Legacy | Legal |
| Vintage | Legal |
| Commander / EDH | Legal |
| Modern | Legal |
| Duel Commander | Legal |