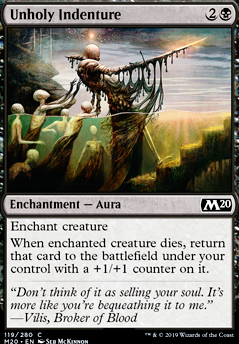 Legality
| | |
| --- | --- |
| Format | Legality |
| Pre-release | Legal |
| Tiny Leaders | Legal |
| Custom | Legal |
| Magic Duels | Legal |
| Canadian Highlander | Legal |
| Vintage | Legal |
| Oathbreaker | Legal |
| Modern | Legal |
| Arena | Legal |
| Penny Dreadful | Legal |
| Standard | Legal |
| Pauper EDH | Legal |
| Leviathan | Legal |
| Legacy | Legal |
| Brawl | Legal |
| 1v1 Commander | Legal |
| Duel Commander | Legal |
| Casual | Legal |
| Unformat | Legal |
| Pauper | Legal |
| Commander / EDH | Legal |
Unholy Indenture
Enchantment — Aura
Enchant creature
When enchanted creature is put into the graveyard from the battlefield, return that card to the battlefield under your control with a +1/+1 counter on it.
Unholy Indenture Discussion
2 months ago
Il tuo piano di gioco è usare tanto ramp per tirare Muldrotha sul campo, dopodiché, cercare di tenerlo sul campo per il resto della partita.
Per il ramp ti consiglio:
Per la proteggere Muldrotha, ti consiglierei queste:
Kaya's Ghostform , Supernatural Stamina , Unholy Indenture , Abnormal Endurance , Shade's Form ti permettono di salvarla da un boardwipe/removal.
Autumn's Veil e Veil of Summer sono utili per impostarti il turno ed impedire che ti rompano il cazzo mentre casti Muldrotha ecc.
Counterspell , Deprive Countersquall , Cursecatcher (dipende dallo stato della partita, non ottimale), Flusterstorm , Daring Apprentice , Diplomatic Escort , Dispel , Decree of Silence (abbastanza rotta), Foil (forse non ottima perché è difficile che tu abbia un'Isola in mano sempre), Glen Elendra Archmage , Hisoka, Minamo Sensei (che hai già), Kira, Great Glass-Spinner , Stubborn Denial , Undermine , Voidmage Prodigy , Voidslime , Disallow sono tutte un buon modo per assicurarti che il tuo piano di gioco vada a buon fine, neutralizzando le azioni avversarie che possono darti fastidio. Ti consiglio quelle che si adattano di più al tuo mazzo.
Un altra strategia per assicurarti di non dover pagare la Commander Tax per rigiocare Muldrotha è di rigiocarla dal cimitero. Meglio ancora se quelle carte possono a loro volta essere rigiocate dal cimitero con Muldrotha:
Ti consiglio di stare più in curva e di tagliare Slum Reaper , visto che ci sono opzioni che costano meno mana e fanno la stessa cosa: Fleshbag Marauder , Merciless Executioner e Plaguecrafter .
Carte che ti permettono di riprendere altre carte dal cimitero in mano:
Eternal Witness , Skullwinder e Nyx Weaver ti permettono di riprenderti carte utili, in modo da poter sforare il limite di un solo permanente per tipo dal cimitero. Inoltre, così puoi riprendere anche Instant e Sorcery, a cui normalmente non avresti più accesso una volta usate.
Ti suggerisco una combo interessante, il Flash Hulk . Consiste nel poter giocare e subito sacrificare il Protean Hulk già dal turno due per poi poterti andare a cercare creature nel mazzo che ti permettano di fare una combo infinita e vincere. Se cerchi online dovresti trovare fonti a sufficienza. Comunque, anche solo il Protean Hulk da solo è una grande inclusione.
Inoltre, una carta davvero buffa da poter giocare nella tua combinazione di colori: Villainous Wealth .
Un'altra carta per salvarti il cimitero da effetti come Bojuka Bog : Perpetual Timepiece .
Tra le terre che sono fortissime nel tuo mazzo ci sono anche: - Cabal Coffers insieme a Urborg, Tomb of Yawgmoth . - Alchemist's Refuge e Emergence Zone per poter giocare creature e altre cose ad instant speed. - Wasteland è una seconda Strip Mine . - Lotus Vale e Lotus Field sono più o meno ramp, ma anche un buon modo per fare molto mana se avessi il modo di stapparle. Magari con Deserted Temple , a cui sta anche simpatica Cabal Coffers , comunque. - Glacial Chasm è un piano di riserva che ti costa solo 2 punti vita a turno, a patto di rigiocarla sempre dal cimitero tutti i turni.
Tra le carte che ti suggerisco di togliere ci sono:
3 months ago
Hey zditty thanks for the updoots. I haven't really looked into M20. On the podcast we do, we usually do a deck a week, and are pretty pumped about seeing what M20 opens up for whole new brews. Buuuuuuuut, I could see Unholy Indenture being a pretty good way to protect against having Demon or M-Girl removed. Also depending on the meta, Cavalier of Night might be a nice removal on legs. Cavalier of Dawn seems so-so by comparison. Lastly, Blood for Bones might be an upgrade from Bond of Revival
No data for this card yet.