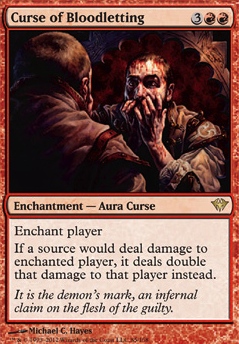 Legality
| | |
| --- | --- |
| Format | Legality |
| Tiny Leaders | Legal |
| Noble | Legal |
| Leviathan | Legal |
| Magic Duels | Legal |
| Canadian Highlander | Legal |
| Vintage | Legal |
| Modern | Legal |
| Penny Dreadful | Legal |
| Custom | Legal |
| Vanguard | Legal |
| Legacy | Legal |
| Archenemy | Legal |
| Planechase | Legal |
| 1v1 Commander | Legal |
| Duel Commander | Legal |
| Oathbreaker | Legal |
| Unformat | Legal |
| Casual | Legal |
| Commander / EDH | Legal |
Related Questions
Curse of Bloodletting
Enchantment — Aura Curse
Enchant player
If a source would deal damage to enchanted player, it deals double that damage to that player instead.
Curse of Bloodletting Discussion
1 month ago
Commenting here rather than on your page.
I don't mean to sound so overbearingly critical, but your deck is overall lacking in substantial board presence. Oathbreaker is a format in which you want to protect your Planeswalker at all viable costs. You have four creatures. That does not make for a very strong base. I'm going to rip into this deck, but I am also going to offer you suggestions on how to greatly improve upon it :) I hope that you don't take offense to anything I am saying, but I felt like I can do you some good here.
As for a win condition outside of Form of the Dragon , there is also Martial Coup . Since you are snuffing out all of your opponent's lands anyway, as well as their creatures, why not create a literal army of tokens that now stand unopposed?
There is also Curse of Bloodletting , which makes your Form of the Dragon deal 10 damage instead.
You may also want to consider replacing Mudhole with something more viable. Perhaps Lightning Helix ? It burns and gets you life. Acts as another win condition, makes it harder for your opponent to win in the process as your life totals grow farther and farther apart, and plays nicely with the aforementioned Dawn of Hope .
This took me like 40 minutes, so I hope it helps.
3 months ago
I would try to add some more red cards personally to have a more even mana spread as you don't want to ever be locked out of any cards unless you want to only splash red (although red has lots of good cards such as seen below)
Creatures - Captivating Vampire , Tajic, Legion's Edge , Taurean Mauler , Solemn Simulacrum , Divinity of Pride
The Lieges - Balefire Liege , Deathbringer Liege , Ashenmoor Liege
Opponent Creatures ETB Tapped - Authority of the Consuls or Urabrask the Hidden
Removal & Instants - Terminate , Wear / Tear , Vandalblast , Wild Ricochet , Pyroblast
Tutors - Diabolic Tutor , Diabolic Revelation
Boardwipes - Life's Finale , In Garruk's Wake , Decree of Pain
THE WITTLE - Purphoros, God of the Forge
Enchantments - Warstorm Surge , Dictate of the Twin Gods , Curse of Bloodletting , Anger , Impact Tremors , Outpost Siege , Fervor , GREAT CARD FOR YOU Shared Animosity ,
Equips - Any of the swords but Sword of Feast and Famine & Sword of Light and Shadow in particular
4 months ago
I'd consider cards that tap all the creatures of your opponents (which also protects from incoming attacks your planeswalkers):
And I'd also consider cards that double the damage rowan can deal with her minus ability, so that you can better clean the board:
4 months ago
DrkNinja, while I do reeaaalllyy agree with your card suggestions, I should have stated first that this is a budget deck. Hahahahaha. Sorry.
I just started magic a few weeks ago, and I have inherited from my brother his Trostani EDH deck, and as long as I keep to myself for the first few turns and stay alive, I automatically win, with huge creatures all over the field hitting 2-3 people in one turn and dealing lethal to them. But I wanna change that for a bit and try to create a deck of my own playstyle.
I agree that most of my cards don't really have much worth come mid or late game, but I find it fun trying to keep others from winning. I also checked your deck and I found really good stuff to consider bringing over here to mine.
Cards I'm considering:
Pillow Forts:
Counterspells:
Exile cards:
Enchantments:
Others:
*Cards I have in extra
Though some of your suggestions such as Curse of Opulence and Curse of Bloodletting are really good, I don't think it's legal for me to put it in an esper themed deck. Also, Curse of Shallow Graves doesn't really do much for me, I'd rather put in Curse of Disturbance , as I also get a zombie whenever that player is attacked. I know that it's weird, but I would try to minimize each opponent's gains from my enchantments too much. Incentivizing them to attack another player is good, but them getting 2/2 zombies who can hit me too, would be real bad.
Vedalken Orrery is reaallyyy good for this deck but it's priced up way too high for me. This is the first time I've heard of Forcefield , and no. I wouldn't be able to afford it, and if I could, I definitely wouldn't be downgrading everything else in this deck. Ahahahahahaha
Any suggestions as to which cards I could do without?
4 months ago
First let me start by saying that if your goal is to win, I think you are missing value... You have 8 cards that require voting and 3 cards that affect your ability to change votes... I think that of those only 4 or 5 cards are worth their weight. I like the concept of the deck, I even built a version of politics matters deck called Politically Motivated. which is themed after House of Cards but it's in Mardu colors. I think you'd be better off cutting the cards that affect the voting outcome and play some pillow fort. Ghostly Prison , Propaganda , Collective Restraint , Glacial Chasm , and Sphere of Safety are all great cards for that purpose. I also think you should play a bit more counter magic, stuff like Arcane Denial so that you tell them no and give them a slap on the ass at the same time! Honestly some spells will resolve and destroy your boardstate so it's worth playing a few. I also think that Path to Exile , Swords to Plowshares , and Anguished Unmaking are pretty relevant to deal with cards that are indestructible.
Also here are some fun political cards I used that you may like.
Also Humility + Forcefield is a great combo for pillow fort I forgot about... and Humility is far better than Overwhelming Splendor.
Lastly Greater Auramancy isn't political but... most of your political tools are enchantments so... you could also add Enchanted Evening for shits and giggles.
5 months ago
Whenever more than one replacement effect attempts to modify a certain event, the affected player or permanent's controller decides which one to apply. After that, if there are still applicable replacement effects, they are then applied.


In this scenario, the order of the replacement effects don't matter. What's important here is that one Curse of Bloodletting 's effect will be applied, doubling the 1 damage from Curse of the Pierced Heart . However, the replacement effect from the second Curse of Bloodletting is still applicable so it doubles again, for a grand total of 4 damage dealt.
5 months ago
From Curse of Bloodletting s rulings - If more than one Curse of Bloodletting enchants the same player, damage dealt to that player will double for each one (two of them will end up multiplying the damage by four, three of them by eight, and four of them by sixteen).
Load more
Curse of Bloodletting occurrence in decks from the last year
Commander / EDH:
All decks: 0.01%