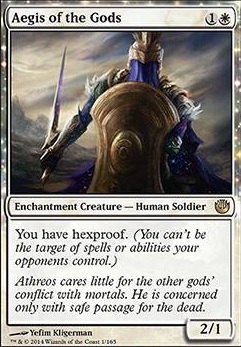 Legality
| | |
| --- | --- |
| Format | Legality |
| Tiny Leaders | Legal |
| Noble | Legal |
| Leviathan | Legal |
| Hero | Legal |
| Magic Duels | Legal |
| Heirloom | Legal |
| Canadian Highlander | Legal |
| Vintage | Legal |
| Modern | Legal |
| Custom | Legal |
| MTGO | Legal |
| Vanguard | Legal |
| Legacy | Legal |
| Archenemy | Legal |
| Planechase | Legal |
| 1v1 Commander | Legal |
| Duel Commander | Legal |
| Oathbreaker | Legal |
| Unformat | Legal |
| Casual | Legal |
| Commander / EDH | Legal |
Aegis of the Gods
Enchantment Creature — Human Soldier
You have hexproof. (You can't be the target of spells or abilities your opponent's control.)
Aegis of the Gods Discussion
3 days ago
(Yes, I pulled off a freaking Thanos; but only half a Plane of Existence dies. Rip. No wonder Darkseid would beat him, & Nintendo never lost a Death Battle for soooo long (& no, Mario vs Sonic fight 1 barely counts; same for Nintendo vs Nintendo.) X/)
---

Commander / EDH* BMHKain
SCORE: 2 | 14 COMMENTS | 908 VIEWS | IN 3 FOLDERS
---
Just thank GhostChieftain for the suggestion on using something I need to use more. I did. :)
I personally wonder how a sequel to an otherwise, crappy attempt for advice for a deck like this can get any worse. Regardless, might as well push on; ALOT of cuts have been made since; & I'm truly nearing the end; which means after that, I'll allow the personal Merit to make a Morophon, the Boundless Human Tribal Deck. But after that, & trying to make & cut to 100 cards for Kruphix, God of Horizons & aforementioned Tribal Deck; There is no more turning back; I plan to make a Tribal Deck w/ Kykar, Wind's Fury based on the 2016/2017 Documentary The Red Pill; as nobody had a previous objection to this even now, it is officially too late to object the idea.
& One last bit of news for now: I plan to do something regarding "Project: Razia's Parhelion II" (Working Title)
IT's a Working Title as even though Razia, Boros Archangel was the Parun (The only rank of a Guild higher than a Guild Leader) of the Boros Legion; I actually wanted to get as ancient as possible; before the Ten Paruns was still an idea, & Ravnica, compared to other Major Planes of Existence is just recently formed in comparison to (then) many others.
Think of this as a haven for those who can think of combos in Commander/EDH that can win games; all while improving upon ideas The Legion would only dream of doing as a Guild. All that said & done though, I do apologize for this part of the whole thing; but it's not like I'd want to make a Tier 1 deck of this kind right away; that is too much already. But because Feather, the Redeemed , & (As a Joke.) Depala, Pilot Exemplar seemed to reach Tier 3, I'll start young from there. Even so, I do apologize about this kind of idea; but it just might work; after all, one topic stated "I played Boros before it is considered "cool""
Not the right name, but you get my point. If any of the few, the proud, the cEDH Boros users want to join in the future, I only need one suggestion: In MTG Lore, The Boros League's Parun: Razia is the first thing we know of in Ravnican Lore for the Boros Legion. But there was also a time before even the idea of a Parun of a Guild was ever a thought; here would have to be someone for each of the "Ten Guilds-To-Become" as the Primordial base for all ten. You may list all 10 each if you wish, but I just want the one for Boros.
& yes, In apologize for the whole "Boros" idea for the few cEDH Players, but, as I said before, most of my crap is more akin to "Semi-Competitive" anyway.
AW CRAP! I souldn't have mentioned my updates here! Uh, here are the questions before I have a mental breakdown for having most of this topic about anything, but Questions:
1: ( Teferi, Timebender trashed. Nexus of Fate 's is stil MIA)
2: On the Topic of ol' Mu-Mu (I pray I'm still being honourable to her while enchristening her with a cute, & Affectionate Nickname; I don't understand Chinese Dialect; & I'm trying to learn Nipponese Kanji... Please forgive Me, Yanling...) She too has two new iterations, but which is the better to add?: Do you think Mu Yanling, Sky Dancer would be good? Sucks that has 2 Loyalty, maybe adding Prismatic Omen again can help? At least it's better than having to deal w/ Blood Moon , or what about Mu Yanling, Celestial Wind ?
3: ( Elspeth, Knight-Errant is kept.)
4: Golos, Tireless Pilgrim is an awesome new reveal, & I consider Top Secret Tek. Flikering it Recht & Link to supply you w/ your whole library of Lands, easily a card that is of immense Banworthiness. I also included Crucible of Worlds (Which WILL NOT leave the deck; especially if I get my lands screwed by an Armageddemon . Since I don't intend to lose either of the former, I think it is time to recreate Zendikar in ways not even Nissa, Who Shakes the World would ever do; Wrenn and Six can manipulate Lands, while working w/ both Crucible of Worlds & Golos, Tireless Pilgrim . But there is Also Xenagos, the Reveler , who makes a ton of mana from your creature tokens; can make a Hasty 2/2 Satyr, & for the record, his Ultimate is ENTIRELY OPTIONAL.
So, who would you pick: Wrenn and Six , or Xenagos, the Reveler ? Or should I not have cut Kiora, the Crashing Wave in the first place, & put her back, maybe even keeping in one of the former 2?
5: Daretti, Ingenious Iconoclast ; Reason of Death: The creature from the Star Trek episode: The Man Trap.
6: (Ol' Teyo gets promoted in rank as a Shieldmage.)
(Not like it matters, Walkers w/ Indestructible while still being Walkers can be damaged all the same...)
7: (Misguided Idiocy Averted.)
8: (Very well. This Karn gets Korned.)
9:
---

Commander / EDH* timmyt1000
SCORE: 25 | 10 COMMENTS | 2784 VIEWS | IN 30 FOLDERS
---
Because I had no choice but to mention this again. After I reach the 100 card mark, I wonder how to rebuild my landbase on a budget-level cEDH Level; despite being only "Semi-Cometitive". How'd you recreate this? Remember the Cycle Duals are mandatory 5 slots by default, &
Crucible of Worlds
, &
Golos, Tireless Pilgrim
are not to be cut from the non-lands either.
Side Note: It's fair enough This was meant for 1, 2, or even 3 color decks; I just used something similar for the current decklist.
10: Mirari's Wake is added. Status regarding Night of Souls' Betrayal is still MIA.
11: (nope.)
And... that's it, actually. That took soooo long. So I'd like some answers unless anyone can make me answer them myself. Regardless, I still need to cut to 100 cards. So I hope this crappy sequel can help... :D
For Now, I'm planning after all this...
Actually, I have one last announcement. Remember that time that I wanted to make a Partners Deck? Well, I wasn't kidding. & neither is the theme in question, based on these cards:
Yep, I'm making a deck based on Exile running colors. Not running Atraxa though; I can't even believe I even cut her from Superfriends/Avengers. What two Partners would be good in a deck like this? & no, is exempt from this as their exile stuff isn't truly well devised here unless you got some things to say otherwise against this fact.
Huh... Finally... It worked. Thanks go to GhostChieftain for the Accordion method. I guess I'll have to use it more...
3 days ago
A few artifacts perhaps worth considering: Mainboard: Metallic Mimic . Sideboard: Pithing Needle , Ratchet Bomb , Elixir of Immortality . Non-artifacts worth considering: Mainboard: Inventors' Fair , Scavenger Grounds , Buried Ruin , Field of Ruin , Ghost Quarter .
If you decide to splash a color, I'd suggest white for Dispatch . With white, you also get an array of decent broad disruption spells for the sideboard IE: Oblivion Ring , Path to Exile , Journey to Nowhere , Faith's Shield / Gods Willing / Apostle's Blessing , Disenchant , Revoke Existence , Sanctimony , Teyo, the Shieldmage , Leyline of Sanctity , Shalai, Voice of Plenty , Aegis of the Gods , etc, etc, etc.
Other color splash considerations: Green: Ancient Stirrings , Harmonize , Collected Company . Blue: Fabricate , Master of Etherium , Thoughtcast
6 days ago
Hey, saw your forum topic asking for help.
Nice upgrade of the precon, but consider less creatures, more one and two drop enchantments? Lots of creatures is not really needed because Daxos is a repeatable source of creatures from the Command Zone. For him to create a token that's worth three mana then you need to be casting enchantments. One and two drop enchantments can give you experience counters faster and also reduce the avg. CMC of your deck.
Ward, Ghostform and Renewal can protect Daxos. Bounce Ward for one mana and then cast it again. For Ward is an engine to get experience counters with Daxos, draw a lot of cards with Mesa, gain a lot of life with Coinsmith, create a lot of Angels with Throne, etc. Conviction can also be an enchantment engine for .
Ascension can be a repeatable source of creatures it's amazing in multiplayer Commander because it looks at each opponents end step. Obedience and Consuls expand on the pillowfort strategy which is helpful to stall opponents, giving you more turns to get experience counters, get other value from casting enchantments and make Spirits with Daxos. Exort is also a deceptively powerful effect in multiplayer Commander.
Hall of Heliod's Generosity from Modern Horizons brings a new graveyard strategy with repeatable enchantment recursion for white enchantress decks (wanting to cast enchantments to get value). You can now use your graveyard as a source of enchantments. Hall has good synergy with an enchantment that can sac itself to give you value such as Seals, Aura of Silence, etc. since you can recur it, draw it and cast it again. Sun Titan is very good repeatable reanimation of 3 or less CMC permanents includes enchantments and lands.
Other budget cards to consider adding:
---
I'm not going to give you an exact plan of what cards to cut and replace. Instead, I'm giving you lots of options, list of 26 cards to consider adding and list of lots of cards to cut. I'm leaving it up to you to make the decisions of what you cut. My advice of cards to cut are creatures and high CMC cards. Cards that don't give you value right away or repeatable value over time can be cut. The exceptions for these kinds of cards is removal, board wipes and draw spells, but you only want a few of these kinds of cards not a lot instead focus on enchantments.
Cards to consider cutting:
Temple of the False God
Vivid Meadow
Orzhov Guildgate
Vivid Marsh
New Benalia
Herald of the Host
Necromancer's Covenant
Deadly Tempest
Teysa, Envoy of Ghosts
Dreadbringer Lampads
Treasury Thrull
Thrilling Encore
Thief of Blood
Silent Sentinel
Celestial Archon
Vow of Duty
Vow of Malice
Kor Sanctifiers
Corpse Augur
Burnished Hart
Banishing Light
Traveler's Amulet
Ghostblade Eidolon
Nighthowler
Orzhov Cluestone
Death Grasp
Finale of Eternity
Ancient Craving
Nevermore
Marshal's Anthem
I offer more advice if you would like. Good luck with your deck.
4 weeks ago
Id pick up Giver of Runes when modern horizons comes out in two weeks, for when you attack with krenko to make your token spawn chump blockers/exhalted pump. gives you a second option to the indestructible of Boros Charm , and can even help stop removal of Aegis of the Gods with its tap mechanic to add protection from the color of your choice on target creature, for one mana. its just a Mother of Runes but for modern legal play.
1 month ago
Alright so this is where things get difficult lol. Right now the deck has some semblance of agro and control but its currently being bogged down by things that don't contribute anything or enough to warrant their spot. I'm going to suggest a lot of cuts and for each one I'll offer a decent replacement that will not only make all of our lives miserable but also contribute to making the deck far more resilient and difficult to stop. Creatures to cut
Creatures to Add
Noncreature Spells to Cut
Noncreature Spells to Add
Now what these additions will do is smooth out your mana curve and make you come out swinging far more quickly in more consistently. The additions include another outlet to go infinite through Sword of Feast and Famine and Aggravated Assault . They also contain multiple ways to tutor up Helm of the Host and win. Combat Celebrant and Godo, Bandit Warlord each go infinite with helm and Godo will tutor for it himself and place it straight onto the battlefield.
We also tighten up your control package with cheap removal and creatures that limit what you're opponents can do. I can provide more explanations in person if you like.
Remember these are only suggestions lol But if you try them I think you'll like how much faster the deck pops off.
Load more
Aegis of the Gods occurrence in decks from the last year
Commander / EDH:
All decks: 0.01%