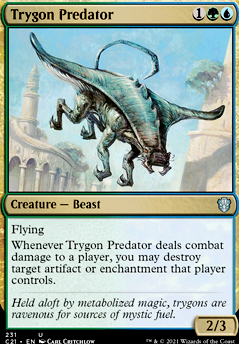 Trygon Predator
Creature — Beast
Flying
Whenever this deals combat damage to a player, you may destroy target artifact or enchantment that player controls.
Trygon Predator Discussion
2 months ago
Part 2
Other Cards that you could consider cutting
Other Cards that you could consider adding
This is where the fun begins and your wallet cries
That is all I can think of at the moment. I'm sure I'll have more la
3 months ago
Cards I'm looking to add: Pest Infestation , Tezzeret's Gambit , Foundation Breaker , Marwyn, the Nurturer , Ghostly Pilferer , and Hooded Hydra . On the chopping block so far is Trygon Predator , Manglehorn , Forgotten Ancient , and Managorger Hydra . The next two cuts might be Sylvan Safekeeper and Walking Ballista , but that's far from certain.
6 months ago
I'm going to steal Loyal Unicorn for my list. It's just too stupid and awesome not to include. :)
I need to make room for Trygon Predator as well.
Awesome work!
9 months ago
I have replaced Fable of Wolf and Owl with Trygon Predator, which lowered the average converted mana cost of this deck from 3.97 to 3.92, which is excellent, because, as great as the fable was, it was simply too expensive for what it did, but the predator provides unquestionable benefits for a relatively low price.
11 months ago
It is very nice to see that Vampiric Tutor is being reprinted, again; I know that most players, including myself, were hoping for a reprint of Imperial Seal, but at least the tutor will decrease in price, since it is still worth more than $100.00, at this time.
At this point, it is likely safe to presume that uncommon legendary creatures will now be a regular feature of this game, which severely disappoints me, since I was hoping that they appear only on rare occasions.
Mnemonic Deluge is quite awesome, but I am not certain if I would be willing to spend such a large amount of mana to cast it.
Confiscate has not been reprinted in some time, so it is nice to see another reprint of that card.
It is nice to see that WotC finally made a card of Krark, and he obviously has synergy with his own thumb, which I hope is reprinted in this set, as well.
Szat's Will is very diabolical, much like Szat, himself, although, as with Szat, himself, I feel that it should have had more black mana symbols in its cost, since both card are very powerful and very black in effect.
Sphinx of the Second Sun is a very interesting new effect that has never been done, before, so I like it.
I like Siani, but the fact that his or her (the name sounds feminine, to me) ability is limited to creatures with flying limits their usefulness.
If I ever build a fairy EDH deck, I shall definitely include Nymris in that deck.
The ghost of Ramirez de Pietro is quite an awesome callback to an obscure older card, although I wish that the ghost was black/blue, since the original card was black/blue.
Seraphic Greatsword is very awesome, although the high equip cost will require a carefully-constructed deck to be able to pay it reliably.
I am so happy to finally see Liesa, the black/white angel from Innistrad, and her ability is definitely very awesome; I certainly would like to see other legendary creatures with that form of alternative payment, but I also would like to see it remain unique to her; if I ever make a black/white EDH deck, there will be so many options from which to choose. However, why is he only a normal rare, when the other angels from her cycle were mythic rares? I noticed that her alternate cost is mandatory, not optional, which could be a problem if she is summoned too many times, but any deck that has her as the general will likely have plenty of methods for gaining life.
Bladegriff prototype is very awesome, but I am not certain if it is worth the additional 2 mana over Trygon Predator.
1 year ago
I can see the merits of running Rune of Protection: Red but I feel like the second best or stronger is Rune of Protection: White. Prevention of damage can bypass shroud and hexproof creatures and white specializes in Lightning Greaves//Swiftfoot Boots and tutoring those cards with Steelshaper's Gift, Stoneforge Mystic, Open the Armory, etc. which Rune of Protection: White heavily turns off a lot of voltron-style decks. It's also incredible at turning off a lot of other hard to remove EDH generals such as Avacyn, Angel of Hope, Zetalpa, Primal Dawn, Akroma, Angel of Wrath, Bruna, Light of Alabaster, Sigarda, Host of Herons, Zur the Enchanter, Uril, the Miststalker, Narset, Enlightened Master and Zurgo Helmsmasher. Those generals may be more niche of a damage source than red or green, but that's where the cycling is helpful whereas spot removal can be more effective at dealing with the red and green damage sources.
Rune of Protection: Green I think may be a bit over-valued as the color green I think is a little too good at artifact/enchantment removal, especially when it comes to stapling that effect on their own creatures such as Acidic Slime, Bane of Progress, Caustic Caterpillar, Gemrazer, Reclamation Sage, Sawtusk Demolisher, Trygon Predator, Terastodon, Woodfall Primus. I feel like green could easily remove the rune before you could get much value out of it and that you'd be better off sticking to spot removal. I know white also has enchantment removal but their removal spells I find to be less practical and as efficient as green meaning you wouldn't find as much enchantment removal in a white deck as you would a green deck.
Load more