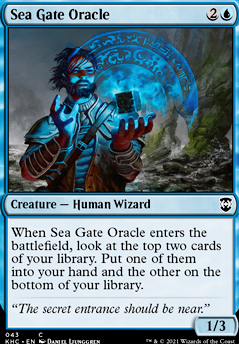 Sea Gate Oracle
Creature — Human Wizard
When Sea Gate Oracle enters the battlefield, look at the top two cards of your library. Put one of them into your hand and the other on the bottom of your library.
Browse Alters
Legality
| | |
| --- | --- |
| Format | Legality |
| 1v1 Commander | Legal |
| Arena | Legal |
| Block Constructed | Legal |
| Canadian Highlander | Legal |
| Commander / EDH | Legal |
| Duel Commander | Legal |
| Gladiator | Legal |
| Highlander | Legal |
| Historic | Legal |
| Legacy | Legal |
| Leviathan | Legal |
| Limited | Legal |
| Modern | Legal |
| Oathbreaker | Legal |
| Pauper | Legal |
| Pauper EDH | Legal |
| Tiny Leaders | Legal |
| Unformat | Legal |
| Vintage | Legal |
| Casual | Legal |
| Custom | Legal |
| Quest Magic | Legal |
Latest Decks as Commander
Sea Gate Oracle Discussion
1 month ago
I added a little bit of extra context to my discussion of the stasis win in the primer. As far as cards go-
Swamp OUT Pyre of Heroes IN
Since the implementation of the London Mulligan I've found that I can often get away with 36 lands. As for pyre, its just too good not to go in their. Not only does it give us tons of utility (ex. saccing that Sea Gate Oracle we no longer need for an Archaeomancer to recover Cyclonic Rift from our graveyard), but it can help us to cheat our our combos. Its much easier to sac our Mercurial Chemister for Wanderwine Prophets than to have all the mana we need to protect it. While testing will show the truth, my belief is that Pyre of Heroes will be one of the most important cards printed for this deck since the Ixalan block.
Mystic Confluence OUT Counterspell IN
I love confluence, but Sublime Epiphany and Cryptic Command out class it, and I really don't have room for three expensive counterspells in here. Going back to the original will do us just fine!
4 months ago
Very nice article, berryjon! This was a fun look at one of my favorite mechanics, and was a pleasure to read. I will dispute the article's conclusion though, as whether or not flickering wins games depends entirely on what's being flickered.
Everybody knows card draw can win games, by ensuring you have the cards you need to win, so one of the most powerful effects flickering can abuse is card draw.
Watcher for Tomorrow and Sea Gate Oracle are great blink targets because they not only put a card in your hand, they also filter through your deck quickly, digging 3 or 4 cards deep with each ETB. Mulldrifter and Cloudblazer don't dig as deep, but make up for it by giving you 2 cards with every blink.
Another powerful, potentially game-winning ETB effect is token creation. Thragtusk is well-known for being a great flicker target, as it's 3/3 Beast token comes with a side helping of 3 life, and Armada Wurm starts as a great deal, with 10 trampling power for 6 mana, and just gets better with every flicker.
My personal favorite blink targets are the Splicers, e.g. Blade Splicer who not only produce 3/3 Golems, they boost their abilities as well. Nothing says inevitable victory quite like a couple of Soulherder flickering a Blade Splicer and a Master Splicer every turn, before you finally drop that Wing Splicer and have your Golem army fly in for the win!
Thanks again for covering one of my favorite subjects, I had a fun time both reading and replying to this one! As always, I look forward to your next article!
9 months ago
Thinking about Disciple of Bolas. I agree that most of the time it would draw me a good amount of cards, but I don't know what I would switch it for, all the cards in my card draw slots, are already performing well. Maybe Sea Gate Oracle?
1 year ago
Heeeeeeeeeey Buddy, its Jens. Add: Ghostly Flicker, Mystic Sanctuary, Halimar Depths, Drift of Phantasms, Mnemonic Wall, Foil, Brineborn Cutthroat, Faerie Vandal, Stinging Lionfish, Omen of the Sea, Mantle of Tides, Transmogrifying Wand, Talrand, Sky Summoner, and Chaos Wand
Cut: 1x Island, Herald's Horn, Foresight, Thassa's Oracle, Sea Gate Oracle, Riverwise Augur, Trophy Mage (not enough targets), Quench, Power Sink, Negate
1 year ago
I've seen talk on Discord that, in the face of cards like Notion Thief and Narset, Parter of Veils being more prominent these days, people have been cutting back on cantrip creatures in the deck. I'm not sure how I feel about that, since cantrip creatures contribute a lot to the storm-like aspect of the deck. People seem to drop Sea Gate Oracle and Raven Familiar pretty frequently, but those actually get around Narset and Thief. Wall of Blossoms is also a card that a lot of people feel ok cutting, so swapping that out for Loyal Drake is an option.
People seem to have mixed opinions on Siren Stormtamer. That could possibly be replaced with Fierce Guardianship. You run back into the discussion regarding the value of 1 cmc creatures in Animar with that one though.
There's the question of if you need a second recursion card in the form of Den Protector if you could just replace it with a free counterspell like Fierce Guardianship to help protect your stuff to begin with. Although, being able to flip it at instant speed to get Fierce Guardianship back for a second cast is pretty nice.
Phyrexian Revoker is a meta flex slot, but being able to use it to proactively shut down Hermit Druid or Nomads en-Kor in Hulk decks is useful for buying time, and hulk decks are pretty prevalent.
Animar's list has gotten pretty tight by this point. Cuts are hard.
1 year ago
There aren't a lot of straightforward replacements some of the cards here (particularly time walk) and some might be a little worse and you'll definitely lose some of the synergy, but that doesn't mean we can't keep the game plan. Also this is for the modern format (what used to be extended) and not the current standard. That being said:
Creatures
Enchantments
Counterspells. This one is a bit tricky as they moved away from the classic Counterspell and there's a lot of variety here and counters have changed a lot. So I'm just going to recommend a few to consider:
Spell Pierce, Negate, Muddle the Mixture, Remand, Archmage's Charm, Condescend, Deprive, Essence Capture, Force of Negation, Hinder, Rune Snag, Wizard's Retort, and Thassa's Intervention.
Well, that took a bit of time, but I hope this helps.
1 year ago
You might like these: Domineering Will (steal 3 dudes, keep one of them permanently using Thassa's ability!), Ray of Command, Chamber of Manipulation, Overtaker, Mulldrifter, Sea Gate Oracle, Diluvian Primordial, Agent of Treachery, Conjurer's Closet, Verity Circle, Wall of Stolen Identity, Meteor Golem, AEther Adept, Venser, Shaper Savant, Sunken Hope, Nevermaker
1 year ago
Gattison, it would be a pleasure :)
Otherwise, yes, you have correctly recognized Augur of Bolas as the worst card in the deck. I want a defensive early creature to help stave off aggro and have wandered between Augur and Sea Gate Oracle, but the owl suggestion leads me to believe that Omenspeaker is the best choice for that slot.
Load more