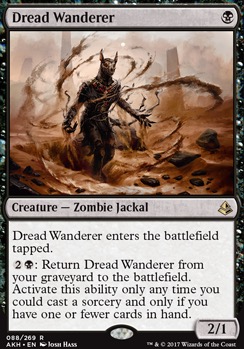 Dread Wanderer
Creature — Zombie Jackal
Dread Wanderer enters the battlefield tapped.
: Return Dread Wanderer from your graveyard to the battlefield. Activate this ability only any time you could cast a sorcery and only if you have one or fewer cards in hand.
Browse Alters
View at Gatherer
Trade
Legality
| | |
| --- | --- |
| Format | Legality |
| Modern | Legal |
| Block Constructed | Legal |
| Oathbreaker | Legal |
| 2019-10-04 | Legal |
| 1v1 Commander | Legal |
| Canadian Highlander | Legal |
| Casual | Legal |
| Pioneer | Legal |
| Historic | Legal |
| Vintage | Legal |
| Leviathan | Legal |
| Legacy | Legal |
| Limited | Legal |
| Arena | Legal |
| Duel Commander | Legal |
| Highlander | Legal |
| Commander / EDH | Legal |
| Tiny Leaders | Legal |
| Unformat | Legal |
Latest Decks as Commander
Dread Wanderer Discussion
2 months ago
Brutal, simple, and effective. I love it. My only suggestion might be to consider Diregraf Captain over maybe Dread Wanderer. His cmc is higher, but the other effects he brings to the table are too good to pass up. Just a thought.
5 months ago
So I've done a little more testing and I found a couple of potentially useful cards for you. Final Payment is removal without any drawbacks if you sacrifice Stitcher's Supplier and you can use it to fill your graveyard. Paying five life is not the worst either depending on how much you can gain off of Wayward Servant. Mire Triton might be negligible considering the copies of Liliana, but for those on a budget it could have a home. In addition, including these could possibly help make room for cards that boost all of you zombies considering the large amount you can get from Diregraf Colossus. I probably jumped the gun a little bit with recommending the Rotting Regisaur earlier, but it inspired me to test out a green/black zombies deck with Lotleth Troll, Slitherhead, Dread Wanderer, etc. It seemed to work out alright.
5 months ago
Thanks for your comments and upvotes CheapnFast, Swilliam, and fatalzintomyum! I appreciate it.
I'm generally a combo player that doesn't like combat nor tribal decks, so this deck is fairly out of my comfort zone. This deck is a riff on one of my first ever deck that wasn't complete garbage. In that deck, I ran several lord effects in that deck, but I wanted to put a combo twist on this deck. That's were Rally came in. That's the original motivation for this deck (probably something I should put in the description).
I like your suggestions, Swilliam. If you wanted to take the deck a slightly different route, you totally could. I thought about adding Rotting Regisaur while brewing this deck, but I chose Plague Belcher instead for a couple of reasons. First, Belcher can come down and kill your Stitcher's Supplier (something that's not always easy to do). It can eat a zombie token for Diregraf Colossus, so you aren't missing out on too much tempo most times. It also has menace which makes it harder to block. If your opponent has any blockers, they will be put in front of the Belcher before anything else (except for maybe a Diregraf Colossus) most of the time. The same would go for the Regisaur. In that way, the Belcher is dealing more damage because it is stopping more blockers than the Regisaur. I also am not a fan of Foulmire Knight. This might just be preference, but I find myself casting Sign in Blood when I need to dig for land or another creature. Profane Insight costs three and only gets me one card, so it doesn't quite do what I need it to. I think cards like Dread Wanderer and even Relentless Dead do have very interesting synergies that could be worked in, but you'd have to switch the tone of the deck somewhat.
As for your suggestions, CheapnFast, you could easily add in some lord effects. In that case, you might want to cut a copy of Rally and maybe Plague Belcher. Like I said above, the Belcher largely just increases the amount of damage you can do. Lord effects would do the same. If that's how you wanted to go, I think there are only two lords you'd want to consider, Death Baron and Lord of the Accursed. The Baron would help you get in damage earlier by making blocks disadvantageous. You could then drain your opponent as a finisher. The Lord, on the other hand, would be used to finish your opponent with combat while you drain them in the early game. I don't think one is generally better than the other. It would largely depend on your meta and playstyle. The Baron does die to shock, though, and that's unfortunate.
Again, thank you for taking some time to give your suggestions. I'll be updating the description into more of a primer with these options as alternative routes for the build.
5 months ago
If you're going in on the Rally the Ancestors synergy, I'd suggest playing Rotting Regisaur over Plague Belcher. This way you don't have to slow down your tempo and still have the opportunity to recur the cards later. This could make for interesting synergies for something like Blood Scrivener or Dread Wanderer if you decide to go that way. There's also Death Baron that could fit here that you already mentioned. As for alternate ways to draw cards, Foulmire Knight is a zombie and half of a Sign in Blood on a stick. There are cool synergies in the deck though, so I give it a +1.
6 months ago
In making my Sygg, Tollfolk and Governor-Goddess Ephara Decks, I became very interested in turn-related effects, and that inspire this card, as well as Klothys, God of Destiny, who switches the way usually work, whereas most Gruul cards use green's might to accomplish red's free spirit, She uses Red's fury to express nature's law which green cares about.
Based on (Gerðr)[https://en.wikipedia.org/wiki/Ger%C3%B0r] in Kaldheim.
---
Khyrteh, Goddess of Polar Winter
Legendary Snow Creature - God
Protection from instants
You may cast Khyrteh, Goddess of Polar Winter
Whenever a player casts a spell at a time they couldn't cast a sorcery, that player loses 5 life.
At the beginning of your endstep, if you cast no spells this turn, search your library for a card, then shuffle your library and put that card on top of it and you gain 5 life.
2/10
---
This deck would use Eidolon of Rhetoric, Rule of Law, Curse of Exhaustion, Ethersworn Canonist, Oppression, Uba Mask, Tainted AEther, Desolation, Angelic Arbiter, Nullstone Gargoyle, and Painful Quandary effects to force my opponents to make difficult decisions. Bloodchief Ascension, Strionic Resonator, etc. would also give you more advantage from this ability.
Tax effects, like Thorn of Amethyst, Sphere of Resistance, Trinisphere, Lodestone Golem, Trinisphere, Nether Void, Glowrider, Thalia, Guardian of Thraben, Aura of Silence, Spelltithe Enforcer, Chancellor of the Annex and Feroz's Ban
Decree of Pain, Decree of Justice, Astral Drift, Death Pulse, Dirge of Dread, Eternal Dragon, Gempalm Avenger, Gempalm Polluter, Renewed Faith, Stir the Sands, Sunfire Balm and Abandoned Sarcophagus & Archfiend of Ifnir, also Oketra's Attendant, Undead Gladiator, Bloodsoaked Champion, Dread Wanderer, Nether Spirit, Nether Traitor, Reassembling Skeleton, Bloodghast, Angel of Sanctions,Anointer Priest, Sacred Cat, Dark Depths, Thespian's Stage, Shambling Vent, etc. to avoid 'casting' spells.
grand arbiter synergizes well... yeah...
I'm a stax player who got into the deck because of Death and Taxes, especially Mother of Runes, Thalia, Guardian of Thraben (Her printing got me into standard/formal play), Gaddock Teeg, and Iona, Shield of Emeria.
I really just made a card I wish existed...
---
I'd like to see another Kaldheim God!
Load more