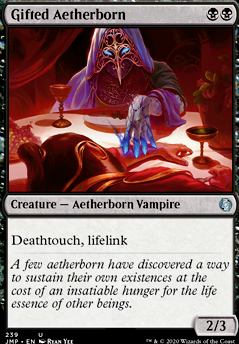 Gifted Aetherborn
Creature — Aetherborn Vampire
Deathtouch, lifelink
Browse Alters
Trade
Legality
| | |
| --- | --- |
| Format | Legality |
| Frontier | Legal |
| Block Constructed | Legal |
| Highlander | Legal |
| Leviathan | Legal |
| 1v1 Commander | Legal |
| Canadian Highlander | Legal |
| Legacy | Legal |
| Pioneer | Legal |
| Modern | Legal |
| Oathbreaker | Legal |
| Unformat | Legal |
| Arena | Legal |
| Magic Duels | Legal |
| Commander / EDH | Legal |
| Duel Commander | Legal |
| Historic | Legal |
| Vintage | Legal |
| Casual | Legal |
| Tiny Leaders | Legal |
| 2019-10-04 | Legal |
Gifted Aetherborn occurrence in decks from the last year
Commander / EDH:
All decks: 0.01%
Gifted Aetherborn Discussion
4 days ago
Easy lifegain:
Help slow your opponents down:
To help with getting creatures on the board and triggering lifegain abilities:
Card Draw/ramp:
4 days ago
Labone I'll preface this by saying I have not quite developed this deck to its fullest potential. My casual playgroup finds this deck very frustrating to play against in the casual meta, so I've abandoned it for now unfortunately.
For the planeswalker, Vraska the Unseen was originally in Garruk, Cursed Huntsman's spot. I choose Garruk for two reasons: he has card draw attached to removal which can net two two cards per dead creature when combined with Chevill. And secondly I simply like the theme of Garruk better. Any Vraska would still be a good addition, but I would personally not use Vraska, Swarm's Eminence for reasons I will explain below.
This is not a deathtouch tribal deck, this is a removal tribal deck. The difference being that this deck values simple removal spells such as Doom Blade over good deathtouch creatures such as Vampire Nighthawk.
From the cards you mentioned: Hooded Blightfang, Leyline Prowler, Vampire Nighthawk, Poison-Tip Archer, Ochran Assassin, Hornet Queen, Archetype of Finality, Gifted Aetherborn are all deathtouch creatures. While they are good creatures on their own, they are not the focus of this deck so they are left out for lower CMC removal spells.
Titan Hunter isn't a bad idea, lifedrain is a viable win condition for this deck.
Twinblade Assassins: Essentially a worse Deathreap Ritual. It would be a good add if the deck was in need for more draw, but I'm okay with the amount of draw this deck currently has.
Ravenous Chupacabra: A very mana inefficient removal spell. Without any recursion in the deck to make it shine, it doesn't stand up to the many 2 drop removal spells.
Royal Assassin isn't bad, but it is very conditional. I would rather go for a Stronghold Assassin or something else that has no conditions.
Hope this helps.
3 weeks ago
I would personally replace:
Prism Ring for Trading Post - Could be very handy artifact in decks like this.
The Immortal Sun for Exquisite Blood - creates infinite loop with Vito and Sanguine Bond, but isnt cheap. I wouldnt bother with The Immortal Sun, unless your playgroup runs a lot of planeswalkers or you struggle with card draw (which shouldnt be a problem in mono-black.
The Haunt of Hightower - I would say you need either more discard or mill effects to get Hightower big.. Doom Whisperer seems to be much more useful.
Tavern Swindler - Its just gamble that doesnt seem to be worthy in a deck, where you can already get a lot of life by other cards. Bastion of Remembrance works as another aristocrat effect (Tortured Existence+Desecrated Tomb+Phyrexian Altar as infinite engine).
Dreadhorde Invasion - You dont use any other Amass effect cards and it takes 6 turns to make a 6/6 zombie with lifelink (which will last only until end of your turn), which is pretty meh. It would be good if you had some sacrifice cards, like Smothering Abomination, Village Rites, Diabolic Intent, etc. I would go for either Twilight Prophet or Bloodline Keeper  Flip. Captivating Vampire could be useful aswell. With Carnival of Souls you could get a bit of ramp, but can backfire really hard, so its kinda risky.
Gifted Aetherborn - is pretty nice drop I guess, but feels kinda weak overall. Kalastria Highborn supports your mostly vampire creatures and can also drain your opponents.
Swiftfoot Boots - unless you want the haste, Whispersilk Cloak seems like a decent option. It cost more to cast and to equip, but makes your creature unblockable.
Drag to the Underworld - should do a good job, Oblivion Strike might be something to consider aswell. Or just Corrupt?

Some more cards that might be useful:
Call the Bloodline - discards useless cards and makes a 1/1 vampire token (once per turn).
Revenge of Ravens - decent defensive enchantment that could fit your lifesteal deck nicely.
Burnished Hart - slow ramp creature. BH also triggers your Dread Presence and Staff of the Death Magus.
Crypt Incursion, Suffer the Past - more graveyard hate and another life gain.

4 weeks ago
Some great, great ideas here! I definitely appreciate the input. I feel I should address a couple things though, only because I wasn't clear on specific interactions myself and had to do diligent research to get a lockdown on the situation.
1) Castle Locthwain is an excellent suggestion; I can't believe I missed it. But it will indeed enter untapped even if Watery Grave or Underground Sea is the only other land I have in play. The Castle counts these because they technically are swamps; even a forest that became a swamp due to Urborg, Tomb of Yawgmoth would allow the Castle to enter untapped.
2) Polluted Delta can indeed fetch Watery Grave or Underground Sea in addition to the basic swamp or island, as these count as swamps and islands.
3) Bitter Ordeal was a tricky one to get a firm understanding on, but it would indeed mill entire libraries in the specific scenario this deck can create. It works thusly: for each permanent put into the graveyard on the turn it is cast, you may search the opponent's library for a card and exile it. A token sacrificed to Viscera Seer does indeed go to the graveyard; the fact that it ceases to exist immediately after is not relevant. Bitter Ordeal only cares that that token permanent went to the graveyard. So creating 60 2/2 vampire tokens with the Bloodline Keeper + Intruder Alarm combo, then sacrificing them all to Viscera Seer, then playing Bitter Ordeal would mill an entire deck.
4) Gifted Aetherborn...you're absolutely right, of course; it's a fantastic card especially for a vampire tribal deck. Good call. Again, not sure how I missed that one!
Thanks a ton for the input, I have much to think about now.
Load more