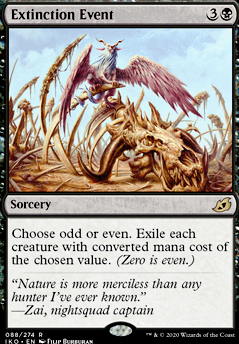 Extinction Event
Sorcery
Choose odd or even. Exile each creature with converted mana cost of the chosen value. (Zero is even.)
Browse Alters
View at Gatherer
Trade
Legality
| | |
| --- | --- |
| Format | Legality |
| Oathbreaker | Legal |
| Canadian Highlander | Legal |
| Arena | Legal |
| Brawl | Legal |
| Vintage | Legal |
| Tiny Leaders | Legal |
| Magic Duels | Legal |
| Unformat | Legal |
| Historic | Legal |
| Pre-release | Legal |
| Leviathan | Legal |
| Standard | Legal |
| Pioneer | Legal |
| Modern | Legal |
| Frontier | Legal |
| Commander / EDH | Legal |
| Highlander | Legal |
| Duel Commander | Legal |
| Block Constructed | Legal |
| 1v1 Commander | Legal |
| Legacy | Legal |
| Casual | Legal |
Extinction Event Discussion
6 days ago
Sammy's Suggested additions
1 month ago
No, Damnation is a stretch in its omnicidal globalism. usually leaves some sort of out, from Extinction Event only affecting half the casting costs in the game, to Languish not affecting anything large enough. But it's not a bad card at all.
2 months ago
change made to this. I made the mana base better. This is something I'm not very good at. I'm from a time when mana fixed it'self...
I am also running Extinction Event now because I like that it only costs 1 black so I don't get stuck not being able to wipe the board early. I have also been seeing a lot of graveyard shenanigans and it's nice to have something to address that. I plan to keep tinkering with the wipes to see which combination works best.
The other change is that I've replaced Brokkos, Apex of Forever with Clackbridge Troll and removed the accompanying island. I was missing the life gain after I canned the Leyline Prowler so I get that back + some card draw and I still get to keep a big-bodied beater. It also prevents me from drawing that island in my opening hand which was causing occasional trouble.
Load more