Do we know what Plane Garruk was born on?
Posted on June 17, 2022, 9:28 p.m. by

T

y

p

i

c

a

l

T

i

m

m

y
I've heard strong evidence for Zendikar, but honestly he strikes me far more as Kaldheim. Here's why:
It is often depicted as Nordic men being absolute behemoths in size and stature. In reality, according to Google, skeletal remains place their average height at 5'7" with an average Northern European male height at 5'8". This means that in reality, Nordic men were actually average, or even slightly less average, in height than the typical man of their era. Regardless of this, in all depictions, they are regarded as towering brutes. And Garruk, true to this fantasy stereotype, stands at 8'2".
In Western fantasy depictions of Nordic culture, the "viking helmet" often bore horns. We know this today to be false. However, taking inspiration from this, Garruk's helm having tusks is a nice homage - even if it became more of a happy coincidence many years after his inception.
The paint and / or tattoos he covers his body, armor and axe in are very strongly reminiscent of Norse artwork and styles of painting, with bold, hard lines crossing over one-another, especially in their Runes.
In Kaldheim, Bretagard was the realm of Man and is associated with magic and mana. Garruk is mono-green, excluding the he gained from his curse. As this curse was not natural and not part of his birth / ignition, I think it is safe and fair to exclude it for the analysis. Yes, he continued to show black mana in the use of his card Garruk, Cursed Huntsman. However, Throne of Eldraine released in 2019. Since then we have had three new Garruks; Garruk, Savage Herald, Garruk, Unleashed and Garruk, Wrath of the Wilds - all of whom now lack mana.
Again, while it may be somewhat stereotypical in nature, it is also not without precedent that Nordic men carried and used axes. Axes were seen with far more utility, although there is a strong difference between a woodcutting axe, a hatchet and a battleaxe. Regardless, axes were a keen and strong point of their culture. And, just so happens to be what weapon Garruk carries. Honestly, what he carries is more akin to a Bardiche, which did not see development until centuries after the Nordic empires fell. However, it has strong ties and developments from the Danish Halberd and similar polearms of that era. Now that is not to say that the weapon vanished for centuries and suddenly reappeared after some historian rediscovered it - That isn't how the evolution of weapons and armor works. What actually happens is someone develops a piece of armor that better thwarts modern technology. Someone reciprocates with developing a weapon that makes that armor inferior. And so the armor is updated to ward against that new weapon, and a dance ensues as armor and weapons evolve to out-pace one another. Regardless, what Garruk carries and wields serves not only as a cultural reminder, but an actual weapon of fact.
Garruk is seen wearing the furs of animals he likely has slain. It is known that Berserkers of the Norse era wore pelts as well, such as wolves, foxes and yes even bears.
And lastly, Garruk's father's name is Raklan, who was a Taskmage who lived on a farm. That spelling is actually very similar to the real-world male name Raakel, which meant "Sheep's Friend", as well as Rakim and a few more that aren't really worth listing. You can check out names of that era with this website
Honestly there is really only three main points that "tie" Garruk to Zendikar:
His ability to control their beasts (Which doesn't count, as he can do this on all Planes as that is part of his magic)
His abnormal size (Which means nothing; Zendikar is known for titanic forces, but so is Tarkir, Ikoria, Ixalan, etc. Just because someone is "big" does not mean they came from Zendikar)
Segue: Often speculated, people mention Garruk's "growth magic" and how powerful it is on Zendikar. But this does not mean he is a native to that world. Liliana's powers are strongest on Innistrad, despite her being native to Dominaria. Different Planes have different types of mana, and it is inevitable a Planeswalker would find a world where their mana is strongest. For example, Ashiok's magic was the most powerful on Theros, due to that world's working of "Devotion". By tapping into the innate fears everyone had, he could make them believe his terrors were far more real than they were. Because of how Theros works, belief gives power, and so their fears manifest in far more dramatic forms - meaning Ashiok's powers are far stronger on Theros than nearly anywhere else. Despite him, in my opinion, being likely from Tarkir under the rule of Silumgar as a Priest. But that's for another thread.
His right-arm gauntlet resembling the armor and weapons of the Guul Draz Assassin, which only proves he has been to Zendikar and likely took one of these from a fallen enemy; Not that he was physically born there. Perhaps best seen on Garruk Relentless  Flip
I honestly feel like Garruk is far more aligned with being a native to Bretagard than Zendikar.
I do not believe it was announced where Garruk was actually from, as of yet, but if I had to pick between a pre-existing world or creating an entirely new one - as seems to be the going trend, I'd say Bretagard from Kaldheim is where he's from.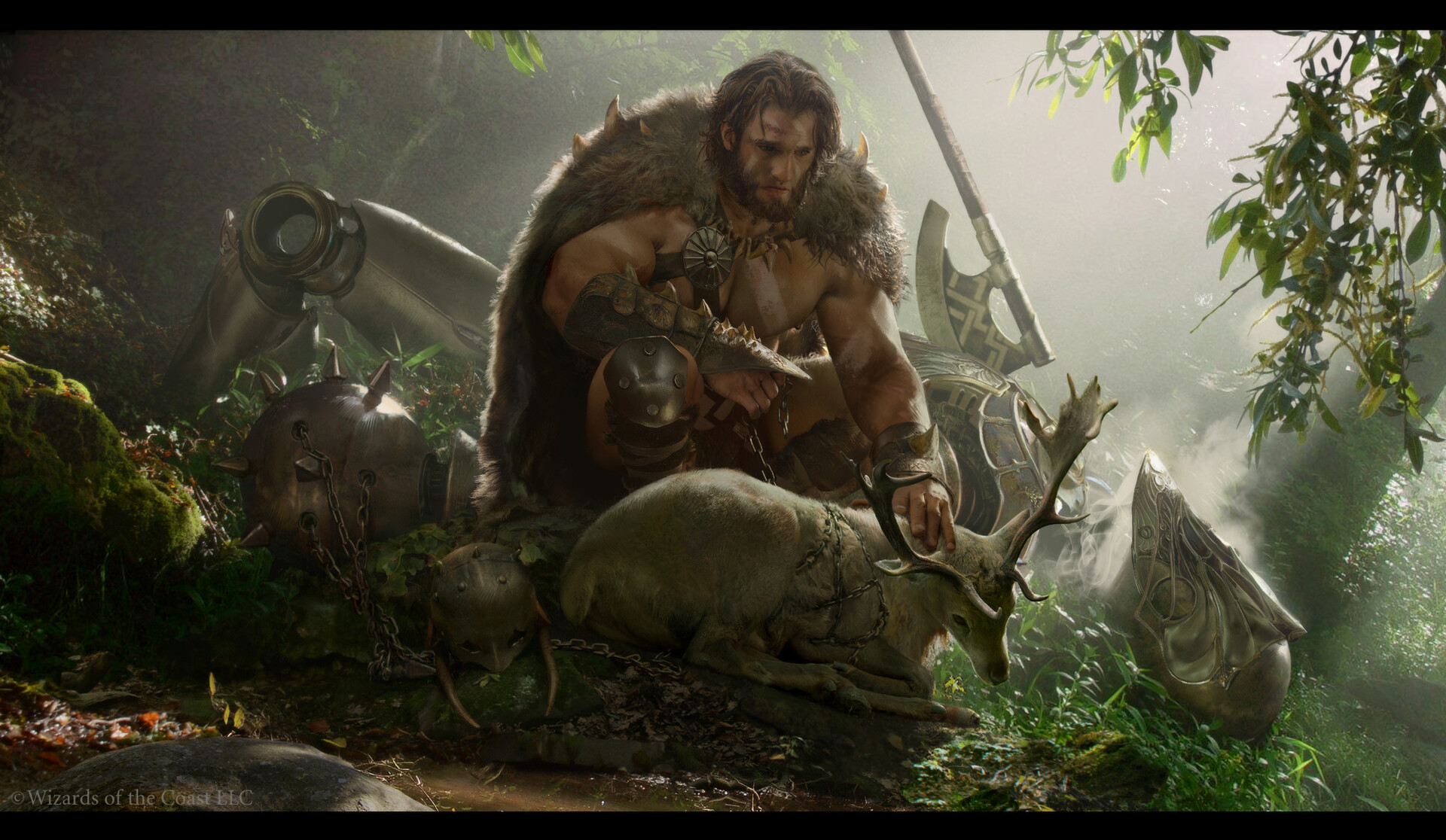 Artwork by Brad Rigney. Please support their work.