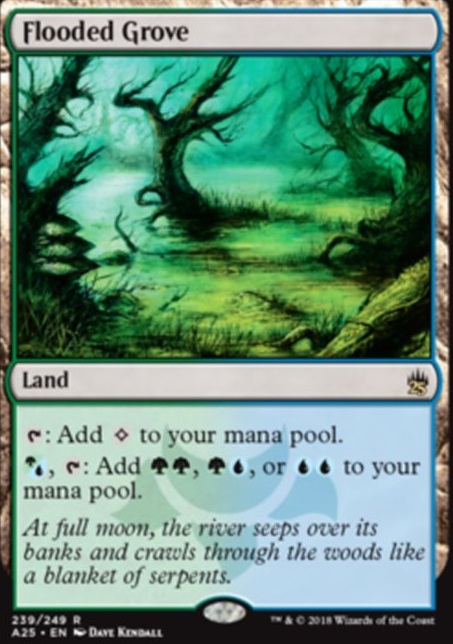 Legality
| | |
| --- | --- |
| Format | Legality |
| Noble | Legal |
| Leviathan | Legal |
| Magic Duels | Legal |
| Canadian Highlander | Legal |
| Vintage | Legal |
| Modern | Legal |
| Vanguard | Legal |
| Legacy | Legal |
| Archenemy | Legal |
| Planechase | Legal |
| Duel Commander | Legal |
| Unformat | Legal |
| Casual | Legal |
| Commander / EDH | Legal |
Related Questions
Flooded Grove
Land
: Add to your mana pool.
, : Add , , or to your mana pool.
Have (14)
ibraJG84 , angesoir ,

A

z

d

r

a

n

a

x

,

C

a

s

t

l

e

S

i

e

g

e

, Big-Foot , tragic_slip ,

T

h

e

D

u

g

g

e

r

n

a

u

g

h

t

, Fineontheoutside , mziter501 ,

E

s

q

u

i

r

e

_

, Thunderbeard , lorddarkstar , hippienproud ,

2

a

u

s

t

i

n

5

Want (32)
anglophile_ws , Heavyjaw , Blue_Otaku_No.1 , Monduck , jtaddeo , sraid ,

v

i

s

h

n

a

r

g

,

L

V

L

_

6

6

6

, ivaggione , boneSANITY ,

M

i

s

t

e

r

R

o

a

c

h

, Darkmantledawn , jbriedis , Gobblemeister , neotox ,

A

S

C

L

E

P

I

U

S

, xpsychovampx , Unlife , cainanunes ,

a

c

b

o

o

s

t

e

r

, kvfd1719 ,

T

h

e

D

u

g

g

e

r

n

a

u

g

h

t

, zombiedude347 , squee_goblin_nabob , TempleOfAsmodeus , BizarreBurrito , afeuling , HehaGardenHoe , Clawsun73 , MasterRoach117 , Zomgasa , Amalek
Flooded Grove Discussion
1 month ago
Hey toffmcsoft,
I want to go over your land base, because in the deck, it seems the most improvable (is that a word, I mean most able to be improved upon if it isn't!)
You run 30 land, which is fine, but the lands you run seem a bit strange to me:
1x Ancient Ziggurat - All colors, untapped, only works for creatures, being useless for 18 cards.
1x Bloodstained Mire - Fetchland
1x Breeding Pool - Shockland
1x Cascade Bluffs - Filter, only works for two colors, not fetchable.
1x Cavern of Souls - Five color fixer, untapped, stops counters, and works for colorless on other creatures/spells.
1x City of Brass - Untapped five color fixer, not fetchable.
1x Command Tower - Untapped five color fixer, not fetchable.
1x Exotic Orchard - Untapped fixer for some colors, not reliable, not fetchable.
1x Flooded Grove - Fixer for only two colors, not fetchable.
2x Forest - Basic, fetchable, untapped.
1x Gaea's Cradle - Only one color, untapped, taps for commonly multiple mana, not fetchable.
1x Grove of the Burnwillows - Untapped two color fixer, not fetchable. Not filter.
3x Island - Basic, untapped, fetchable.
1x Karplusan Forest - Pain land, untapped two color fixer. Not fetchable.
1x Mana Confluence - Untapped five color fixer. Not fetchable.
1x Reflecting Pool - Not fetchable, and not always reliable, can be a five color fixer, untapped.
1x Scalding Tarn - Fetchland
1x Shivan Reef - Pain land, two color fixer, not fetchable.
1x Steam Vents - Shockland
1x Stomping Ground - Shockland
1x Taiga - OG Dual.
1x Thran Quarry - Not always reliable, five color fixer, untapped, not fetchable.
1x Tropical Island - OG Dual.
1x Volcanic Island - OG Dual.
1x Windswept Heath - Fetchland.
1x Wooded Foothills - Fetchland.
1x Yavimaya Coast - Two color fixer, painland, not fetchable.
I'll order these out below, and say which ones I like or don't and give reasons.
In all, there are my drops, then I'll say what to run instead:
Drops:
Island (1x)
Forest (1x)
Additions:
2 months ago
Ideally for my Tatyova deck I would have all the fetch lands, Crucible of Worlds (Which I just got), a Strip Mine as an alternative yet douchey win condition if the game goes on too long, Worldly Tutor, Green Sun's Zenith, Magus of the Future, Dryad Arbor, Vedalken Orrery, Leyline of Anticipation, Thrasios, Triton Hero, Thousand-Year Elixir, Thawing Glaciers, Sylvan Library, Sensei's Divining Top, Seedborn Muse, Murkfiend Liege, Scorched Ruins, Roil Elemental, Rhystic Study, Petrified Field, Patron of the Moon, Pathbreaker Ibex, Oboro, Palace in the Clouds, Nykthos, Shrine to Nyx, Lotus Vale, Kodama's Reach, Into the Wilds, Hall of the Bandit Lord, Breeding Pool, Flooded Grove, Sylvan Scrying, Expedition Map, Eternal Witness, Dreamscape Artist, Concordant Crossroads, Command Beacon, Chromatic Lantern (IF you have all the fetches), Cephalid Coliseum, Boundless Realms, Blackblade Reforged,Alchemist's Refuge. Not sure if I will put all these in but most for sure and there are some good ideas.
2 months ago
Looking over the deck I count:
13 spells that use at least
7 spells that use at least
4 spells that use at least

is the least represented in your mana base, is the most necessary. There's a lot I'd suggest for overhauling the mana base, but just in terms of replacing Urborg I'd recommend Flooded Grove or Mystic Gate. The filters are supremely versatile for their ability to turn one of one color to double of another color; you can't, for example, cast Counterspell with a Forest and a Tropical Island, but you can with a Forest and a Flooded Grove.
3 months ago
Seedborn Muse to untap your lands on EVERY player's turn. In a 4 player game you can now generate 4x the amount of mana per turn cycle that you used to be capable of.
More dual lands (if you have the money) like Misty Rainforest Flooded Grove and Breeding Pool will make your mana base more consistent. Tropical Island too if you really wanna go all out.
Not a fan of Insidious Will. Costs twice as much as Counterspell and Twincast. I'd replace it with either one of those two (I like counterspell more) or (my favorite option) Scour from Existence. Seems inefficient until you remember that you can cast it while tapped out with your mana that you have stored up.
Lots of the big bois in your maybeboard are great inclusions. Blightsteel Colossus is a must-have in this deck, imo, as are Ulamog, the Infinite Gyre, Artisan of Kozilek, and Kozilek, Butcher of Truth. Maybe even throw in a Platinum Angel or Platinum Emperion just because you can cast them easily and they're an extra line of defence.
You can throw in some more cards like Braingeyser or Blue Sun's Zenith for more wincons.
On the note of wincons you could also consider Craterhoof Behemoth, Overrun or Triumph of the Hordes since if you're gonna play simic stompy it wouldn't hurt to have a way to give all your creatures trample and possibly pump them or give them infect for the turn. With Kruphix Triumph of the Hordes can win you so many games because: A) people won't see infect coming usually from a deck that doesn't have any other infect cards, and B) with so many huge creatures you can knock out the whole table in one swing lategame out of nowhere.
Oh, and Vedalken Orrery is baller in any commander deck, especially when it can let you play, I don't know, something like triumph of the hordes (wait for them to declare blockers, then flash triumph and prepare to lose friends) at instant speed.
3 months ago
Glad to see your a fan of the wonderous hive also k_drake. I also happen to have a Sliver Overlord deck of my own, although mine is still a lot cheaper. Keep in mind however that LVL_666 has also chosen to bling out this deck nearly entirely, and thus the price you see on here is much more than what it would could actually be with a non-foil, non-masterpiece/expedition version of the decklist.
The first and most obvious things to avoid would be the original duals, (i.e Underground Sea, Volcanic Island, Tropical Island etc...), next you make do without Mana Crypt, Cavern of Souls, Wheel of Fortune, Yawgmoth's Will, and Mana Drain which should bring the deck down by a huge margin.
There's is such a vast amount of lands to choose from that could be suitable early on, including: the vivid cycle (Vivid Crag, Vivid Grove), the tri-lands (Seaside Citadel, Savage Lands, Jungle Shrine, and so on), then there's ones I use to use like Transguild Promenade, Exotic Orchard, Forbidden Orchard, Rupture Spire, Evolving Wilds / Terramorphic Expanse, Ash Barrens (highly recommend), and the panorama cycle (Bant Panorama, Jund Panorama, Esper Panorama, etc).
You can then make use out of the signets, Golgari Signet, Izzet Signet, etc) and perhaps use most of the combinations (prioritize the ones that have green). Anyways I know I have told you a Lot of information to read and consider, and so let me give you a good visual of what a starting point could look like:
---

---
This deck by the Professor I do recommend you consider as a base, and from there start as I have done, which was slowly acquire all the slivers (and imo minus the queen, and legion at least at first), I actually was quite fortunate to receive most of the slivers needed for my list from a friend who had their very own
Sliver Overlord
deck and he sold/traded me eventually most of it as he was getting out of commander. I picked up stuff like
Gemhide Sliver
,
Manaweft Sliver
,
Necrotic Sliver
,
Harmonic Sliver
,
Heart Sliver
,
Galerider Sliver
and
Crystalline Sliver
if I recall first by cash and standard trades.
Then I got a few things like a Chromatic Lantern, Merciless Eviction, Heartstone, and Training Grounds for more additions. Eventually I started with getting the shocks and fetches (the khans fetches are cheaper) again the cheaper ones like Windswept Heath, Wooded Foothills, Temple Garden, Overgrown Tomb, Hallowed Fountain, and worked my way up having more than half of them (I'm currently only missing 3 fetches and 3 shocklands).
I got my Sliver Queen and Sliver Legion from the same friend who took apart his sliver list (it's unfortunate he sold it's entire manabase and then just kept the slivers before I even met him at my lgs though), after I had all the rest of the creatures and up until that point I focused more on an aggro/voltron strategy. I bought him some very pricey modern staples (2x Chalice of the Void before there reprint and traded an Ulamog, the Ceaseless Hunger for these 2 slivers and to nearly finish a whole deck to play for modern :)
You can then later like i'm soon about to do myself soon I think, start to buy things like a Mana Crypt, Mana Drain, Demonic Tutor, Wheel of Fortune, etc to make the deck more competitive.To give you an idea where i'm at, here's my decklist (I'm missing 16 cards in all from it) also that's cheaper than what you see here:
---

Commander / EDH* Delta-117
SCORE: 10 | 10 COMMENTS | 3032 VIEWS | IN 3 FOLDERS
---
I did not exactly plan on writing essentially a book on this for you lol, and so I apoligize. In summary start by acquiring if you don't already own any these above suggested lands, and start acquiring all the slivers you can, I recommend get ones like Sliver Hivelord, Diffusion Sliver and or Crystalline Sliver, Blur Sliver, Gemhide Sliver + Manaweft Sliver, Bonescythe Sliver, Syphon Sliver, Heart Sliver, Harmonic Sliver, Galerider Sliver + Winged Sliver, and others like Predatory Sliver, Sinew Sliver, Muscle Sliver all of which are pretty cheap. Then you will want Chromatic Lantern, plenty of signets, Darksteel Ingot, Commander's Sphere, Fellwar Stone, maybe the newly reprinted Coalition Relic which is a bit cheaper now. Then start upgrading the manabase(Mana Confluence, City of Brass, Unclaimed Territory, Sliver Hive, Ancient Ziggurat are all a good start. Then go with maybe getting the filterlands which thankfully have been reprinted and are now a lot cheaper,(Flooded Grove, Twilight Mire,...) and the shocks/fetches prioritizing the ones for green like Breeding Pool, Overgrown Tomb, Windswept Heath, Wooded Foothills because you will want green I would say more than any of your colours to cast stuff like Manaweft Sliver + Gemhide Sliver, Kodama's Reach/Rampant Growth/Cultivate etc. Once you have most if not all of the slivers and the mana base then you can go back to refining the deck with medium to high end upgrades like Mana Crypt, Volrath's Stronghold, Demonic Tutor, Vampiric Tutor, Pact of Negation, and such. Personally in my case i'm refraining from the original duels for budget reasons myself as I can't ever see myself getting enough use out of them to make them worth it fully. Anyways I hope this gives you lots to think about!
(Final note), consider Spirit of Resistance at least initially if you think you can either protect it with counterspells or in a meta where enchantment removal won't be an issue :)
4 months ago
Think of Mario saying "Here we go!"
Lands:
Yavimaya Coast, Simic Growth Chamber, Breeding Pool, Alchemist's Refuge, Lumbering Falls, Novijen, Heart of Progress, Oran-Rief, the Vastwood, Botanical Sanctum, Path of Ancestry, Terramorphic Expanse, Flooded Grove, Misty Rainforest
Artifacts:
Simic Signet, Thought Vessel, Swiftfoot Boots, Lightning Greaves
Creatures:
Edric, Spymaster of Trest, Coralhelm Commander, Lord of Atlantis, Wanderwine Prophets
Instant/Sorceries:
Load more