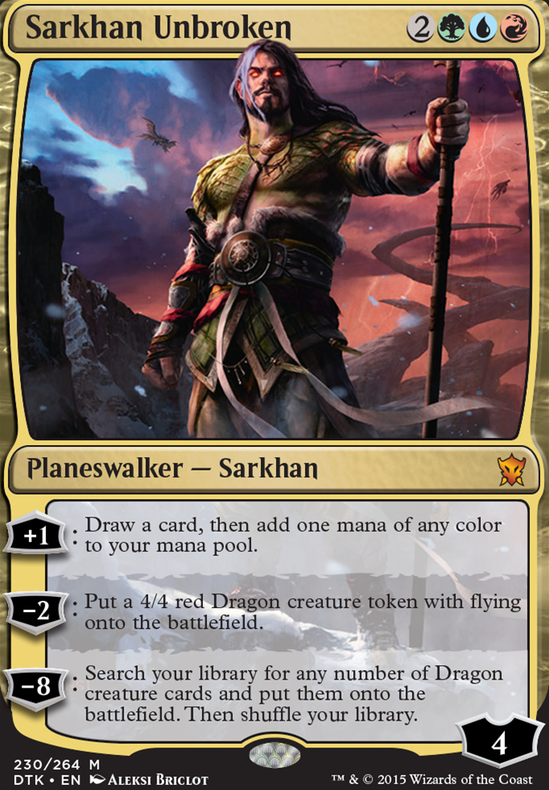 Legality
| | |
| --- | --- |
| Format | Legality |
| Tiny Leaders | Legal |
| 1v1 Commander | Legal |
| Magic Duels | Legal |
| Canadian Highlander | Legal |
| Vintage | Legal |
| Modern | Legal |
| Leviathan | Legal |
| Legacy | Legal |
| Frontier | Legal |
| Duel Commander | Legal |
| Unformat | Legal |
| Casual | Legal |
| Commander / EDH | Legal |
Tokens
Related Questions
Sarkhan Unbroken
Planeswalker — Sarkhan
+1: Draw a card, then add one mana of any color to your mana pool.
-2: Put a 4/4 red Dragon creature token with flying onto the battlefield.
-8: Search your library for any number of Dragon creature cards and put them onto the battlefield. Then shuffle your library.
Have (27)
ironax , Fiolek , dexxter7 , HydraOoze , Supremespeed ,

D

r

e

d

g

a

r

, gildan_bladeborn , burnedbread , Hakira , jstn.mrrtt , duff87 , rikertchu ,

c

k

l

i

s

e

, Orypool , a_murpheus , hippienproud ,

i

t

h

e

o

r

y

z

, 7vennum7 , JohnBeaman ,

P

i

e

g

u

y

3

9

6

, MTG1814 , Pumpkinking913 , Bluboltar ,

p

e

r

r

i

n

5

1

5

, CAPT.Shock , pokemate0 ,

T

h

e

D

u

g

g

e

r

n

a

u

g

h

t

Want (27)

p

p

h

h

a

a

z

z

e

e

, legioncult13 , AnonymousFox , dragonmaster228 , ropesnake , Papstxiii , VampSlayer , W31RDP3NGU1N , guacachole , VosslerX , Gryffix , wegotdahooch ,

R

i

d

e

r

s

_

o

f

_

B

r

o

h

a

n

, Exo-TheGamingCuber , NJDeckBuilders ,

v

a

s

h

a

c

l

a

r

e

n

s

,

S

i

r

F

o

w

l

e

r

, kovellen , Jokulmorder1 , npschu104 , Byxfluzba , MuffinSmith , Rctfan , Slymaster9 ,

T

h

e

D

u

g

g

e

r

n

a

u

g

h

t

, clongst , KB2187
Sarkhan Unbroken Discussion
1 day ago
Looking for cards that can help me bring out Dragons for free. So any card that does this sort of thing, really.
I know a small list already, but I was wondering what else there is so I can try to narrow and hone in on the best cards.
Here's what I already know of that do this sort of thing, in one way or another. In no particular order, because I'm lazy.
I'm trying to stay away from graveyard tricks, so please keep those suggestions to a minimum. Thank you.
As I said, I'm trying to stay away from Graveyard tricks but if it is cheap enough and easy to pull off, I guess it works. I'm looking to constantly grow my boardstate every turn, not try and rebuild it from scratch.
Yes I know Dragon Broodmother and Utvara Hellkite will grow the boardstate as well. I plan on including them. I just wanted to know what else I might be missing :)
Thanks! :D
1 week ago
I agree with that. Walkers are, or at least should be, a constant value engine. A walker with two crappy abilities they can use immediately but has an amazing ult is strictly worse than a walker that has two good abilities they can use immediately.
For instance I just put Sarkhan Unbroken in my Jonah deck because it makes flying 4/4s and it draws me a card and makes Mana. It's ult might fetch me an ur dragon but that's it.
1 month ago
I second enpc's suggestion, though I disagree in the reasoning. On its face, -6 for 24 flying damage is very powerful, but not that much different than Sarkhan Vol's -6 for 20 flying damage or Sarkhan, Fireblood's -7 for 20 flying damage.
My issue is the flexibility. Because it's a -X ability, rather than a fixed -6 ability, you can activate it earlier, and only use what you need in the given moment.
For cost, -2 seems like a fair price for a 4/4 flyer. I looked at a couple planeswalkers for guidance - Sarkhan Unbroken gives a 4/4 flyer at -2; Ob Nixilis of the Black Oath gives a 5/5 flyer for -2 with some additional pain. Sorin, Solemn Visitor's 2/2 flyer, but Sorin only costs 4 to cast.
Agree completely on CMC being 5 - that seems in line with other Planeswalkers.
1 month ago
So for the first thing on the agenda, I would like to formally apologize for my absence from this deck (and magic in general for that matter). Life has been keeping me busy with school ending a couple of months ago (I know, summer is almost over), but with the end of school, work then began to arise and it just became very hard to stay active on tapped out and find time to actually build any decks (especially this one in particular). With that being said, I am back once again to build, formulate, test, and build again.
Second lets begin with a thank you to TailoredBacon for trying to answer Vlasiax's question in my absence, I really do appreciate it and love having input being discussed here to help improve everyone's The Ur-Dragon Deck. So now it is my turn to actually provide some input on the question as well :D and this will bring us to the 3rd topic.
Vlasiax: I have been using Kolaghan, the Storm's Fury, Ojutai, Soul of Winter, and Wasitora, Nekoru Queen mostly because they either fill a couple of rolls, or they are just strictly better than other dragons. Kolaghan will help provide extra damage when needed and if you have an army, the power will quickly grow out of control, but you are right, alone she does slightly under preform and it is very possible that you might not ever get to that army of dragons and might end up on the cutting block due to her cost and what she does, as she has no board impact right away. As for Ojutai, Soul of Winter, I have found that he will help lock down or slow down opponents that could very well grow out of control. Gilded Lotus is playing in almost every deck in my playgroup and tapping it down could help (but most of my group have ways of untapping it multiple times in a turn or other ways around it), so Ojutai is not bad, but for 7 mana, there might be something better. He lacks impact on the board upon entering and must attack to get his trigger, which if you have multiple dragons attacking, can be amazing, but if you don't, then he is more of a nuisance than anything. Wasitora, Nekoru Queen is probably out of all of the dragons you have mentioned, would be the one I keep, solely because of the Sac creature affect and strength it has on deck like Atraxa, Praetors' Voice, Captain Sissay, or other commander decks that rely so heavily on the commander. Though once again, I have found that she does get removed rather quickly as people don't want to lose their commander. She also shares the common problem with the other two and it is that she doesn't impact the board when she is played and is just a creature that people are like "okay, got to get rid of it by next turn so we don't sac anything". Turns out, dragons are threatening, but when dolled out one by one, people tend to just remove them before they become a problem. Which this brings us to your second question about hate.
YES!!!!! It does bring hate as people are going to remove your dragons before they can do anything. This is short and simple, if you play a 6 mana dragon, that will be removed to the infamous one mana Path of Exile, then yes, they are going to do it. I have found that counterspells aren't as big of a problem as one might imagine, but they are there and having Cavern of Souls does help, but I have considered alternate means. I just saw Conqueror's Flail tonight, and holy crap. A card that will more than likely give +5/+5 (because we are 5 color) and it has a Grand Abolisher like affect, I will take 10 please. Steely Resolve is another that I will probably try to find room for. I do not know if I want Taigam, Ojutai Master, or Surrak Dragonclaw, just because of their mana costs. Surrak is more tempting because it gives all your creatures trample, and makes everything uncounterable. So he is tempting, but really unsure right now. Requires play testing!!! So we should always look for ways to protect our dragons, but we must keep it cheap in cost if at all possible. If we can ramp out cheap spells that protect our dragons, while being able to dull out dragons, that would be ideal.
Last point, the planeswalkers. Oh boy, the planeswalkers. What can I saw, flavor wise, I love both Ugin, the Spirit Dragon and Nicol Bolas, God-Pharaoh and they are both very powerful, but they are very expensive and if I had the choice, I would probably only keep Ugin, and that itself is a maybe right now. The Sarkhans are another thing. Sarkhan Unbroken on paper looks like he should be in this deck 100% of the time, but in reality, I don't think so. He is 5 mana for a very kill able mana rock that draws you one card, maybe two is a full turn rotation happens. Plus the ult, strikes fear into the hearts of your enemies and paints a very large target straight on his forehead. He will be killed, it is not a matter of if, it is a matter of when, and it will be very soon after he is played. Now if you play Doubling Season with him, then by all means, ult him right away and live the dream, then tell me how it was because it sounds glorious. Sarkhan the Mad is one that I have thought about, but ultimately, have left out because he will be a 5 mana draw a card once or twice, or make a 5/5 dragon that could have just been played for the 5 mana from the start. His ult seems really cool, but requires a lot of dragons to do this. If I had to have a planeswalker, and really, I want to use this guy, it would have to be the new Sarkhan, Fireblood. He is a 3 mana ramp spell for dragons that can either ramp or loot a card, which he will more than likely loot on his first turn he is out. Second, because his abilities are just helping with ramp or looting and his ult only makes four 5/5 dragon tokens, which isn't as scary as pull every dragon out of the deck onto the field, so he does not receive as much hate as Sarkhan Unbroken. I think this also might be the only planeswalker I run just because he is cheap and is exactly what I want. Though Dack Fayden is very tempting as he can also ramp with artifact stealing.
Okay, now for my final set of words for the night. This was a lot to think about and type, but it is what we are here for to help discuss and further advance ones ideas. This being said, for the months that I have been playing magic, I have been playing a Storm Grixis deck, a competitive Sidisi, Brood Tyrant deck, and even a Marwyn, the Nurturer commander deck. All of the experience and ideas from these decks will help build and form a new and improved The Ur-Dragon deck. One that will help push the deck to its very limits. Also the M19 and Commander 2018 has some awesome stuff for this deck and I look forward to improving the deck with all the fun things found in these sets. A 3 mana Nicol Bolas, the Ravager Flip that does impact the board straight away by discarding a card from all of our opponents and is a 4/4 flyer that can become a planeswalker in the later end of the game. Sold and I already have my Foil Prerelease Nicol Bolas for the deck. So with all of this, you guys can expect to see a new form of The Ur-Dragon Initiative in the coming month or two. Hopefully it is sooner, rather than later, but time must allow for research. I thank you all for listening, reading, and just enjoying the deck overall. Glad to see that it has remained high up on the ranks of the other The Ur-Dragon decks even with my absence and I hope everybody will continue to support The Ur-Dragon Initiative. Have a great night and may your sealed pulls and your commander games be great. Bye Bye!!!!!!
1 month ago
Vlasiax: I can't say I speak on behalf of Derpsofdoom, but I run a very similar deck and thought I might be able to provide some insight. On the topic of Kolaghan, the Storm's Fury, Ojutai, Soul of Winter, and Wasitora, Nekoru Queen, I sort of agree. They are some of the weaker cards in the deck, but I think all of them serve their purpose. Kolaghan is good because of the ability stacking so it can get in for some really good early damage. There have also been a few occasions where it helps get to the 21 commander damage in two swings instead of 3. Ojutai has helped me with closing out games that are at sort of a stand-still because I can tap down the bigger threats my opponents have and get some good damage in. It also helps against Atraxa, Praetors' Voice decks because that card can be annoying to deal with, at least in my meta. Wasitora is again good against decks that run fewer creatures and it is really good in the early game at preventing them from getting a good footing. The countermagic and artifact hate kind of depends on meta, and in mine the Cavern of Souls is usually good enough. In the occasional more controlling matchups, I do bring in a Taigam, Ojutai Master, but I rarely have to. I do think those cards are definitely worth a place in control matchups, especially against multiple control decks. As for the plansewalkers, Ugin, the Spirit Dragon and Nicol Bolas, God-Pharaoh are just really powerful, irrelevant of what type of deck you are running. Ugin is really good at wiping the smaller creatures and permanents, which is good because dragons are typically very high CMC cards, and using his -11 is insane. Nicol Bolas is really good at either making sure your opponents don't have very many cards in hand with the +1, and once they're low on cards you can start using the +2 to steal their cards from their library, and the -12 is also crazy, even though it rarely ever gets to that point. I personally tried Sarkhan Unbroken and thought it was a little slow for my taste. I understand that it has ramp and card draw in its +1, which is good, and the -8 can put you way ahead, but I think the deck has better ramp and card draw already, and -8 is really difficult to get to. I've never personally tried Sarkhan the Mad, and I've always been interested to try it because the -4 can just straight up kill people, the -2 can remove bigger and better cards for a 5/5 flier, which is not a lot in commander, and the 0 is good to use if you've used the other two abilities because it has no abilities that add loyalty counters. Sorry if I've been rambling lol, I just play this deck a lot and have tried a lot of different combinations of 99 cards to see how the deck plays out.
1 month ago
SemperKels0, no problem! I absolutely love Commander as a format, and Some of my friends have called me Sarkhan because I REALLY love Dragons.
I advocate for Thunderbreak Regent because he'll almost always draw out a removal spell if they have one, or if you abuse cards like Rite of Replication, then the damage becomes much more significant.
A couple more suggestions that hit me just now are Urza's Incubator and Cavern of Souls, for more cost-reduction, mana fixing, and dodging Counterspell or anything like it.
Sarkhan's Unsealing is great because almost all of your stuff is going to have power 4 or greater, so it's free removal.
You may like Domri Rade or Sarkhan, Fireblood because they're 3-CMC and their utility package is on par with Sarkhan Unbroken.
Also consider Dragonlord Kolaghan or Karrthus, Tyrant of Jund to give all your fatties Haste. The latter also comes with the benefit of just ending games against other Dragon decks.
Really glad you enjoyed my suggestions and I hope I can continue to be helpful!! T/O won't let me suggest cards from M19 because it says they're not legal to use yet, but they are and they're definitely good.
2 months ago
I understand how powerful The Ur-Dragon is, but I would argue that Scion of the Ur-Dragon may be a better commander for what you want to do. Scion can actively put as many dragons as possible into the graveyard so that you can return them all to the battlefield with Primevals' Glorious Rebirth. Other effects like this are Patriarch's Bidding and Living Death. Granted, I understand The Ur-Dragon allows you to draw cards which you have very little card draw in the deck, so there is that. The new Sarkhan, Fireblood can help ramp into dragons, as well as some card draw, so that may be something to consider putting in here as well.
I'm not sure what your budget is, but your land base could use some help. Fetches like Bloodstained Mire, Wooded Foothills, ect can help you fix your colors with shocklands like Blood Crypt and Stomping Ground. We'll be going back to ravnica so hopefully shocks will decrease in price. If those are outside of your price range, maybe look into a card called Amulet of Vigor so that your lands will enter untapped. Otherwise, you will have an EXTREMELY slow deck. Dragons are already a little slow, but even more so with all of those tapped lands.
Load more
Latest Commander