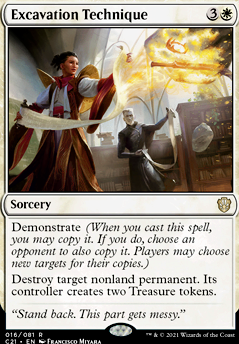 Excavation Technique
Sorcery
Demonstrate (When you cast this spell, you may copy it. If you do, choose an opponent to aslp copy it. Players may choose new targets for their copies.)
Destroy target nonland permanent. its controller creates two Treasure tokens.
Latest Decks as Commander
Excavation Technique Discussion
2 months ago
seshiro_of_the_orochi thank you for your suggestions. I am planning on adding Jhoira's Familiar because I think it will run very well in this deck. Thran Dynamo is another great one but I think I have a lot of mana ramp cards right now (about 16). In the future, I could swap that out for Burnished Hart or Excavation Technique as I think these are the worst mana cards right now. Similar story for Myr Retriever but I agree because he is very mana efficient. I have 9 cards for recursion not including osgir but I can definitely swap the myr in for Sun Titan or Refurbish. I know Lightning Greaves has some infinite combo ability because of its 0 mana cost to equip but I'll probably get the cheaper of the two unless you really think that its worth the extra dough. Once again thank you so much for taking the time to help me out.
6 months ago
Sup lobsternips!
As a baseline, you'll need to add lands, which I'm sure you know. Since you're making Treasure and Gold tokens in this deck you'd probably be good with roughly 34-36 lands, leaning more to the most mana color you'll need, say like a 25/25/50 split if thats what you're going for.
That basically does it for my brief review, hope I was of some help!
7 months ago
I have replaced Bramblecrush with Excavation Technique , because the latter card has a more lenient mana cost, it is usually better to be able to destroy a troublesome creature than a troublesome land, and the demonstrate ability can be used to gain favors with other players, which is a major strategy of this deck.