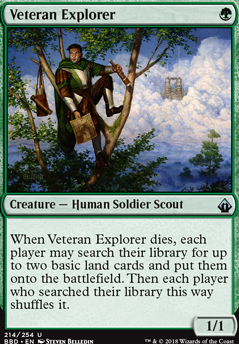 Legality
| | |
| --- | --- |
| Format | Legality |
| Tiny Leaders | Legal |
| Noble | Legal |
| Leviathan | Legal |
| Magic Duels | Legal |
| Canadian Highlander | Legal |
| Vintage | Legal |
| Custom | Legal |
| Vanguard | Legal |
| Legacy | Legal |
| Archenemy | Legal |
| Planechase | Legal |
| 1v1 Commander | Legal |
| Duel Commander | Legal |
| Oathbreaker | Legal |
| Unformat | Legal |
| Casual | Legal |
| Commander / EDH | Legal |
Veteran Explorer
Creature — Human Soldier Scout
When Veteran Explorer dies, each player may search his or her library for up to two basic land cards and put them onto the battlefield. Then each player who searched his or her library this way shuffles it.
Veteran Explorer Discussion
3 weeks ago
I've been having a long hard think about this deck list, I was considering a Ghave deck for my last deck but I opted for something else instead. This is my two cents..
This deck seems very heavily creature based, more than a third of it is creatures, so turn them into your ramp. Cards like;
Cryptolith Rite
or
Citanul Hierophants
will be far better for you than
Farhaven Elf
. Keep the creatures that you can sac to fetch lands because then they will trigger your death triggers, which gives you much more value . Other creatures that do this are
Primal Druid
Perilous Forays this one would be really good as it turns all of your tokens into Sakura-Tribe Elder.
Since you're playing around with counters I'd run Gyre Sage for some bigger ramp. You could take out the Llanowar Elves
I really like all the infinite sac combos but I think you're running too many blood artist triggers. You could easily only run him and maybe one other with a similar effect. Some other cool effects you could run to replace some of those triggers could be
Catacomb Sifter
Death's Presence awesome with your counters
1 month ago
Hey, saw your forum topic asking for help.
Overall your deck looks really good, but consider more early game plays? Max out on mana dorks as they're excellent with Meren; able to ramp into her faster and then being sac fodder to get experience counters:
If adding more one drop green mana dorks then more Forests are wanted to consistently be able to play one turn one. Add more Forests or lands that can ETB untapped turn one to make green mana such as Llanowar Wastes or simply cut some Swamps for more Forests. My advice is have more Forests than Swamps if adding more one drop green mana dorks. Consider cutting just about all lands that ETB tapped? Replacing them with lands that don't ETB tapped or more basic lands.
Meren benefits from more self sacing creatures and sac outlets to get experience counters faster.
Buried Alive and Fauna Shaman are busted with Meren's ability to reanimate or recur a creature. Fauna is a repeatable effect to get a creature into your graveyard and tutor for another one. I see Razaketh here; great creature to tutor for with Buried or Fauna and then reanimate with it low mana cost reanimation: Renaimate, Apprentice Necromancer , Animate Dead , Victimize or Life / Death .
Other low mana cost cards to consider adding:
Lands within the deck's budget to consider adding:
---
Cards to consider cutting:
Crypt of Agadeem
Golgari Rot Farm
Grim Backwoods
Temple of the False God
Barren Moor
Bramble Sovereign
Butcher of Malakir
Golgari Findbroker
Izoni, Thousand-Eyed
Llanowar Dead
Mindwrack Demon
Savra, Queen of the Golgari
Torgaar, Famine Incarnate
Underrealm Lich
Kodama's Reach
Skyshroud Claim
Deadbridge Chant
Open the Graves
Panharmonicon
Ever After
If you like some of these suggestions then I offer more advice including explanations of why I'm suggesting to cut these cards, etc. Good luck with your deck.
2 months ago
Have you considered running Krark-Clan Ironworks ? It's a fantastic card that works pretty well with that Scrap Trawler /Artifact package you got in there.
I'd replace the tron lands with basic Wastes though - you'll almost never get the three tron pieces without tutoring for them, and having more basics is beneficial against cards like Wave of Vitriol or Back to Basics , or for cards like Veteran Explorer .
2 months ago
I'm assuming you:
Route 1) Stength Draw with Worse Creature Tempo
Cut cards that are good tempo plays but otherwise don't help you win by drawing cards. The idea is that you draw into Approach of the Second Sun , cast it, and then trigger your draw abilities to be able to cast it again very quickly. I assume this deck isn't trying to be super competitive. I added a little recursion for toolbox, while still being group hug.
Cut
Add
Side Note: I really don't like Sunscorch Regent but I get why he's in the deck as part of a wincon. I just feel Toothy, Imaginary Friend and Pir, Imaginative Rascal are very similar and provide much more to the deck in an obvious way, but they cost $8 as a pair so I didn't want to formally recommend them.
Have Simic Ascendancy , cast Toothy, Imaginary Friend and Pir, Imaginative Rascal , draw 5 cards with in game triggers which puts 10 on toothy which puts 20 on Simic Ascendancy .
2 months ago
Hi! Good budget list, but I think the exclusion of Swiftfoot Boots Lightning Greaves and Whispersilk Cloak is a little criminal, it's not a terrible thing for your commander do die because you can draw more cards, but keeping him around to keep countering stuff can be strong too.
3 or 4 wastes is a little better, if someone cracks a Veteran Explorer you don't wana miss out, plus backup for fetching from opponent's Path to Exile . You can also play Solemn Simulacrum if you have more basics.
Thran Temporal Gateway is really good. Beyond that I think you just need many many more rocks, this kind of strategy is really mana dependent.
3 months ago
An interesting list!
More Card advantage creatures: Soul of the Harvest , Harvester of Souls , Masked Admirers , Garruk's Horde , and Garruk's Packleader .
More sacrifice creatures: Ghoulcaller Gisa , Bontu the Glorified , Dimir House Guard , Izoni, Thousand-Eyed , Krav, the Unredeemed , and Razaketh, the Foulblooded .
More ramp creatures: Dawntreader Elk , Ondu Giant , Veteran Explorer , Primal Druid , Burnished Hart , and Wild-Field Scarecrow .
More recursion creatures: Cadaver Imp , Deadwood Treefolk , Den Protector , Dutiful Attendant , and Gravedigger .
I would look at lowering/smoothing out your curve, I have found it helps improve the functionality of a deck.
4 months ago
You don't really have the feel of a group hug deck here. A few cards you are running are group-huggish, like Veteran Explorer , Orzhov Advokist , and Kami of the Crescent Moon . Otherwise, you are running more of a pillowfort deck, where you are trying to incentivise others to attack players other than yourself.
If you want to go group-hug, you should consider running cards like Rites of Flourishing , Eladamri's Vineyard , Magus of the Vineyard , Howling Mine , Noble Benefactor , Dictate of Kruphix , Awakening , and cards such as these that really benefit the rest of the table, along with yourself. Its ok to run group-hug alongside a pillowfort strategy, but you don't have much group-hug going on right now that I can see.
4 months ago
In the end, I will remove 1 Veteran Explorer in exchange for 1 Vampire Hexmage .
About Green Sun's Zenith , it's been a silly mistake to say that, but with the spoiler season and other decks and tests of other formats that I'm doing, I have many things on my mind.
Thanks Again,
TheSimikBoat
Load more
Veteran Explorer occurrence in decks from the last year
Commander / EDH:
All decks: 0.01%