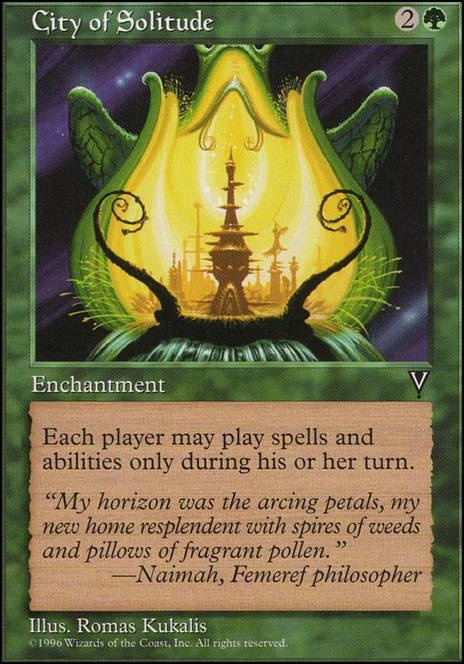 City of Solitude
Enchantment
Players can play spells and activated abilities only during their own turns.
Browse Alters
View at Gatherer
Trade
Legality
| | |
| --- | --- |
| Format | Legality |
| Oathbreaker | Legal |
| 2019-10-04 | Legal |
| 1v1 Commander | Legal |
| Canadian Highlander | Legal |
| Casual | Legal |
| Vintage | Legal |
| Leviathan | Legal |
| Legacy | Legal |
| Limited | Legal |
| Duel Commander | Legal |
| Highlander | Legal |
| Commander / EDH | Legal |
| Tiny Leaders | Legal |
| Unformat | Legal |
Rules Q&A
Latest Decks as Commander
City of Solitude Discussion
2 weeks ago
If you seek protection in mono green, there a several ways to do that. I hope my suggestions can be of some use to you.
2 months ago
You had beckoned me from one of my decks, thus I shall respond.
I am not too fond of combo decks myself (I choose not to play them though I don't mind if others do), so most of my suggestions imply a "fair" game plan. If you wish to make the deck as powerful as possible, this will lie in the ramp and the lands. Get quite a few tutors for the sake of finding combos, cut cards like Rampant Growth in favour of more immediacy with artifact ramp, and get shocks for the sake of having all of your colours by turn two and having them untapped. Moreover, cards such as City of Solitude, Silence, and Veil of Summer allow for a distinct lack of interaction being done by the opponents.
I'd either dial it back or lean into it, but, peering upon the changes done to the deck, you should probably make it an efficient murdering machine.
May fortune betide.
4 months ago
VexenX is your foil City of Solitude a test print or something super rare? As I didn't think there was a foil visions version every printed or is this a proxy?
6 months ago
Hi_diddly_ho_neighbor: yeah but that's what I meant by the preface; since for almost all PWs, more loyalty isn't a bad thing, the usage of Nesting Grounds just becomes a bad proliferate and non-novel. (but sure, the prospect of getting an ultimate out a turn early out of nowhere makes it worth considering). Only exception I could think of is moving a counter from Garruk Relentless  Flip to transform him right away (and letting you activate his backface abilities on the same turn), and Elspeth, Sun's Nemesis, where you can -2 her twice before killing her with Nesting Grounds so that she can escape
Confused and frustrated about the templating difference for Mindleecher and Haldan. Color cost agnosticism should be universal when it comes to casting other people's stuff for retail price.
Not a big deal but Glademuse doesn't feel like a mono- since it's an enemy of and has City of Solitude & Dosan the Falling Leaf
Load more