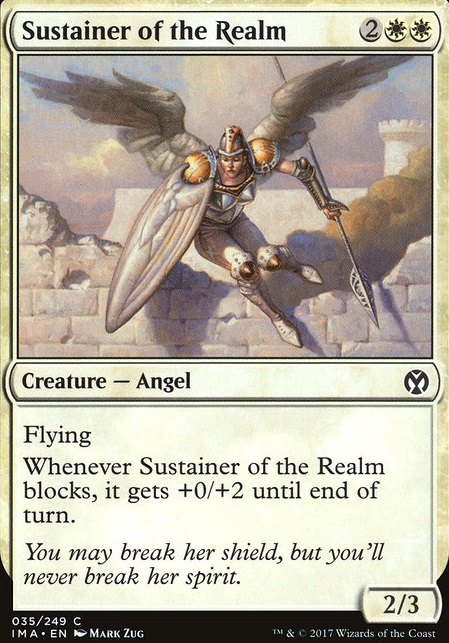 Legality
| | |
| --- | --- |
| Format | Legality |
| Tiny Leaders | Legal |
| Noble | Legal |
| Leviathan | Legal |
| Custom | Legal |
| Magic Duels | Legal |
| Canadian Highlander | Legal |
| Vintage | Legal |
| Penny Dreadful | Legal |
| Casual | Legal |
| Pauper EDH | Legal |
| Vanguard | Legal |
| Legacy | Legal |
| Archenemy | Legal |
| Planechase | Legal |
| 1v1 Commander | Legal |
| Duel Commander | Legal |
| Oathbreaker | Legal |
| Unformat | Legal |
| Pauper | Legal |
| Commander / EDH | Legal |
Sustainer of the Realm
Creature — Angel
Flying
Whenever Sustainer of the Realm blocks, it gets +0/+2 until end of turn.
Sustainer of the Realm Discussion
1 year ago
This ended up being really, really long...so if it's TL;DR or you feel too critical, feel free to delete it (I wouldn't even complain at this point). Hard to really see this as an "Enchantress" deck while only being able to use Mesa Enchantress and NOT including a Serra's Sanctum to boot. Much more simply an Enchantment heavy Angel deck, which I definitely approve of since I love both Enchantments and Angels, but the title is misleading.
Enchantress is a deck centered around the Enchantress triggers of Argothian Enchantress, Verduran Enchantress, Enchantress's Presence, Eidolon of Blossoms; and if you're adding a color, you add White so you can use Mesa Enchantress and Femeref Enchantress. Without this core, it's not Enchantress.
As for the rest of the deck, it looks like it should be able to hold its own, but would probably improve with some cheaper Angels or more ramp. I used to run Voltron Akroma, Angel of Wrath and had to use tons of mana rocks just to make it playable. Akroma also cost 5WWW to get the FIRST time soooo....yeah...
Angels:Serra Avenger, Angelic Page, Emancipation Angel, Seraph of the Sword, Sustainer of the Realm, Angel of Condemnation, Seraph of Dawn, Blinding Angel, Herald of the Host, Angel of Sanctions, Angelic Arbiter, Angel of Serenity, Akroma, Angel of Wrath, Resolute Archangel, Archangel of Thune, Baneslayer Angel, Serra Ascendant, Avacyn, Angel of Hope, Iona, Shield of Emeria.
Enchantments:Serra's Blessing, Brave the Sands, True Conviction, Righteous Cause, Aura of Silence, Blind Obedience, Endless Horizons, Spirit Loop, Karmic Justice, Nevermore, Seal of Cleansing, Sphere of Safety, Spiritual Focus, Starfield of Nyx, Worship, Moat, Test of Endurance
Rocks/Ramp:Land Tax is pricey, but the best mono white land grabber in the game.Gilded Lotus, Chrome Mox, Lotus Petal, Manalith, Fellwar Stone, Spectral Searchlight, Darksteel Ingot, Mind Stone, Thran Dynamo, Pristine Talisman, Caged Sun, Gauntlet of Power, Extraplanar Lens, Explorer's Scope, Thunder Totem, Marble Diamond.
Lands:Seraph Sanctuary, Reliquary Tower, Serra's Sanctum, Command Beacon, Path of Ancestry, Cavern of Souls
Other:Door of Destinies, Herald's Horn, Howling Mine, Demystify, Disenchant, Fragmentize, Forsake the Worldly, Fumigate, Aetherflux Reservoir, Approach of the Second Sun, Faith Healer, Grand Abolisher, Open the Vaults, Replenish, Second Sunrise, Oketra's Monument
A number of these are pretty pricey (and definitely out of my price range) but as someone who plays White in every format he plays, a Tribal player and an Enchantress player, I can go on and on and on about these kinds of decks...This deck happens to have a White-centric tribe and is Enchantment based. XD My apologies.
No data for this card yet.