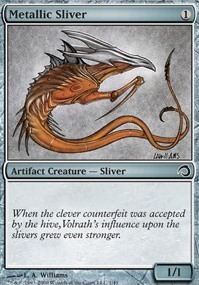 Legality
| | |
| --- | --- |
| Format | Legality |
| Tiny Leaders | Legal |
| Noble | Legal |
| Leviathan | Legal |
| Custom | Legal |
| Magic Duels | Legal |
| Canadian Highlander | Legal |
| Vintage | Legal |
| Casual | Legal |
| Pauper EDH | Legal |
| Vanguard | Legal |
| Legacy | Legal |
| Archenemy | Legal |
| Planechase | Legal |
| 1v1 Commander | Legal |
| Duel Commander | Legal |
| Oathbreaker | Legal |
| Unformat | Legal |
| Pauper | Legal |
| Commander / EDH | Legal |
Metallic Sliver
Artifact Creature — Sliver
Metallic Sliver Discussion
1 month ago
Hey Sectiron, +1 for you mate!
Here's my (casual?) list: Slivers/ First/ Lords
Clearly you've given it some thought, but it reads like you're underestimating your excludes... unless you're under-tuning for casual, tbf.
I wanted to list a few combos in case you missed them ;)
...Basically, Morophon, the Boundless , Sliver Queen , and Pulmonic Sliver go infinite in many ways... and Dormant Sliver , Basal Sliver (aka Ashnod's Altar ) , and Darkheart Sliver are all really good.
...as are Firewake Sliver (it gives haste) and Mindlash Sliver . Really, any sacrifice in general would let you play and turn off Dormant Sliver / Harmonic Sliver (aka Aura Shards )/ Crystalline Sliver /(etc) as well as capitalize on board wipes.
Ramp feels really nice... why not play more? Resigning yourself to 5 mana sounds miserable! I agree cascading into ramp is a bummer, but if you play 2:1 cards like Skyshroud Claim , (etc), you'll consistently play your commander as well as protect yourself from land hate (...it is too easy to deny the WUBRG player).
Also, play way more 1-drops, including non-Slivers. I personally like Phyrexian Reclamation and have been testing Reconnaissance . Currently my only 0-drop is Summoner's Pact , which effectively lets me stop cascading through <100 cards, tutor, and then shuffle. Your current setup is torture! Cascading for a single 1-drop (which you can't skip and just tutor) into <3 0-drops? You're flipping and shuffling way too much for a single rock! Either way, though, it looks like fun.
My tables are also casual, but Slivers are arch-enemy... no matter what! Embrace it :)
Hopefully this was helpful. glhf!
8 months ago
Slivers is my pet archtype so appologies if I go a little overboard with this comment
All in all I really love the deck and it fills me with nostalga for my old Sliver deck (it was my first ever commander deck). Hope some of this helps and I'd be happy to talk about what I've said more (hope this isn't way to much)
9 months ago
My advice is to stick with a White and Green deck, you have the base slivers there like Sinew Sliver, Muscle Sliver, Brood Sliver, Horned Sliver, Bonescythe Sliver, Gemhide Sliver, Ward Sliver, Might Sliver, Manaweft Sliver, Essence Sliver and Sidewinder Sliver there, plus some more but these are the greatest ones for me. With them you can splash more colors to use Crystalline Sliver, Necrotic Sliver, Sliver Queen, Sliver Legion, Sliver Overlord and Sliver Hivelord, which are the ones with most value in my opinion outside Selesnya colors, although there are some good ones too in Blue and Red. Metallic Sliver is a good and cheap body but with no abilities of its own. Also get non-creatures spells that allow you to draw, tutor or fix your hand/deck for more creatures, as well as things to protect said creatures from boardwipes and individual kill spells. Check my sliver deck to get a more accurate idea of what I'm saying please Merciless Aliens
1 year ago
It there are 4 Green vanilla creatures with a CMC of 1:
And a grand total of 1 colourless creature that fits these criteria:
If you were curious how to do the Gatherer search for vanillas, simply search Rules Text: NOT "A" "E" "I" "O" "U". That will eliminate any non-vanilla.
1 year ago
I feel like I should add that there is actually a circumstance under which your opponent could make successful use of a tapping spell here.
Lets say your opponent has a Downpour in hand, and untapped lands necessary to cast it. You have Gemhide Sliver or Manaweft Sliver and two other miscellaneous Slivers in play (maybe Metallic Slivers, or tokens from Hive Stirrings). Now, you want to tap these three slivers to cast say Opaline Sliver. During your Upkeep, before you draw your card for the turn, if you choose to do nothing, thereby passing priority to your opponent, your opponent can cast Downpour targeting your three slivers. Now, you can still tap them for mana in response, but that mana will disappear the moment your upkeep step ends, so unless you have an Instant in your hand you can cast, that mana is useless to you. With no instants in your hand, your only choices are to tap you slivers for worthless mana that immediately disappears, or let Downpour resolve and tap your slivers anyways. The result is the same, your slivers are tapped, and you can't make use of them.
1 year ago
Do you ever have enough creatures on the field to make Strength in Numbers worth it? I play a similar Pauper deck, but I rarely have more than two creatures on the field by the time I give my opponent the 10th counter.
Instead I would suggest either Gather Courage if you have two creatures on the field, it there's a 60% chance that it's free, or Phytoburst, since it "equals" you having 5 creatures on the field even if you only have a measly Glistener Elf.
I also don't get why you run Metallic Sliver? It's very inefficient, as it doen't progress your board state by itself, it only Works in tandem with Virulent Sliver. Instead I would run Seal of Strength, which gives you another 1 drop, in case you don't start with the Sliver or the Elf. Another option is Rancor, an enchantment that not only buffs one of your creatures and gives it Trample, it can also be very hard for your opponent to get rid of, as it will always return to your hand unless exiled.
Load more
No data for this card yet.