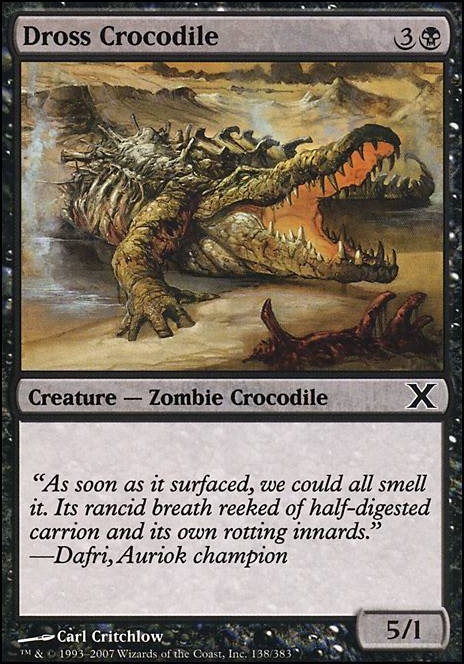 Dross Crocodile
Creature — Zombie Crocodile
Browse Alters
View at Gatherer
Legality
| | |
| --- | --- |
| Format | Legality |
| Tiny Leaders | Legal |
| Noble | Legal |
| Leviathan | Legal |
| Magic Duels | Legal |
| Canadian Highlander | Legal |
| Vintage | Legal |
| Modern | Legal |
| Penny Dreadful | Legal |
| Block Constructed | Legal |
| Casual | Legal |
| Pauper EDH | Legal |
| Vanguard | Legal |
| Legacy | Legal |
| Archenemy | Legal |
| Planechase | Legal |
| 1v1 Commander | Legal |
| Duel Commander | Legal |
| Oathbreaker | Legal |
| Unformat | Legal |
| Pauper | Legal |
| Commander / EDH | Legal |
Dross Crocodile Discussion
1 year ago
About the specific cards in the set:
Arc-trail Hardshell: Way too cheap compared to Bramblecrush and way too big compared to Mold Shambler. Needs to have a higher manacost and a smaller body.
Sharptooth Croc: He looks fairly balanced when compared to Two-Headed Zombie and Dross Crocodile, but for a Primal creature, I think the high power makes it too desirable to have Menace. To make it more of a choice, compared to the Zombie, I'd vote, make it a 3/2, Primal 1. Also, why does a Croc have the creature type "Alligator"?
Hunting Settlement: The ability that gives your creature Lifelink will prevent them from getting benefit from Muraganda Petroglyphs style-effects. I think that would be an unfortunate interaction. The ability should change.
Tibalt, Havoc-Bringer: should a mono-red planeswalker summon red and black critters?
Wooly Grazer: this ability would go perfect with Primal.
Ubo-luk's Idol: the wording is awkward, and the effect is insane powerful for the cost. It's like your own personal Wheel of Fate, but you're not forced to use it during a later upkeep, you can use it at any time. That card would be banned for the same reasons as Smuggler's Copter. Needs serious power reduction.
Ancient Gharial: They use the creature type Crocodile, now. Even Rootwater Alligator is officially a Crocodile in Oracle text.
Basking Plaeosaur: I'm not sure how much I like the "enter the battlefield" ability with Primal. IF you don't want to make it "Primal 2", then a sacrifice-type ability like Viridian Zealot would definitely be worth only +1/+1.
Bloodfall Axe: The equip cost is prohibitive. The Murderer's Axe cost worked because the set had a Madness theme. The effect is just Barbed Battlegear. It might work if it had a Skullclamp on death ability, to recover the cost.
Chieftain Ubo-Luk: I'd compare him to Sek'Kuar, Deathkeeper. He should make simple 1/1 red goblins (to stay on theme with "no abilities") whenever any nontoken creature you control dies, not just Goblins. I would say instead of giving an ability like Menace, (because it goes against the theme), it should be the simple "can't block" ability.
Clever Improvisor: It's insane that he makes better equipment than the Conch-tipped Spear. They should be +1/+1. Also, instead of making it every creature that enters the battlefield after him, just create 4 of them, kinda like a slower red Verdurous Gearhulk. Otherwise, there will be an ever-increasing supply of power that will never leave the battlefield.
Cloak of Leeches: I would say you should vote to avoid giving the creature an ability. Something like Blessing of Leeches would be interesting, since they no longer use regeneration.
Conch-tipped Spear: It's a No-Dachi. Can you do anything more on-theme, that doesn't give the equipped creature an ability?
Daelin's Spellbinder: This card seems almost too powerful. The "nontoken creature" thing is awkward. Can it be "discard a card" or something more elegant?
Diving Fluoraptor: His activated ability is too expensive. It could be the same as Bloodpyre Elemental without too much loss, or cost only 2 and stay instant.
Downpour: I think this effect has incredible potential. Instead of a sorcery with bulky rules text, an instant "Tap all Permanents" would basically be the same thing, with far more simplicity.
Egg Nabber: Just exile the card, and skip the craziness.
Encase in Magma: Cannot be allowed to enchant enchantments; it's not red's deal. It should just be a colorshifted Imprisoned in the Moon.
Enraging Provocation: I dislike having a temporary ability and a permanent effect on the same card. I don't have any examples of any cards that do this.
Enriching Pitcher Plant: Love it.
Enticing Pollen Spewer: I think it's too expensive, when we compare it to its symmetric counterpart: Rage Nimbus.
Fangs of the Terrosaur: Perfect equipment for this set.
Fight Once More: It seems out of place on a world where humans are basically cavemen. It would be more on theme with a set like Innistrad, but here it's not really on flavor with primitive tribal humans.
Flame-Spewing Ruckus: I don't understand how this card is meant to be used: the turn you play it, you could pump your two creatures with prowess triggers, but the goblin can't attack without Haste. It would be interesting to have an enchantment "whenever you play a noncreature spell, enchanted creature gets +1/+1 until end of turn" (because I don't think you want to avoid effects that give creatures abilities in this set).
Fossil Sage: This might not be the right card for this set, because reanimating a creature with an extra ability plays poorly with Primal. You will always want to not make the token Primal, so you can keep the indestructibility.
I'll write some more thoughts later, since I'm only up to F.
3 years ago
Dross Crocodile seems really fragile, with 1 in constitution. Have you ever heard about the ability Chiper? It would be strong with umblocable creatures