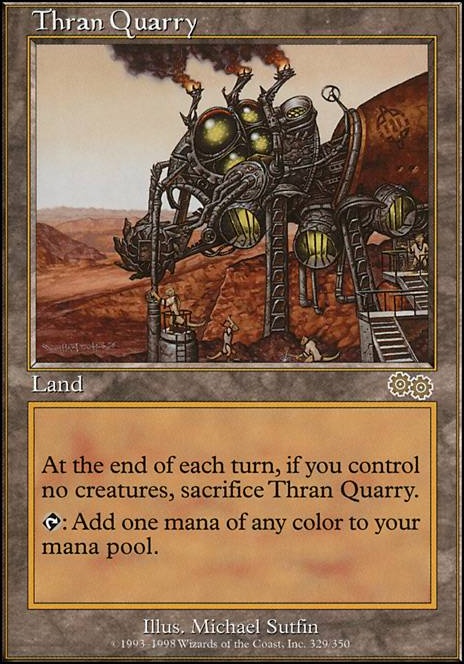 Legality
| | |
| --- | --- |
| Format | Legality |
| Tiny Leaders | Legal |
| Noble | Legal |
| Leviathan | Legal |
| Magic Duels | Legal |
| Canadian Highlander | Legal |
| Vintage | Legal |
| Vanguard | Legal |
| Legacy | Legal |
| Archenemy | Legal |
| Planechase | Legal |
| 1v1 Commander | Legal |
| Duel Commander | Legal |
| Unformat | Legal |
| Casual | Legal |
| Commander / EDH | Legal |
Thran Quarry
Land
At the end of each turn, if you control no creatures, sacrifice Thran Quarry.
: Add one mana of any color to your mana pool.
Thran Quarry Discussion
5 months ago
Hey toffmcsoft,
I want to go over your land base, because in the deck, it seems the most improvable (is that a word, I mean most able to be improved upon if it isn't!)
You run 30 land, which is fine, but the lands you run seem a bit strange to me:
1x Ancient Ziggurat - All colors, untapped, only works for creatures, being useless for 18 cards.
1x Bloodstained Mire - Fetchland
1x Breeding Pool - Shockland
1x Cascade Bluffs - Filter, only works for two colors, not fetchable.
1x Cavern of Souls - Five color fixer, untapped, stops counters, and works for colorless on other creatures/spells.
1x City of Brass - Untapped five color fixer, not fetchable.
1x Command Tower - Untapped five color fixer, not fetchable.
1x Exotic Orchard - Untapped fixer for some colors, not reliable, not fetchable.
1x Flooded Grove - Fixer for only two colors, not fetchable.
2x Forest - Basic, fetchable, untapped.
1x Gaea's Cradle - Only one color, untapped, taps for commonly multiple mana, not fetchable.
1x Grove of the Burnwillows - Untapped two color fixer, not fetchable. Not filter.
3x Island - Basic, untapped, fetchable.
1x Karplusan Forest - Pain land, untapped two color fixer. Not fetchable.
1x Mana Confluence - Untapped five color fixer. Not fetchable.
1x Reflecting Pool - Not fetchable, and not always reliable, can be a five color fixer, untapped.
1x Scalding Tarn - Fetchland
1x Shivan Reef - Pain land, two color fixer, not fetchable.
1x Steam Vents - Shockland
1x Stomping Ground - Shockland
1x Taiga - OG Dual.
1x Thran Quarry - Not always reliable, five color fixer, untapped, not fetchable.
1x Tropical Island - OG Dual.
1x Volcanic Island - OG Dual.
1x Windswept Heath - Fetchland.
1x Wooded Foothills - Fetchland.
1x Yavimaya Coast - Two color fixer, painland, not fetchable.
I'll order these out below, and say which ones I like or don't and give reasons.
In all, there are my drops, then I'll say what to run instead:
Drops:
Island (1x)
Forest (1x)
Additions:
5 months ago
All you need to do to add a change log is add it to the description. I've made code for you to add below:
Add this:

===accordion
===panel:Change Log | 23/May/2018 | Click Here
Cut:

[[card:Earthcraft]]

[[card:Rishkar, Peema Renegade]]

3 Pain Lands

[[card:Forest]]

[[card:Island]]

[[card:Lotus Cobra]]

Added

[[card:Green Suns Zenith]]

[[card:Sylvan Safekeeper]]

[[card:Tarnished Citadel]]

[[card:Exotic Orchard]]

[[card:Thran Quarry]]

[[card:Dryad Arbor]]

[[card:Grove of the Burnwillows]]

[[card:Mox Amber]]
===endpanel
===endaccordion

This is what it will look like:
1 year ago
It certainly would work, though it does push slightly past the budget. That, Ancient Ziggurat, Thran Quarry and Sliver Hive will give you a lot of flexibility if you're willing to spend a few extra bucks on your mana base! Thanks for the suggestion!
1 year ago
Hey hfvalenz, I have updated the list. This are the new cards:
1 year ago
Land suggestions :P
There's a bunch of good lands and serve functions, but a bunch of them come in tapped; I'll focus on lands that come in untapped, and can produce any color. The first ones to come to mind are Tarnished Citadel, Rhystic Cave, and Thran Quarry (which is great in creature-heavy decks, like Forbidden Orchard in your deck).
In lower priority, consider Forsaken City, maybe Transguild Promenade (which is just name of your Rupture Spire, but I'd rather have one of the vivid lands), Pillar of the Paruns, and Grand Coliseum (the shittier Forbidden City). There's also other lands that give an immediate, one color use, but aren't as stable.. like Aether Hub, Archaeological Dig, Tendo Ice Bridge, Crumbling Vestige, Undiscovered Paradise, and Rainbow Vale.
In addition, I would trade your Gemstone Mine with something like Crystal Quarry or Cascading Cataracts. In a five color deck, you won't be searching for a basic land that much. So consider some ramp that tutors for any land your little heart desires.. like Expedition Map, Traverse the Ulvenwald, Tolaria West, and Crop Rotation.
Hope this helps, I'm always here.
1 year ago
You're pretty far along, so I'll be basing my advice on this: Food Chain Tazri
For starters, Tainted Pact is pretty much an auto-include and isn't too expensive, definitely your first buy. It also gives you enough exile to run Laboratory Maniac as a back-up wincon.
Plunge into Darkness, Mana Vault, Lotus Petal, Chrome Mox, Sylvan Library, Deathrite Shaman, and Carpet of Flowers are all pretty cheap right now, so you should pick them up before anything else. In the meantime Cabal Ritual and Cull the Weak can provide you with extra mana accel. Orcish Lumberjack and Tinder Wall also work if you have red, and you have enough forests for Arbor Elf to function. Cyclonic Rift and Abrupt Decay are also great (and cheap) board control in this build.
Fire Covenant is absolutely beautiful board control at 50 cents. Silence is more of a meta call I think.
However the best thing you could be doing right now is improving your landbase. The quickest way to see results in a deck is to make sure you never have a land coming in tapped.
Get the cheapest lands first: Tarnished Citadel, Llanowar Wastes, City of Brass, Forbidden Orchard, Mana Confluence, Gemstone Caverns(!), Gemstone Mine, Thran Quarry, Reflecting Pool, Urborg, Tomb of Yawgmoth, Then the rest of your shocks, the cheap fetches, etc. Use checklands like Sunpetal Grove instead of ABUR duals, they're typically the best budget option, although more fastlands can be a viable option too. (All the following are trash that you should cut: Bad River, Flood Plain, Grasslands, Sandsteppe Citadel, Seaside Citadel. The tango-lands like Sunken Hollow are alright for now, but you should cut them as you upgrade.)
Remember to cut Amulet of Vigor, since it won't be helping you.
Once you get rid of the taplands you should also take the deck down to 32 lands. You have enough acceleration to afford it and it will improve your speed.
Load more