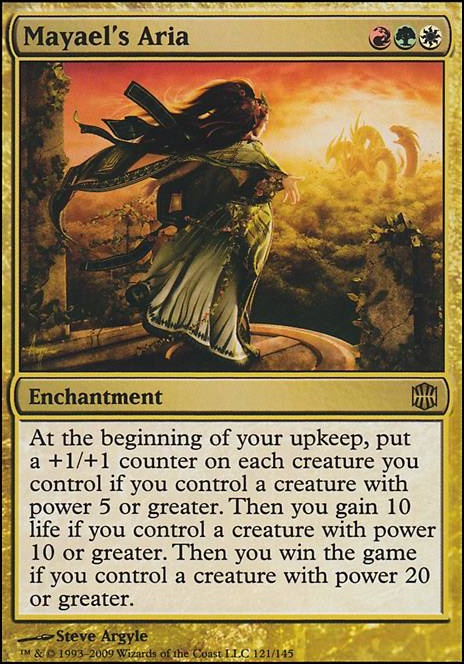 Legality
| | |
| --- | --- |
| Format | Legality |
| Pre-release | Legal |
| Noble | Legal |
| Leviathan | Legal |
| Magic Duels | Legal |
| Vintage | Legal |
| Modern | Legal |
| Vanguard | Legal |
| Legacy | Legal |
| Archenemy | Legal |
| Planechase | Legal |
| 1v1 Commander | Legal |
| Duel Commander | Legal |
| Unformat | Legal |
| Casual | Legal |
| Commander / EDH | Legal |
Related Questions
Mayael's Aria
Enchantment
At the beginning of your upkeep, put a +1/+1 counter on each creature you control if you control a creature with power 5 or greater. Then you gain 10 life if you control a creature with power 10 or greater. Then you win the game if you control a creature with power 20 or greater.
Mayael's Aria Discussion
4 days ago
I used to have a Mayael deck, and I love the Wurm Tribal concept. I've got some suggestions for you, these will be just some of the stuff I'm thinking of, if you want more suggestions, just ask.
1 month ago
Doesn't need Sol Ring, but you should look into Mayael's Aria as alternative win con + fun boosting.
1 month ago
@TheDeckMaker2300:oh jeez, long comments necessitate long responses: (also, I havn't been on in a while, sorry)
The decklist hasn't bee updated, but the maybeboard sure has! I need to figure out what I can take out now...Also, apologies for the brutalistic formatting, i'm not sophisticated enough to make this reply look very nice.
Diabolic Tutor and other searches: i had more in at an earlier version, and while they are certainly good, they sort of take away from the fun of the deck. I found myself searching for and playing for the same 2 or three win cons every game, which is not the point of the deck. That's why i prefer more limited searches like Bring to Light or Wild Research
Final Fortune, I've thought long about. I'm still on the fence, but don't think it would be very fun to play against. Almost all of the win cons give the opponent a turn to respond (except Coalition Victory, hence banned) and this is so that there's interaction and counterplay. Final Fortune takes that away, and so while it certainly makes the deck better, (and fits the theme/playstyle perfectly!) I dont want to end games with a sudden. "oh hey, does anyone have any counter spells, or instant speed enchantment removal? if not, i win..." That being said, its such a cool card, it fits with the theme of big risks, big rewards (Doomsday), and can even be synergized with anti-lose mechanics! maybe if I found something to take out....
charge counters: the very first iteration of the deck was mostly about odd counter manipulation. I used all those weird storage counter lands, and could get them super high for a helix pinnacle insta-win. The problem is that those cards arn't very flexible, for the most part. theres a high likelihood that any of those proliferate or counter duplication cards would be dead drops in hand, or would become useless after someone o-ringed the win con. (granted, there are many cards in the deck which are dead drops (stupid Mortal Combat, I've never won with you...))
Barren Glory: ooooh, I am a big fan of Kaervek's Spite, so long as you inform your opponent beforehand that they are basically at 15 life to start (mind games!) I coulda sworn Apocalypse was banned, but even it if wasn't it does not look fun to play against.... I think I'll be making a spot for Kaervek's Spite asap, thanks. \
Infinite Reflections seems like a more expensive version of Mirrorweave, and as I only need the trigger to check once, the permanency is unnecessary. It's also less flexible, but can target legendaries... hmmmmm.... that might be sideboarded for my friends Kokusho, the Evening Star deck, at least.
Alhammarret's Archive: this is one baller card! i don't have a lot of creatures or attacking going on in this deck, and when i gain life, id rather it be in fell swoops, not in trickles, so this is awesome.
Aetherflux Reservoir has already been suggested to me by multiple people, and if i can open up a spot it's a definite contender to go in. Invincible Hymn, however, might be a good one...
Epic Struggle: the problem is that most of the token generators are too slow to really make it- they would require at least 3 or 4 turns to get over 20 creatures. In order to make them viable, therefore, I'd have to run multiple copies, which again runs into the problem of having too much support for one win con. that being said, tokens make good chump blockers, so they wont be a dead drop ever... def on my watch list.
Amulet of Vigor would simply make this deck play two turns faster. it would be so good. It's 7$, but I may splurge for it...
for the gate synergy: I'm actually mana flooded more often than not, if you can believe it, so I'm loath to put in more ramp. i usually have a small graveyard, and a huge exile pile, otherwise Splendid Reclamation might be a good idea. (granted, with Morality Shift it would be killer!)
Helix Pinnacle: I'm actually happy with where this is right now- its a 1 drop that's hard to remove, and even if someone does remove it it's, again, a 1 drop so i won that trade. There are easy and cheap ways to get infinite mana, 99 paths to infinite mana, but i usually can afford to dump 1-3 mana in each turn, so mid to late game, when i'm sitting on near 20 mana, its a viable threat people have to watch out for. artifacts: neither of those really need that much support, and so whenever possible I try to save deck slots for those that need the support. that being said, if theres a way to get a large amount of artifacts out at once, feasibly, not just 4 or 5 or a slow growth, i might consider it.
MORTAL KOMBAT!!!!: lost cause... it has enough support in the deck to make it technically possible, but I'm resigned to it being a dead drop at this point...
Laboratory Maniac: i have Demonic Consultation in other decks, i don't recall why it isn't in this one... the problem with a lot of the cards that work with the manic is that they get close, but don't actually destroy my library. and given how easy he is to remove or work around, the combo needs to be perfect, or else trying for it just hurts me. That said, he is one of the more frequent ways I win, or at least one of the more frequent threats I have.
Mayael's Aria: I like the Colossus of Akros and Serra Avatar a lot- they both work as stalling mechanics, and that gives cover for their true purpose, the Aria! (do note, this deck is always in danger of just getting killed by people swinging at it... :( )
NDE: Hatred is niiiiice, however 6$, so i probably shouldn't find a slot for it... as far as NDE support goes, it's actually covered quite decently, this is another one of those cards which sees play a lot. the liches are super cool cards, and i dont think they work very well here, but I honestly would like to make a deck centered around those mechanics, or other 'below-0' life total mechanics.
I thought long and hard about Transcendence, but there's no way to make it viable without a ton of support, and
i already have a zedruu deck where Transcendence is just cruel in.
likewise, check out my Player-Deathtouch deck- i appeased my urge to play phage by making her a commander! And Approach of the Second Sun is just looking for a spot now, yes.
Thanks for your help! its always nice to see people taking an interest in something I've done, and its always awesome to get new ideas or have new combos pointed out to me!
2 months ago
Wild Research has a color identity, and is not legal for your deck.
The only way I can think of to attach lots of auras to Uril at the same time is to play Retether, Open the Vaults, or Replenish while you have Uril out and a lot of auras in the graveyard already. Either that or play Primal Surge and hope you don't hit a non-permanent. Up to you whether you think either of those are a good idea.
The ONLY ways for you to deal infect damage with Uril in Naya colors are Grafted Exoskeleton and Triumph of the Hordes. There are no other cards that grant infect to a creature outside of blue and black.
Symmetrical card draw is very bad in EDH, since it just gives people more gas to answer you or win the game ahead of you. Font of Mythos, Horn of Greed, Howling Mine, Omen Machine, Temple Bell, and Rites of Flourishing should all be cut. Wheel of Fortune and Reforge the Soul are usually better because you can wait to cast them until you have no hand and your opponents have lots of cards, but you actually have better options in green, so I'd recommend cutting at least Reforge.
Replace with the following: Sram, Senior Edificer, Kor Spiritdancer, Rishkar's Expertise, Sage's Reverie, Soul's Majesty, Abzan Beastmaster, Mesa Enchantress, Verduran Enchantress, and Eidolon of Blossoms (maybe).
You also NEED better ramp. Tithe, Cultivate, Journey of Discovery, Elfhame Sanctuary, and Kodama's Reach are all sub-par and should be cut. 41 lands is also WAY too high. You'll be able to ramp much more consistantly if you cut that down. You can go down to 35 lands without a problem, and then after that you can cut one land for every 0 CMC mana rock you add to the deck. (Don't worry about Exploration, Burgeoning, and Oracle of Mul Daya being less effective. The extra draw factor will offset that. I would probably cut Azuza though, since she doesn't give you much if you aren't flooded with land.) Out of your lands, Jungle Shrine, Maze of Ith, Mikokoro, Center of the Sea, and Temple of the False God are all kind of bad and could be cut. Some better utility lands would be Kessig Wolf Run and Hall of the Bandit Lord.
All of the following are better ramp than you have: Mana Crypt, Mox Diamond, Chrome Mox, Lotus Petal, Lotus Bloom, Ancient Tomb, Nature's Lore, Three Visits, Coalition Relic, Boros Signet, Selesnya Signet, Gruul Signet, Llanowar Elves, Fyndhorn Elves, Elvish Mystic, Avacyn's Pilgrim, Dryad Arbor (tutored off of Green Sun's Zenith, Harrow, Crop Rotation (into Ancient Tomb), Gemstone Caverns, Chromatic Lantern (maybe), Joraga Treespeaker (maybe), Skyshroud Claim (maybe), Trace of Abundance (maybe), Fertile Ground (maybe), Utopia Sprawl (maybe), and Wild Growth (maybe). You may also want to consider Herald of the Pantheon or Hero of Iroas to reduce the cost of your spells.
Now, on to the auras. You have a ton of auras that don't really do... anything? I get that you want to buff Uril as much as possible, but EDH is format of card advantage, and you really shouldn't be playing cards that just read, "your commander gets +2/+2."
I would cut all of the following Abzan Runemark, Angelic Destiny (this really doesn't give you much for 4 mana), Asha's Favor, Burrowing, Call To Serve, Cave Sense, Crown of Awe, Dust Corona, Eternal Warrior, Griffin Guide, Gryff's Boon, Inviolability (He already going to be the biggest thing around, why do you need this?), Murder Investigation (You have no support for these tokens.), Nimbus Wings, Serra's Embrace, Triclopean Sight, Vigilance, and Vow of Duty.
And here's what I recommend in their place:
Double strike: Battle Mastery, Runes of the Deus, and Duelist's Heritage. Literally the best effect you can Uril, since it will double all the other buffs you're giving him.
Massive Gains: Ethereal Armor, Eidolon of Countless Battles, and Helm of the Gods (not an aura but w/e). If you're going to have cards that just buff your commander, it might as well be for a LOT.
Extra Card Advantage: Sixth Sense, Keen Sense, and Snake Umbra. These guys are cheap extra draw factor.
Trample: Rancor (best), Armadillo Cloak, Unflinching Courage, and Eldrazi Conscription (maybe). After Protection, Trample is the most reliable way to get damage through in your colors.
Haste: Instill Energy, Messenger's Speed, Cartouche of Zeal, Fervor, and Fires of Yavimaya. Hasting a Voltron commander is the best way to get your beats in asap.
Extra protection for your commander: Shielded by Faith, Spider Umbra, Hyena Umbra, Felidar Umbra, Bear Umbra, and Flickerform. (Speaking of protection, Tajuru Preserver, Grand Abolisher, Vexing Shusher, Gaea's Herald, and Sigarda, Host of Herons are all good ways to make sure Uril can't be messed with.)
Also put in Spirit Loop. It's cheap and comes back if Uril leaves play somehow.
Other miscellaneous stuff:
Heliod's Pilgrim, Open the Armory, and Plea for Guidance are other tutors you could include. Open the Armory also grabs Grafted Exoskeleton and Helm of the Gods if you put them in, so I'd recommend it.
Nomad Mythmaker might make a useful recovery tool.
Mayael's Aria buffs Uril, gains you life, and can straight up win the game for you, nuff said.
If you can find the space, you could really use better board control to deal with problem permanents. Here are some good removal spells in your colors: Swords to Plowshares, Beast Within, Chaos Warp, Oblation, Krosan Grip, Oblivion Ring, Qasali Pridemage, Return to Dust, Hull Breach, Winds of Rath, Chandra's Ignition, Austere Command, and Wrath of God.
And that's all I can think of at the moment. Good luck.
2 months ago
I agree with the above comment, Stonehoof Chieftain, Angel of Serenity, and Terastodon are all fantastic cards. I'd also advise adding Spearbreaker Behemoth and Spellbreaker Behemoth, as well as Summoner's Pact.
I'd also add some lands like Sunhome, Fortress of the Legion, Gavony Township, Slayers' Stronghold, Kessig Wolf Run, and Rogue's Passage. Without them, Tempt with Discovery just isn't very good.
I'd cut Protean Hulk - you can't get more than one creature off him, and while there are some choice cards to get... do you really need a seven mana tutor? Omnath, Locus of Rage is great, but you can't really abuse his landfall, so I'd cut him. If you're looking to make the deck "no dick moves," then Blightsteel Colossus and Vorinclex, Voice of Hunger are both out of place. I'm not sure how effective Mayael's Aria and Martyr's Bond have been for you, but they seem slow and generally less effective than you'd like.
Load more