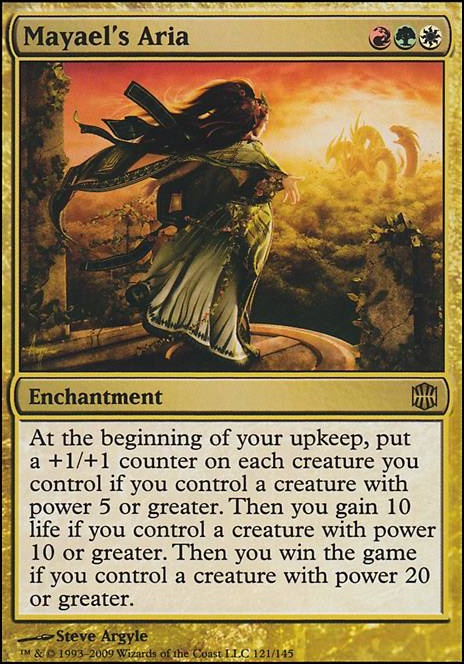 Mayael's Aria
Enchantment
At the beginning of your upkeep, put a +1/+1 counter on each creature you control if you control a creature with power 5 or greater. Then you gain 10 life if you control a creature with power 10 or greater. Then you win the game if you control a creature with power 20 or greater.
Browse Alters
View at Gatherer
Legality
| | |
| --- | --- |
| Format | Legality |
| Tiny Leaders | Legal |
| Noble | Legal |
| Magic Duels | Legal |
| Canadian Highlander | Legal |
| Vintage | Legal |
| Modern | Legal |
| Highlander | Legal |
| Penny Dreadful | Legal |
| Block Constructed | Legal |
| 2019-10-04 | Legal |
| Leviathan | Legal |
| Legacy | Legal |
| 1v1 Commander | Legal |
| Duel Commander | Legal |
| Oathbreaker | Legal |
| Unformat | Legal |
| Casual | Legal |
| Commander / EDH | Legal |
Mayael's Aria occurrence in decks from the last year
Commander / EDH:
All decks: 0.01%
Mayael's Aria Discussion
3 months ago
For myself and others, how to optimally pilot the deck
Philosophy behind the deck, ideally should be played with 2+ other players.
You are a hard to kill end game boss, blue is boring busted and broken and is also expensive. Try to go for cards that will keep your hand healthy since we are not running blue so think how much you can squeeze out of one card for maximum value.
3 months ago
I love a player who goes for the flavor win, but I also feel like you could do more to really focus the mechanical identity of your deck.
Cats are associated strongly with equipment, which Ajani plays into with +1/+1 counters, which are also good for beefing up one's creatures. The issue with that is you essentially have 54 deck slots to split between creatures, equipment, ramp, removal, and card draw.
You could also just do tribal. Though cats do not have many lords (the only one you don't have is Regal Caracal), general tribal cards such as Herald's Horn, Adaptive Automaton, Shared Animosity, the Kindred cycle (Kindred Boon, Kindred Summons, and Kindred Charge), Metallic Mimic, Icon of Ancestry, Door of Destinies, Steely Resolve, Obelisk of Urd, or Vanquisher's Banner could serve you well.
You could go more towards Ajani's +1 counter theme, but most of the payoffs for that are non-cat. That said, there are some good noncreature options: Curse of Stalked Prey, Hardened Scales, Doubling Season, Curse of Predation, Hindervines, Inspiring Call, and Mayael's Aria and other power-related payoffs.
4 months ago
okay. I also run a Kenrith Win con deck with a caveat of no interaction with other players making the deck a true solitaire deck . Here are some notable cards I recommend and also strategies.
The rule of thumb while tinkering with my Kenrith deck is 1:1 ratio (2:1 for some strats). For example, 3 cards are responsible for winning the game using life gain. Celestial Convergence Felidar Sovereign and Test of Endurance . This means that your deck should consist of 3 ways (not including kenrith) to assist with the life gain strategy. There are gem cards that assist with two different type of alternative wins that are honestly life saving cards. BY this rule, it can help you limit to what is needed. Having 3 supportive cards central to 1 wincon card is a waste of space and those supportive cards become dead in your hands without a tutor or that actual win con card.
Here are some recommended cards to help with alternative wins
Wall of Blood - Now this card is real awesome. It assists with Near-Death Experience . Drop this card and near death experience together. In response to the upkeep trigger, use wall of blood to get your life total to 1 while having Angel's Grace as a response to pingers or burn. Wall of blood also assist in Mayael's Aria if you have the life count for it. 2 birds with 1 stone.
Scapeshift - this is for maze's end, however can also get some really great utility lands such as Kor Haven Maze of Ith Karn's Bastion or simply to mana fix. Work's well with Field of dead
Pir, Imaginative Rascal - Better proliferate, halves the time. He can reduce your work of Helix Pinnacle to half by activating the ability 1 at a time to get each of pir's trigger.
Hermit Druid - Just don't run basics and you get a cheaper, consistent Morality Shift without a need of an empty graveyard. 2 birds with 1 stone if you have 20 creatures and Mortal Combat . Get him back with kenrith if he get's shot down, give him haste... you already know
Demonic Consultation - With the lab man wincon. Just name a card not in your deck. and win on your upkeep. Basically better than Morality Shift or Leveler
Vedalken Orrery Leyline of Anticipation Alchemist's Refuge - what feels better than just winning without your opponent's reacting sorcery speed
Artifact lands and Dryad Arbor - Helps with Happily Ever After condition
Alhammarret's Archive - This is a feel good card. You draw more, you gain life faster. Good with those life gain win cons. Imagine putting a Mechanized Production on this bad boy. Glorious honestly.
some of these cards are way out of your budget if you have one. But honestly, this is more a joke thematic deck so why not proxy if your group allows. I always proxy my lands..
6 months ago
Atla Palani just has her "combo" built into her - just play big creatures in the deck and you get them for free. Naya has a lot of disruption tools to help her as well. Also, it is probably the best deck for Mayael's Aria , better than Mayael the Anima .
Ghave is just a control deck where you do not play blue.
7 months ago
I have Cradle of Vitality in my red/white/green EDH deck, mainly to combine with Mayael's Aria , but I wonder if I should replace that card with Archangel of Thune , since she provides a method for gaining life, does not require mana for her triggered ability, and also affects all creatures that I control. It is true that she does not have as strong of a synergy with Mayael's Aria as does the cradle, but the likelihood of me drawing both of those cards in the same game is only 2 out of 100 (or 1 out of 50), so that is not a reliable combo.
What does everyone else say about this subject? Should I keep Cradle of Vitality in my deck, or replace it with Archangel of Thune ? And, before anyone asks, I have not yet posted that deck on this forum, but I hope to do so, soon.
7 months ago
itachi45, a previous version of this deck ran those cards actually. What I found was that Mayael's Aria and Mighty Emergence became a "win more" condition rather than helping the consistency. Where Ancients Tread I had taken out because I felt it was too mana expensive. But I haven't tried it with Enlisted Wurm , which could cheat it out. Thanks for the suggestions!
Load more