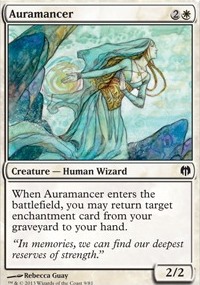 Auramancer
Creature — Human Wizard
When Auramancer enters the battlefield, you may return target enchantment card from your graveyard to your hand.
Have (16)

d

u

c

t

t

a

p

e

d

e

c

k

b

o

x

,

s

a

j

0

2

1

9

, Raistlin911822 , chrysaries , ManOfTroy ,

d

e

a

t

n

1

3

4

2

,

C

o

m

i

c

a

l

f

l

o

p

,

C

h

i

c

k

e

n

t

h

e

o

, balchj , Gromvari , Arleccino1313 , ElginU1613 , fr49200 , cortexjackal , Forge , Timocalypse
Want (0)
Auramancer Discussion
1 week ago
OK, Next round:) Replenish, Open the Vaults, Auramancer, Lost Auramancers, Swan Song, Rootborn Defenses, Phyrexian Rebirth, Rolling Stones, Opalescence, Crib Swap, Honden of Infinite Rage, Honden of Cleansing Fire, Honden of Seeing Winds. Maybe there is something you can use:)
1 week ago
Friday Night Magic requires a Standard Legal deck... so you will need to lose the following cards as they are legal in modern not standard.
Swords to Plowshares << not even legal in modern.
So to get a legal deck, you are going to have to gut this one a lot. Sorry
2 weeks ago
Eh, hard to say. It'd be more of a casual deck if anything, though you have plenty of beefy reanimation targets. You could also do sort of a hatebears/stax build to, since Contamination works well with Alesha, Who Smiles at Death, and you can put in things like Auramancer.
1 month ago
Got a similar deck, with a minor focus on enchantment.Consider Hyena Umbra instead of Predator's Gambit: totem armor is a wonderful skill.
Than, I would definitely find some slots for Castigate, it can help a lot, and Auramancer or even better Heliod's Pilgrim. With all this enchatment, they are basically a tutor!
1 month ago
Solid list! I think you can shave off a 2 mana counter, minus either Deprive or Mana Leak (or both!), as I think they aren't that great in tiny leaders. Auramancer is pretty weak and slow so get that out. Isochron Scepter is more at home in the sideboard vs grindier matchups or in the main as a controlling deck, you aren't a control deck so slam it in the sideboard or take it out altogether (it can go into Shu Yun red sideboard so it wont be a waste, no worries :D). Detention Sphere and Arrest are a little clunky and you have Darksteel Mutation to tutor up so you aren't losing a removal target from Heliod's Pilgrim by taking them out. D sphere may be decent as a catch all Enlightened Tutor target though. Finally Emerge Unscathed isn't all too necessary with hexproof threats (also giving it the wrong protection will make your auras fall off).
In can go a few of the shiny new auras that I sent you, and I am partial to a bit of Meletis Astronomer myself. Sure he doesnt have hexproof but having your threat come down on turn 2 rather than 3 is powerful and against decks that don't have hard removal he can be better than Traft.
| | |
| --- | --- |
| Power / Toughness | 2/2 |
| Color(s) | White |
| Cost | 2W |
| Converted cost | 3 |
| Avg. draft pick | 9.99 |
| Avg. cube pick | 12.44 |
Legality
| | |
| --- | --- |
| Format | Legality |
| Heirloom | Legal |
| Legacy | Legal |
| Vintage | Legal |
| Commander / EDH | Legal |
| Modern | Legal |
| Duel Commander | Legal |
| Pauper | Legal |