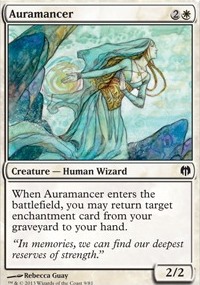 Auramancer
Creature — Human Wizard
When Auramancer enters the battlefield, you may return target enchantment card from your graveyard to your hand.
Have (15)

a

d

d

a

f

f

, saj0219 , Tanis44 ,

C

o

m

i

c

a

l

f

l

o

p

,

d

u

c

t

t

a

p

e

d

e

c

k

b

o

x

, Gromvari , Raistlin911822 ,

C

h

i

c

k

e

n

t

h

e

o

,

d

e

a

t

n

1

3

4

2

, Arleccino1313 , ElginU1613 , fr49200 , cortexjackal , Forge , Timocalypse
Want (0)
Auramancer Discussion
1 week ago
good job! I love effective budget edh decks like these :)
Some suggestions, I'd add a few great utility creatures, also as a backup in case an opponent is running a sacrifice effect:
have you been playing this deck a lot?
2 months ago
Nice! +1
The only type of card I can see being a major problem for this deck is something like Back to Nature. I'm not sure if there's a way to give your enchantments indestructible, but if you fear that possibility, then perhaps side in some cards like Auramancer and Skull of Orm.
3 months ago
I need more mana rocks. I'll put back in Extraplanar Lens at least, but not the other two.
I want to put in Smokestack and World Queller, it was the entire reason I decided to play Nahiri. But the only way I feel like I can do it is with Twilight Shepherd and some other reanimation creature.
The other cards I've looked at that get by orb effects are Angel's Trumpet and Reveille Squad. Both would be best paired with Eldrazi Monument, and Angel's Trumpet with Crawlspace or something of its ilk.
I also want to put in the 4 lock angels, Grand Abolisher, Eight-and-a-Half-Tails, Worldslayer if I run Avacyn, Angel of Hope, Elesh Norn, Grand Cenobite, Trading Post, Library of Leng, Semblance Anvil, Mirrorworks, Argivian Archaeologist, Mass Calcify, Kismet, Moat, Magus of the Moat and Auramancer.
Problem is, I don't know what to take out and put back in.
I also am divided between the token producers, and the 4 lock angels. If I remove the token theme, I am removing 12 cards. These cards are Intangible Virtue, Humility, Eldrazi Monument, Brimaz, Kemba, Luminarch Ascension , Ajani, both Elspeths, Moonsilver Spear, Requiem Angel and Akroma's Memorial.
Though I'm still 2 cards over.
If I was to do the swap, the 4 lock angels are going in, elesh norn, Smokestack, Twilight Shepherd, World Queller, 8 1/2 tails, Worldslayer, Mass Calcify and Grand Abolisher would all be in.
Thoughts on my choices?
3 months ago
I like the deck, seems very fun. I saw earlier you proposed Ground Seal for protecting your graveyard, but that would make protecting them pointless since then couldn't target them with Sun Titan's ability. Gotta find some graveyard hexproof rather than shroud.
Auramancer could be good for sideboard against enchantment removal.
Aven Riftwatcher is good for an evasive attacker and some life gain.
Big Game Hunter could be your modern creature destroyer if your meta demands big beefy things to die.
Cloudchaser Kestrel for enchantment hate or to blow yours up to bring back with Sun Titan or Auramancer.
I really like this one. Fleshbag Marauder, then sac itself when you have Sun Titan out. Bring it back and repeat. They sac two creatures for 3 mana.
Inquisitor Exarch for options of life gain or hurting the opponent.
Lifebane Zombie for hating green or white
You might also consider Stonecloaker for your deck since it can bounce your thing to repeat and hate on the opponent's graveyard if needed.
Suture Priest isn't quite an ETB but it gives them all an extra one, including your opponents pinging themselves.
Whitemane Lion isn't flying, but instant speed bounce is helpful.
There, done with the wall. Good luck with the deck.
Also, "so what's wrong with taking the backstreet"
Had to do it :P
3 months ago
Fun deck, always love to see a Boros angel EDH deck (Aurelia's in mine as well, though she's not the commander: Gisela R/W EDH Control. +1 to you!
If I might suggest a card, how about Auramancer? She'll allow you to fetch an enchantment back from your 'yard. :)
3 months ago
Okay, just going to do a mass quote again to see how people like the deck now. I had one match and a lot of things were apparent from my last change. Here is the rundown of what I had removed and added/re-added.
Removed:

Added:
And the list of users: Ohthenoises, Epochalyptik (I know you didn't comment on it before, but I want your opinion ...), nbarry223 and MindAblaze!.
| | |
| --- | --- |
| Power / Toughness | 2/2 |
| Color(s) | White |
| Cost | 2W |
| Converted cost | 3 |
| Avg. draft pick | 10.02 |
| Avg. cube pick | 12.46 |
Legality
| | |
| --- | --- |
| Format | Legality |
| Heirloom | Legal |
| Legacy | Legal |
| Vintage | Legal |
| Commander / EDH | Legal |
| Modern | Legal |
| Duel Commander | Legal |
| Pauper | Legal |