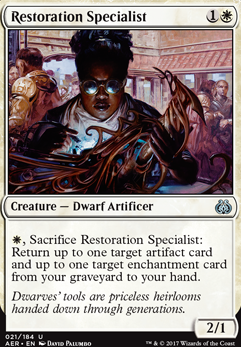 Legality
| | |
| --- | --- |
| Format | Legality |
| Pre-release | Legal |
| Tiny Leaders | Legal |
| Magic Duels | Legal |
| Canadian Highlander | Legal |
| Vintage | Legal |
| Modern | Legal |
| Penny Dreadful | Legal |
| Standard | Legal |
| Leviathan | Legal |
| Legacy | Legal |
| Brawl | Legal |
| Frontier | Legal |
| 1v1 Commander | Legal |
| Duel Commander | Legal |
| Unformat | Legal |
| Casual | Legal |
| Commander / EDH | Legal |
Restoration Specialist
Creature — Dwarf Artificer
, Sacrifice Restoration Specialist: Return up to one target artifact card and up to one target enchantment card from your graveyard to your hand.
Restoration Specialist Discussion
1 week ago
Treasure Hunter and Salvage Scout are good budget replacements for Argivian Archaeologist. Restoration Specialist is also an option if enchantment recursion is desired.
-
Eternal Dragon is a card that does a handful of small, helpful things, relying on the utility it offers than raw power:
It's a tutor for a Basic if I'm missing a land drop. Never disappointing to see it in the opening hand.
It's a tutor for Mistveil Plains.
Provides an inconsequential shuffle effect to refresh my library for Sensei's Divining Top.
It's a 5/5 flier in a pinch. Great base body for Equipment.
Eternal Dragon is an underwhelming creature by today's standards, but it does just enough for me to keep it around.
-
What you should be scared of is Stoneforge Mystic being unbanned in Modern, and the price spikes that will result from it. I've had this nagging feeling that this unban is close. And if it happens, Sword of Fire and Ice will be the first Sword on everyone's radar and can easily jump past $100 from hype alone.
Regardless, WotC has been gun-shy with powerful Equipment since New Phyrexia. The likelihood of a reprint making the Swords' prices tank is minuscule. Their power level from a Standard perspective is so high it causes nosebleeds and strong, efficient Equipment are problematic in Limited environments. It's hard to see the Swords be reprinted outside of another Masters set, which won't affect their prices that much anyway.
Buying the Swords now seems very low-risk IMO. At worst, their prices hover around the same value for the foreseeable future. At best, they explode from Modern hype.
-
Mana Crypt is an overglorified second Sol Ring, and can be substituted with pretty much any good mana rock. It's one of those cards that you use it if you have it and not worth the money to acquire one unless you really want it.
-
Rafiq of the Many is a pretty powerful Voltron option. He's a 3-turn clock with just the exalted trigger, and doesn't need much more to tighten that clock. Green and Blue open up access to stronger ramp, countermagic, card draw, and a plethora of other utility cards.
1 month ago
ur the first that i see with a teshar deck much grats. i don't know what your money is that u want to spend on the deck but in favor u can go a big way whit this commander. ( artifacts / legendary's / other big creatures and so on. also u need to find a balance between hystorics and the creature u wil be playing aswell as the possibility of being able to not have that much trouble whit the creatures that needed to be removed fromt the game
first i m gone watch combo wise u play Altar of the Brood and Ornithopter, there is a mill combo in white whit them. the only card u are missing for the combo is Enduring Renewal
also whit this deck u can go a big way to the Enchantment removal spells in white ( sacrifice an enchantment) Aura of Silence, Seal of Cleansing, Tattoo Ward, Serra's Liturgy
if u like the saga cards. i would suggest adding those they will give u the opportunity to cast and cast and recast all the time over and over again.
whit this i would add Auramancer, Crystal Chimes, Monk Idealist, Restoration Specialist, Tragic Poet
i hope whit this u can get to an new era whit your deck hope this helps a lot
1 month ago
Why Tragic Poet? I'd recommend Restoration Specialist. Tragic is 1 mana and a turn, specialist is 3 mana and you get two instead of one, plus it can be done the turn it comes out. I see that as a huge bonus.
1 month ago
Good effort on the deck. Some ideas: I kind of feel like you need more 4 ofs to make the deck more consistent if you want to get aggressive, but this is difficult due to the legendary rule. Hence, is your deck aiming to win quickly by beating down with Champion of the flame, Serra Disciple, Cartouche of zeal and Frenzied rage - maybe add Inventor's Apprentice and Toolcraft Exemplar? - or is it more midrange and grindy with Sram, Blackblade and Tragic poet (who i would cut or move to the sideboard - Restoration Specialist might be more consistent than poet or Tiana). Overall I think the cards available look more midrange, so maybe add Seal Away or Thopter Arrest. Consider cutting Squee who even though is hard to kill offers poor synergies (other than being a legend). Consider Board the Weatherlight for card selection/draw. Teshar, Ancestor's Apostle fulfills a similar role. For your sideboard consider Cataclysmic Gearhulk as you should be able to get good value leaving behind one of each type whilst your opponent will not. Also, Sanctum Spirit might have a role somewhere? Good luck!
1 month ago
Yes the downside of using Sram for the Heirloom Blade Tutor Chain is that he himself must die and go to the graveyard, READ: NOT COMMANDER ZONE, but there are two creatures directly that can return him located at steps # 6 Devoted Crop-Mate and #8 Sun Titan in the tutor chain itself. Other ways to return Sram after Heirloom Blade:
The first three steps in the tutor chain, Sram, Senior Edificer -> Restoration Specialist -> Stoneforge Mystic, are a simple and very easily broken example, but it shows the concept and raw power of the tutor chain. Imagine at any time you had your commander and this one random cheap equipment, if your opponent used a card to destroy your commander, you get your dwarf girlfriend out of your deck for free. She sacs herself, returns an artifact and enchantment from the graveyard, and now you get a free SFM out of your deck. Grab that Sword of Light and Shadow and get that Sram back, enjoy that free SWORD TO SWORD TUTOR. How many times can you say my heirloom blade is a guaranteed sword of shadow and light. The creature list in this deck has this entire underground network of value that most people dont know exists, and wont unless unlocked by the power of Heirloom Blade.
After some more research I found things like Kjeldoran Outpost, Kor Duelist, Nahiri, the Lithomancer and Elspeth, Knight-Errant which meant I can reliably unlock the "Soldier" type, allowing me to tutor out soldier creatures from deck for free, which for mono white also meant unlocking "Human" and "Warrior", and all the insane cards there, but really also meant "Giant Warrior" Stonehewer Giant and Giant, Sun Titan, thus now allowing me actually being able to tutor every single creature out of my deck (theoretically) by having them form this "chain" of 1-shared creature type.
Ultimately the goal was to reliably be able to tutor out Sun Titan, because if you need something from your graveyard he can most likely get it back for you (49 cards cmc 3 or less).
Regardless, the concept is just hilarious to me that you can start with Sram, Senior Edificer and at best case scenario he can tutor out Sun Titan for you so there Is some guaranteed catch-all recursion for this deck. Its just this background, weird side-chain thing that really does random tutors or tron heroes more often than not, but with sheer amount of thought and planning it can line up to be one of the most value cards in the deck! At worst, its +3 dmg for 1 equip, and draws off Sram.
The tempo! The ablities! The lulz! For some silly card no one really uses, especially outside some tribal deck, it has the potential to break open this deck to a level of tutoring never seen before.
Sword to Sword Tutoring
Tutor Chain Option Sram
1 month ago
Nice deck. I totally forgot Wall of Omens is a card, and probably need to put it in my own deck.
Above is what I'm currently running. I also have a more budget friendly version that doesn't run a Lion's Eye Diamond if you want to look at that. Restoration Specialist would definitely be something I would consider adding to your list. It can help facilitate so many more combos.
Lotus Petal can also help to add white mana to a colorless loop if that becomes the bottleneck.
It might not be good enough, but I personally run Prophetic Prism and Terrarion both as filters for white, as well as being good card draw.
Load more