berryjon, I was wondering if you'd like to share your assessment of the MDFC's featured in ZNR. I think it'd make for another interesting article.
September 19, 2020 1:42 p.m.
berryjon I'm looking into maybe doing something for TappedOut as well. What exactly is your relationship with yeago? And here's a card I thought you might like.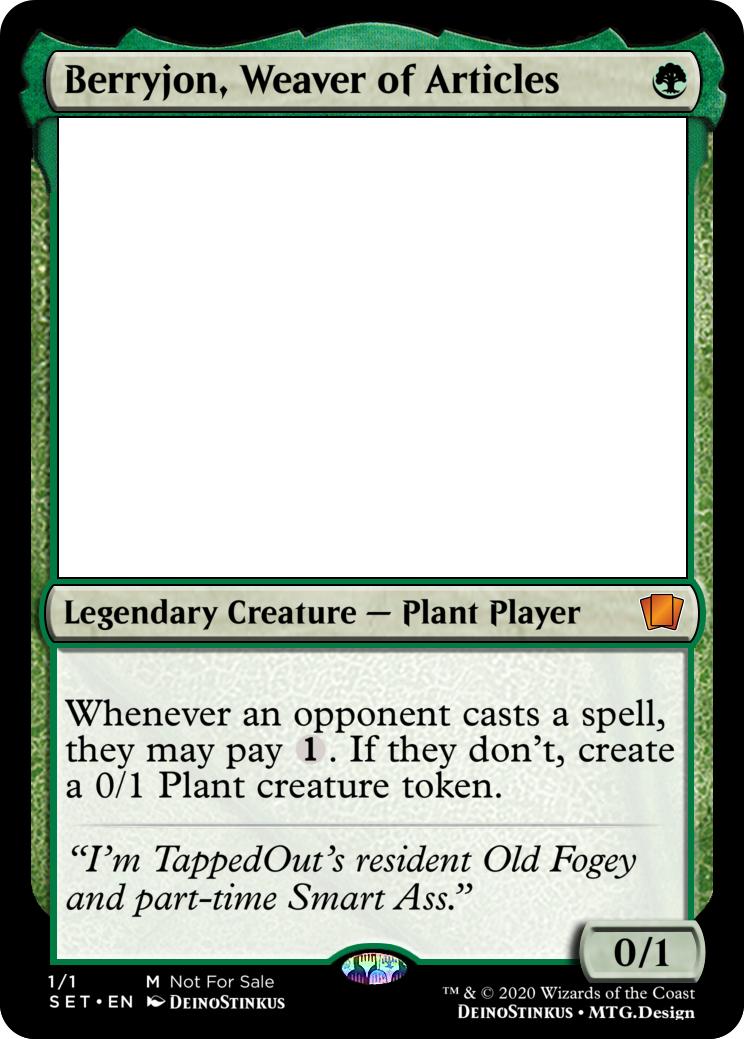 August 31, 2020 11:27 a.m.
It's not because Wizards says so. That's the only reason.
September 22, 2020 10:18 p.m.
September 18, 2020 8:38 p.m.
I'm a Plant? A PLANT?
Look, just because I'm an Old Fogey and thus, don't get out much, doesn't mean that I get an infestation of Creeping Mold on me! Yeesh.
;)
September 8, 2020 9:01 p.m.
Articles
---
---
---
---
---
---
---
---
---
---
---
---
---
---
---
---
---
---
---
---
---
---
---
---
---
---
---
---
---
---
---
---
---
---
---
---
---
---
---
---
---
---
---
---
---
---
---
---
---
---
---
---
---
---
---
---
---
---
---
---
---
---
---
---
---
---
---
---
---
---
---
---
---
---
---
---
---
---
---
---
---
---
---
---
---
---
---
---
---
---
---
---
---
---
---
---
---
---
---
---
---
---
---
---
---
---
---
---
---
---
---
---
---
---
---
---
---
---
---
---
---
---
---
---
---
---
---
---
---
---
---
---
---
---
---
---
---
---
---
---
---
---
---
---
---
---
---
---
---
---
---
---
---
---
---
---
---
---
---
---
---
---
---
---
---
---
---
---
---
---
---
Decks

Casual* berryjon
SCORE: 61 | 54 COMMENTS | 4009 VIEWS | IN 54 FOLDERS

Commander / EDH berryjon
SCORE: 6 | 1 COMMENT | 208 VIEWS | IN 2 FOLDERS

Modern berryjon
SCORE: 27 | 14 COMMENTS | 2019 VIEWS | IN 9 FOLDERS

Modern berryjon
SCORE: 12 | 7 COMMENTS | 1436 VIEWS | IN 5 FOLDERS

Commander / EDH berryjon
SCORE: 4 | 1 COMMENT | 149 VIEWS | IN 3 FOLDERS

Commander / EDH berryjon
35 VIEWS | IN 1 FOLDER

Modern berryjon
SCORE: 12 | 19 COMMENTS | 2253 VIEWS | IN 2 FOLDERS

Modern berryjon
SCORE: 9 | 1146 VIEWS | IN 2 FOLDERS
| | |
| --- | --- |
| Finished Decks | 44 |
| Prototype Decks | 11 |
| Drafts | 0 |
| Playing since | Limited Edition Beta |
| Points | 8960 |
| Avg. deck rating | 9.48 |
| T/O Rank | 3 |
| Helper Rank | 275 |
| Favorite formats | Standard |
| Good Card Suggestions | 52 |
| Venues | Star Lotus |
| Last activity | 21 hours |
| Joined | 4 years |