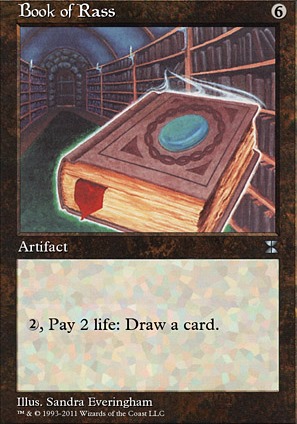 Legality
| | |
| --- | --- |
| Format | Legality |
| Noble | Legal |
| 1v1 Commander | Legal |
| Vintage | Legal |
| Casual | Legal |
| Vanguard | Legal |
| Legacy | Legal |
| Archenemy | Legal |
| Planechase | Legal |
| Duel Commander | Legal |
| Unformat | Legal |
| Pauper | Legal |
| Commander / EDH | Legal |
Book of Rass
Artifact
, Pay 2 life: Draw a card.
Book of Rass Discussion
7 months ago
You beat me to it. As soon as I saw this little guy I wanted to make another landless EDH deck but I see I was far too late. Although, there are a few things I'd change...
9 months ago
Hey!
So the deck looks pretty good! I can see a good theme of aggressive creature that also do other stuff, like anthem all your creatures, so it looks like this can beat down pretty hard pretty quickly.
You mentioned that you find yourself in topdeck mode pretty often, and I can see why. I usually aim for 10-14 cards that draw more cards, and I only see 2 here (Staff of Nin and Reforge the Soul.) A lot of people will say that Boros just can't draw spells, but those people are wrong. Now, Boros isn't the most efficient at drawing cards, but it's not out of their reach. Get ready for a wall of text, because here are all your options:
Pursuit of Knowledge, Sorcerer's Strongbox, Slate of Ancestry, Dreamstone Hedron, Magus of the Wheel, Knollspine Dragon, Commune with Lava, Wheel of Fortune, Wheel of Fate, Mentor of the Meek, Bygone Bishop, Stromkirk Occultist, Sin Prodder, Prophetic Flamespeaker, Outpost Siege, Chandra, Pyromaster, Chandra, Flamecaller, Well of Discovery, Urza's Blueprints, Tower of Fortunes, Thran Tome, Tamiyo's Journal, Sword of Fire and Ice, Skullclamp, Rogue's Gloves, Moonring Mirror, Mind's Eye, Mask of Memory, Loreseeker's Stone, Infiltration Lens, Illuminated Folio, Farsight Mask, Endbringer, Bottled Cloister, Bargaining Table, Book of Rass, and Angelheart Vial.
Of these, I'm going to suggest the following eight to bring your number up to ten (obviously Mind's Eye, Sword of Fire and Ice, Chandra, Flamecaller, and Wheel of Fortune are the absolute best, but they are all above $5, unlike the following cards):
So what 8 cards to take out? Let's find out which are the least impact, and let's start from the highest cmc, because getting a lower curve is never bad.
So those are the 8 cards I would take out for the drawing cards.
---
If you are interested, here are some cards I think would definitely make this deck more resilient!
First, a deck with lots of creatures is going to be weak to board wipes, so here are some cards that will protect you from those: Selfless Spirit, Avacyn, Angel of Hope, and Eldrazi Monument.
Secondly, there are a couple of super aggro cards for edh that I think you could take advantage of, although be wary because these can make you an early target if played too soon: Luminarch Ascension, Serra Ascendant, and Hero of Bladehold.
Lastly, every deck needs a couple of easy ways to pick off nasty creatures, so I would recommend using Swords to Plowshares, Path to Exile, and Darksteel Mutation (which turns off commanders!) as some pretty good spot removal cards.
---
Thanks, and good luck!
11 months ago
ok here's my initial thoughts:
Your deck has little to no removal, it relies on your commander and about 3 other cards for any sort of removal.
Your deck has stupid amount of mana ramp, about 58 cards i think are mana cards.
I anticipate the deck playing out like such: you would ramp super hard up to a couple eldrazi, they would get removed or dealt with somehow, and you would end up topdecking mana for days. To this end i would recommend Kozilek, the Great Distortion as a commander and put in a lot more removal/control spells and artifacts.
Maybe also put in some fat artifacts that do global effects like:
Possessed Portal with kozilek probs
Akroma's Memorial its not thematic though :(
Altar of Shadows... not legal but would be cool...
Spine of Ish Sah you can afford the cost!
Book of Rass colorless greed!
Caged Sun? is colorless now a color?
Eternity Vessel you got lands
Thorn of AmethystSphere of Resistance YOU DONT CARE
darksteel something. make all artifacts indestructable, you know the one.
Omen Machine if you dont have kozilek!
Planar Portal not sure about price, but its good.
Soul Conduit 12 mana = good times
Soul of New Phyrexia not thematic :(
Staff of Nin again, if not kozilek
Ward of Bones it doesn't hurt you, and could really be a pain for other decks to deal with.
you get the idea.
also there are some cards that shouldn't be in here, or need explaining I think. Rings of Brighthearth? thats for activated abilities only, you got none. Sculpting Steel? thats one heckofa expensive card which is going to be a mana rock every game. Eldrazi Skyspawner, Catacomb Sifter and World Breaker all are not allowed. Its their 'color identity' not their actual color that's looked at, so devoid doesn't work. Eldrazi Monument? you can't afford to be saccing a creature each turn (unless you want a sac outlet for your commander)
also, Wastes! you cant have Burnished Hart without basic lands! also basic lands man. They save you much money.
Emrakul, the Promised End is kinda cool...
Eldrazi Conscription is fun to surprise people with turn 3
All Is Dust heres your removal buddy!
Scour from Existence or this.
1 year ago
Insert copy/pasted lists for ya!
And if you want burst draw, let me know. That's a whole another list
1 year ago
Flamekin Village more often than not is just going to be a tapland, as very rarely do I attack. Dormant Volcano is ok but with the amount of ramp I have at my disposal it will probably make very little difference.
Loreseeker's Stone gets too potentially expensive for not enough advantage. I'd much rather have the Tower of Fortunes. Liar's Pendulum is cool but has too much uncertainty. This deck is fun to pilot but was designed to be a fast paced combo deck. Book of Rass is relatively inexpensive but I don't always have defenses up so I try to avoid hurting myself whenever possible.
I considered Darksteel Citadel from the start but Prototype Portal can already make Great Furnace tokens when necessary, which provide red which is vital despite being a 95% colorless artifact deck.
Memnite adds very little to the functionality of the deck.
I can already create infintie turns with Magistrate's Scepter and any infinite mana+untap combo, and Ugin's Nexus is not an activated ability, so I can't copy it. Not ideal.
I have Myr Retriever in here already. Ideally that, Trash for Treasure, Daretti, Scrap Savant, Codex Shredder, and Slobad, Goblin Tinkerer will be all I need.
Spine of Ish Sah is ok but is not an activated ability. I feel more comfortable with the Unstable Obelisk and Steel Hellkite, for the most part.
Load more