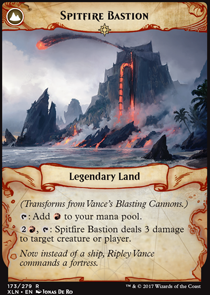 Front:
Vance's Blasting Cannons
Flip
Spitfire Bastion
Legendary Land
(Transforms from Vance's Blasting Cannons.)
: Gain .
, : Spitfire Bastion deals 3 damage to target creature, player or planeswalker.
Browse Alters
View at Gatherer
Legality
| | |
| --- | --- |
| Format | Legality |
| Tiny Leaders | Legal |
| 1v1 Commander | Legal |
| Historic | Legal |
| Magic Duels | Legal |
| Canadian Highlander | Legal |
| Vintage | Legal |
| Modern | Legal |
| Highlander | Legal |
| 2019-10-04 | Legal |
| Block Constructed | Legal |
| Pioneer | Legal |
| Leviathan | Legal |
| Legacy | Legal |
| Frontier | Legal |
| Duel Commander | Legal |
| Oathbreaker | Legal |
| Unformat | Legal |
| Casual | Legal |
| Commander / EDH | Legal |
Spitfire Bastion Discussion
8 months ago
Play more cards that are pingers! Even really small creatures like 0/1s or 1/1s because when you have an army of pingers, no one can attack you because you just ping the creatures and kill them before they can deal damage. "End step, deal 15 damage to all your creatures" is feasible in Torbran. Cards like Brimstone Trebuchet , Vulshok Sorcerer , Lobber Crew , Cinder Pyromancer , or Vithian Stinger . Usually all of these cards are 3 mana with upside which is perfect because once Torbran is on the field on turn 4 or 5, none of them will have summoning sickness and you can bolt away
And play fewer cards that aren't pingers! like wtf do you need The Immortal Sun for? 6 Mana Artifacts in red should be winning the game, not dragging it out longer. In red, I think, cards that aren't killing things aren't worth it. Stranglehold ? Why? It's so corner-case. It's not that cards like that are bad, but why play that when you could play another pinger or bolt? What does Caged Sun even do in the deck? Double your mana and buff your few creatures? A top of the curve artifact that lets you cast things you could already cast, lovely. Red Elemental Blast AND Pyroblast ? What does a burn deck think it's doing carrying around counterspells. And not just counterspells, but corner-case counterspells, and 2 of them?? Corner-case cards are just terrible in high variance formats. Like compare Demystify to Forsake the Worldly or Return to Dust . These cards are more versatile. Cards like Fiery Confluence , which you have, are flexible cards that can do either multiple things or can hit a variety of targets
Chaos Warp is an interesting card and most people use it on their own permanents to chance a better one. In this deck, it probably hits a land card or a non-permanent card. However, against an opponent, it's a removal spell at best (Target a permanent, shuffle, they flip and it's a non-permanent), but at worst your opponent gets a better permanent. for in Torbran, you can be dealing upwards of 5 or 6 damage, which pretty much kills most creatures. Chaos Warp does hit permanents, which red usually does have a hard time dealing with, but there are very few silver bullets. Off the top of my head, Leyline of Sanctity . But a card that gets around that (and that I think you should be playing in place of a mountain) is Detection Tower . However, more reliable permanent destruction could be Unstable Obelisk
Lands and permanents are hella good in Burn. Like sure, you can dump your hand and deal 31 damage, but that doesn't win the game. You've got at least 40 life to kill. You can use your lands! Valakut, the Molten Pinnacle , Dwarven Mine , or Spinerock Knoll , all great lands that can be used to keep getting hits in. Vance's Blasting Cannons Flip is super easy to transform into Spitfire Bastion , especially with cantrips
Strictly Worse / Particularily Bad Cards-
Crush < Smelt (Should probably play Vandalblast if you're gonna play artifact removal)
Sentinel Tower -> Not red, no buff. 4 mana for something that probably does about 1 or 2 every turn
1 year ago
Doubtful there will be an alternative to Desert of the Fervent due to this being, I believe the fourth time cycling has appeared in a play set and they spread them out by years. So you'll either have to go with Memorial to War or Vance's Blasting Cannons Flip to flip into Spitfire Bastion in all likelihood. Guilds of Ravnica will predominately focus on two colors each, so you won't likely find a land tapping for a mono-color. If you had a few more instants and sorceries I'd suggest Guttersnipe as well.