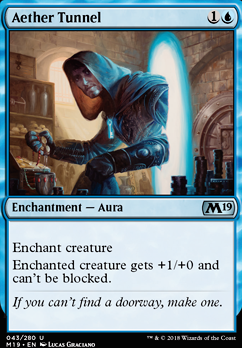 Legality
| | |
| --- | --- |
| Format | Legality |
| Pre-release | Legal |
| Tiny Leaders | Legal |
| Magic Duels | Legal |
| Canadian Highlander | Legal |
| Vintage | Legal |
| Modern | Legal |
| Standard | Legal |
| Leviathan | Legal |
| Legacy | Legal |
| Brawl | Legal |
| 1v1 Commander | Legal |
| Duel Commander | Legal |
| Unformat | Legal |
| Casual | Legal |
| Commander / EDH | Legal |
Aether Tunnel
Enchantment — Aura
Enchant creature
Enchanted creature gets +1/+0 and can't be blocked.
Aether Tunnel Discussion
4 days ago
Vraska, Scheming Gorgon doesn't work in standard simply for the fact that it's 6 mana and takes 4 turns for you to use it's ultimate. But since you want to use it, ill give some suggestions.
Get out of blue as you are only using it for Wall of Mist, Open into Wonder, Cancel and Unwind. It's not strong enough to be splashing blue. That gives you 12 slots to fill.
Old-Growth Dryads is a terrible card. Yes its 3/3 for 2, but it ramps your opponents and helps them get ahead. Ramunap Hydra is a cool card, but is reliant on how your deck plays. Some deserts hurt you simply because they enter tapped and set you back a turn. Song of Freyalise although ramps you, it's slow in this deck and slow in the meta. I would cut all 3 cards for other cards that speed you up and get to end game better.
Gift of Strength is a worse Blossoming Defense. Defense is more versatile and stops opponents from using spot removal on your key creatures.
-3 Cancel, -3 Unwind, -3 Open Into Wonder, -3 Wall of Mist, -3 Gift of Strength, -3 Ramunap Hydra, -3 Old-Growth Dryads, -2 Song of Freyalise
+1 Gifted Aetherborn, +1 Narnam Renegade, +4 Llanowar Elves, +4 Blossoming Defense, +4 Saproling Migration, +3 Spore Swarm, +2 Slimefoot, the Stowaway, +2 Druid of the Cowl
I realize this is a complete overhaul but I believe my suggestions will help. Llanowar Elves does for you, what you would be doing for your opponents with Old-Growth Dryads. It ramps and helps you get out a kicked Untamed Kavu or Vraska, Scheming Gorgon quicker. 2 Druid of the Cowl to help get to 6 mana quicker.
I'm suggesting tokens/saprolings because of the ultimate Vraska, Scheming Gorgon has. It adds chump blockers to save Vraska, and offers a go wide strategy. Slimefoot, the Stowaway helps you add value on your little guys dying, and adds a mana sink if you have no play. Saproling Migration adds a turn 2 option and has kicker to make 4 tokens if you need it. Spore Swarm just adds more creature count.
I'm leaving 1 Song of Freyalise as it does ramp you up, but isn't fast enough to rely on. Its a win more card in my head. Only helps when you are winning games but is dead when you aren't
Narnam Renegade and Gifted Aetherborn are two powerful creatures that offer some defensive advantage. Running a playset of both improves odds of the cards showing up most 75% of the games.
If you want to stay in blue. Opt for cheap draw. Omenspeaker over Wall of Mist. Aether Tunnel or Ghostform over Open Into Wonder depending on what you want more. Cut Unwind for Opt and switch Cancel with 2 Negate and 1 Essence Scatter.
Ravenous Chupacabra is also another card you should consider.