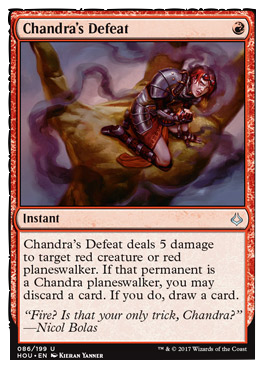 Legality
| | |
| --- | --- |
| Format | Legality |
| Pre-release | Legal |
| Tiny Leaders | Legal |
| Magic Duels | Legal |
| Canadian Highlander | Legal |
| Vintage | Legal |
| Modern | Legal |
| Standard | Legal |
| Leviathan | Legal |
| Legacy | Legal |
| Brawl | Legal |
| 1v1 Commander | Legal |
| Duel Commander | Legal |
| Unformat | Legal |
| Casual | Legal |
| Commander / EDH | Legal |
Chandra's Defeat
Instant
Chandra's Defeat deals 5 damage to target red creature or red planeswalker. If it was a Chandra planeswalker, you may discard a card. If you do, draw a card.
Have (5)
nakni , MattN7498 , philktoken8998 ,

A

t

r

o

x

r

e

a

p

e

r

,

E

p

i

d

i

l

i

u

s

Want (7)
r_giskard , conus_senecas , JMANNO33O , Relojazul , shootersam12 , Sebu , Sharpie1584
Chandra's Defeat Discussion
1 month ago
Id say remove Cut / Ribbons and 1x Abrade to put in 2x Fatal Push
Honestly Cut // Ribbons is a bit slow, and as much as i love the idea of it, having 1x of it might not be advantageous. its a slot easily used to sideboard in better cards during specific match ups, but in mainboard whats the chance of drawing it? its nice having the ability to kill a 4 toughness creature, however it would be better to use Fight with Fire as Lyra Dawnbringer is a thing that you want to beable to clear from the board by using something other than Glorybringer & Unlicensed Disintegration (And its a good card for long games against control or people with mid range aggro decks) You have a ton of good removal that would help to kill 5 drops or Lyra in general but siding in one of these might be a good idea. OR you can use the slot to put in another Banefire or Abrade.
to be consistent id suggest the sideboard be
For a moment i am a bit torn between using Pia Nalaar & Kari Zev, Skyship Raider instead of Ahn-Crop Crasher & Earthshaker Khenra
Many decks use both.
also is there a reason to be using 4x Rekindling Phoenix and 2x Hazoret the Fervent? just a little curious.
2 months ago
Hey, you're welcome.
Before my advice about the sideboard I'll first continue my main deck advice. Since Ixalan Settle the Wreckage has been a staple board wipe for white control I suggest adding 2x Settle main deck. This spell can save you against mono green and Rakdos/red aggro game one. I also think that until rotation 2x Cast Out is the better main deck four drop exile removal spell than Binding. The instant speed and cycling bonus of Cast Out is very nice for control. Binding is also good, but tapping out for it can be problematic. Reliquary Tower is fine, but I don't think you need two of them. Consider cutting one for 1x more Hub? Tower can only make colorless mana this is not good with a three color manabase.
I know that you're playing red for Banefire, but I don't think you need 3x Banefire main deck, kind of overkill. I think 1x Banefire is fine with another in the sideboard. Azcanta can find Banefire. It's a last resort spell win condition for control matchups. You don't really want to have to tap out to play it until the late game. Approach is a better win condition especially with Azcanta in more matchups because life is more important to control then doing a lot of damage to opponent.
Example of a versatile main deck removal base:
3x Abrade
3x Spray
1x Banefire (more in sideboard)
2x Seal
2x Cast Out
2x Settle (more in sideboard)
Example of a main deck counterspell base:
4x Disallow
3x Scatter
1x Negate (more in sideboard)
1x Commit (more in sideboard)
Example of main deck draw:
4x Glimmer
3x Teferi
2x Azcanta
---
The sideboard here is good, it's fine as is, but here's some ideas, other options to consider.
Consider more Negate? 3-4x Negate is nice to have for games two and three in control matchups (Teferi), in Turbo Fog matchups (Teferi, Nexus of Fate), in Mono-Blue Artifact matchups (Aetherflux Reservoir, Outcome, Karn). Consider Cleansing Nova? It's a catch all for Mono Blue Artifacts matchup, either mode is good especially destroy all artifacts. If your opponent can remove or destroy Spyglass in this matchup then Nova is a back-up. Nova also gives you a true creature board wipe that's harder to play around than Settle. Consider Chandra's Defeat? I like Defeat specifically for Nicol Bolas, the Ravager Flip, being able to kill Bolas, Glorybringer or Chandra for only one mana if they escape a counterspell can give you quite an edge in Grixis midrange matchups.
I think Negate is better overall sideboard card than Supreme Will/Syncopate. I don't think in any matchups you really need three Approach. More than two you risk drawing it in the early game which is not wanted. Consuls is a good card, but unless you consistently can play it turn one or two it's not doing much. I think it would be better to just play another board wipe, Settle or additional removal as these cards can actually remove creatures not just slow them down. You have Lyra for life gain later on in the game in matchups where you want Consuls.
Consider this revised sideboard:
2x Forsake
1x Nova
1x Settle
2x Spyglass
2x Negate
1x Commit
2x Chandra Defeat
2x Lyra
1x Nezahal
1x Banefire
2 months ago
Mono-Red Chainwhirling Phoenix
This is a take on the Mono-Red Chainwhirler/Haste Aggro that is currently in standard.
its main goal is obvious, win quickly and fill the board with low cost creatures. Below are the card listings and the reasons that they are included.
any concerns, thoughts or suggestions would be appreciated before I take this to Friday Night Magic or Sunday Showdown This week.
2 months ago
I recently was in a matchup against some dragon control decks with this deck. I managed to scrape out a victory in the games I played with Chandra's Defeat, but it was incredibly annoying to have to face the constant burn that managed to destroy my creatures quickly. The dragons, too, were powerful, and hard to deal with. Any suggestions?
(I've been considering Vizier of Many Faces - although that's an unlikely choice - and I replaced Silent Gravestone, which is currently an obsolete card, with Insult - but there is a possibility of replacing that with Cryptic Serpent.)
2 months ago
Hey, if you want to be competitive with Dragons then really consider splashing blue with Falls and Catacomb for Nicol Bolas, the Ravager Flip? Bolas and Glorybringer are the competitive Dragons until rotation. Post rotation Bolas will in my opinion get even better because both Izzet and Dimir are guilds in Guilds of Ravnica. Grixis is poised to get a lot of support in the set especially dual lands. Consider cutting 2x Verix and 1x Demanding for 3-4x Bolas? Hoard and Sarkhan can help to cast Bolas, but you can't just rely on them.
You want a consistent main deck two drop removal spell. I would move 4x Abrade to the main deck. Consider 2x Unlicensed Disintegration? I like Disintegration over Spit because it can kill Lyra and Ghalta. 4x Abrade, 3x Spray, 2x Disintegration and 4x Contempt is a nice main deck removal base.
For the sideboard consider 3x Chandra's Defeat? It's very good in any Grixis matchup and Rakdos matchup because it can kill just about everything for one mana: Chainwhirler/Bolas/Glorybringer/Phoenix/Chandra/Sarkhan. Defeat is especially nice to kill Bolas which if you're playing competitively expect to see a lot. The sideboard looks good for control matchups. There's 9-13 main deck dead creature removal spells that get boarded out, which is a lot. Consider 4x Duress? I think it's your best sideboard card because of white enchantment removal: Seal, Cast and Binding. These removal spells wreck you because you can't interact with them after they ETB.
Good luck with your deck.
2 months ago
Yes, the deck could have these cards in sideboard:
3 months ago
Hey, when playing Llanowar Elves you want more than nine sources of green from lands that can ETB untapped turn one. You also don't want the same number of basic Mountains as Forests. Consistently you want to have a Forest more than a Mountain in your opening hand. Consider 9x Forests and 5x Mountains?
Consider moving Vine Mare to the sideboard replacing it with Jadelight Ranger? The tandem of explore Branchwalker and Jadelight is great with green, they help to find red sources of mana. They give green selection and card advantage in the early game.
I'm part of the 4x main deck Blossoming Defense crowd. I think the card is a huge reason to play green. It's very good vs red especially protecting against Chainwhirler's ETB or combat or Earthshaker/Crasher/Glorybringer's abilities. It's even better now because of Thorn Lieutenant. You're playing Hungering Hydra Defense is great to protect it; easier to get counters from damage on it when it's pumped and protected. Defense can also be a blowout for one mana against four mana Vraska's Contempt. Consider 4x Defense and 4x Abrade? Moving Spray to the sideboard?
Speaking of sideboard I don't see one. A big part of getting better at deck building is utilizing the sideboard. If you're playing in a specific meta at FNM then the sideboard will be much different than if you're planning it for an overall Standard meta. In my opinion the most important cards to plan for with the sideboard for an overall Standard meta are: Nicol Bolas, the Ravager Flip, Scrapheap Scrounger, Teferi, Hero of Dominaria, The Scarab God, Seal Away and Lyra Dawnbringer. 4x Abrade main deck helps a lot against a lot of threats in Standard like Chainwhirler, Siphoner, Grace/Malice, God-Pharaoh's Gift, Heart of Kiran, etc. 4x Defense main deck helps against all the two for one removal that's in Standard Glorybringer, Chandra and Teferi.
Good sideboard card options to consider (in no order):
Good luck with your deck.
Load more