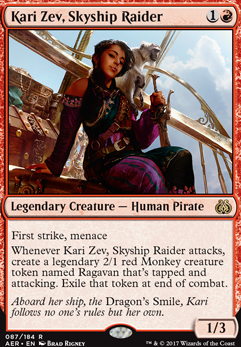 Legality
| | |
| --- | --- |
| Format | Legality |
| Pre-release | Legal |
| Tiny Leaders | Legal |
| Magic Duels | Legal |
| Canadian Highlander | Legal |
| Vintage | Legal |
| Modern | Legal |
| Standard | Legal |
| Leviathan | Legal |
| Legacy | Legal |
| Brawl | Legal |
| Frontier | Legal |
| 1v1 Commander | Legal |
| Duel Commander | Legal |
| Unformat | Legal |
| Casual | Legal |
| Commander / EDH | Legal |
Tokens
Related Questions
Kari Zev, Skyship Raider
Legendary Creature — Human Pirate
First strike, menace
Whenever Kari Zev, Skyship Raider attacks, create a legendary 2/1 red Monkey creature token named Ragavan that's tapped and attacking. Exile that token at end of combat.
Have (33)
tragic_slip , ZombieFood , Lindough , Ellyreia ,

N

e

m

e

s

i

s

,

s

i

r

b

a

r

, Snydog17 , KB2187 , darthnuchi ,

T

h

e

R

e

a

l

P

e

a

c

h

e

s

, Aquacomics , Candyman949 ,

V

a

1

m

a

r

, Lucretian , RPG_FOX ,

V

a

s

b

e

a

r

1

, gildan_bladeborn , LeroyJones , Hakira , damo_rox ,

S

p

i

n

a

l

r

i

p

p

e

r

, duff87 ,

M

T

G

h

o

s

t

C

o

u

n

c

i

l

, MathieuHarvey0555 , nakni , Cunningcrow ,

S

p

a

r

k

y

4

1

,

o

r

z

h

o

v

_

i

s

_

r

e

l

a

t

i

v

e

l

y

_

o

k

a

y

8

1

9

, teslacoil7992 ,

s

a

j

0

2

1

9

,

f

i

r

e

m

i

n

d

1

2

, Pumpkinking913 , TheRealSpecialK
Want (11)
xXThormentXx , Topher71 , greeny448 , Amagon , Hakira , bolke , LeahStormsFury , CK500 , neonneedles , jgigantic , PopeJonIII
Kari Zev, Skyship Raider Discussion
3 weeks ago
Mono-Red Chainwhirling Phoenix
This is a take on the Mono-Red Chainwhirler/Haste Aggro that is currently in standard.
its main goal is obvious, win quickly and fill the board with low cost creatures. Below are the card listings and the reasons that they are included.
any concerns, thoughts or suggestions would be appreciated before I take this to Friday Night Magic or Sunday Showdown This week.
1 month ago
Hello, I was looking over your list and have a few suggestions.
I tried playing Fell Flagship in my BR pirates list, and found it far worse than I expected. It costs 3 mana, and then after that it still has crew 2 for a 3 power boat. The only real upside then it the anthem, which is only going to add a max of 2-3 power to the board in a perfect world. More often, it will add about zero power to the board, as most people are able to keep your pirates somewhat under control, so it will only help if you're already going to win. I would try playing a much more impactful 3- or 4-drop such as Forerunner of the Coalition (He's been great for me, I know he seems subpar, but chaining them every turn in the late game gives the deck far more reach) or Dire Fleet Neckbreaker, who provides a much better anthem effect, as he buffs the turn he hits the board and doesn't require you to tap a decent number of your creatures.
The other card that I dislike to some extent is Dire Fleet Captain. I will admit that he seems like the best thing in the world when he becomes a 5/5 or so, but he will only be a max of a 3/3 on turn 3, and after that you are likely to face some removal. Now your meta might run less spot removal than mine, but I prefer a creature like Kari Zev, Skyship Raider. I'm also not too much of a fan of Fathom Fleet Captain as he tends to eat removal, but if he is working for you by all means keep him.
I would definitely try to find room in the deck for Kitesail Freebooter, as he can win games on his own. I know that at first glance he seems like an unimpactful creature, but he is far from that. Your opponent should never have more than 1 or 2 spot removal spells, so he can grab the only one, leaving them with no removal, or grab one of the two, which forces them to use the other kill spell on him. He is even more powerful when played with good timing, as if you can slam him down to grab a boardwipe the turn before it's going to be played, and then they have to spend their turn removing him to get the wipe back. I cannot tell you how many games I've won because of this guy, he is amazing.
Sorry that got kind of long...
2 months ago
@Hewer:
Thanks for the comments, glad you like the deck!
I didn't make many concessions for price with this deck so other than swapping in the Vraska's Contempts, I don't think you need to change anything up for that reason. That said, I haven't done much testing since Dominaria came out so it's possible there are places to tighten up the list. Cast Down is a pretty easy switch for Walk the Plank, for example. Of the 50 most-played creatures in Standard, the only creatures it can't kill that Walk the Plank can are Kari Zev, Skyship Raider, The Scarab God, Pia Nalaar, Lyra Dawnbringer, Ghalta, Primal Hunger, Gonti, Lord of Luxury, and Shalai, Voice of Plenty, and having to deal those using our other removal spells is probably well-worth Cast Down's upgrade to Instant speed.
To answer your specific questions:
More Torment of Hailfire: I'm running only 2 because I don't want to draw this card until later in the game. It's pretty bad with a low X-number and since we don't have ramp, we need a lot of turns of hitting our land drops before it's worth casting.
Duress: No, this card is great. You board it out sometimes but most decks play a number of important noncreature spells and being able to peak at your opponent's hand in the early game is very important for planning out sequences.
Dreamstealer: a fine card but it isn't a replacement for Duress and doesn't generally work with our artifact plan.
Dire Fleet Poisoner: I'm not very impressed by this card in our deck. You could play it and it might be fine, but it doesn't really do anything we can't do in other ways.
Sword-Point Diplomacy: I've tested this a little and have been generally unimpressed. Your opponent just has too much control.
Gifted Aetherborn: already in the sideboard, definitely better than Dire Fleet Poisoner in this deck. The life gain and extra point of toughness are really powerful against aggro decks.
Heartless Pillage: I could see this swap, but I really value being able to cycle away discard later in the game. Heartless Pillage has higher upside than Unburden but the fail-case is pretty bad. I'd say this change is up to you.
Treasure Map Flip: I've done extensive testing of Treasure Map in this deck and I do really want to include it, but I want all our other cards more. You especially can't swap it out for Renegade Map because Map is why we get to run so few lands and Treasure Map is too slow to make up for dropping even lower. If you can figure out what to cut, though, I say go ahead. The obvious choice would be Implement of Malice, but then we drop below our critical level of forced discard, and everything else serves critical purposes. There's a chance that Wall of Forgotten Pharaohs is just too cute and we'd be better served by dropping Treasure Map on turn 2, but then we're setting ourselves up for really bad game-1s against aggro.
The Eldest Reborn: Might be fine in the sideboard for matchups against hexproof decks if those are a problem in your meta. Otherwise, it doesn't have all that much synergy with our deck. I could definitely see it playing an important role in a different discard deck that wasn't leaning into the artifact-matters theme.
Cruel Reality: Kinda the same thing as The Eldest Report, except 7 mana is a lot for this deck. We'll get there eventually, sure, but not until turn 7 at the earliest, at which point I'm concerned that Cruel Reality is just too slow of a finisher. I'd probably rather just run more copies of Torment of Hailfire, which gives us way more immediate value and can easily just win us the game on the spot. Cruel Reality makes more sense in a Golgari ramp deck that wants to stick in on like turn 4 or 5 so it can start nugging the opponent during the development stage of the game.
2 months ago
I appreciate the thread but the tiers are all off. You'll have to play some brawl to figure it out, but some commanders that don't look powerful are bonkers good, such as Kari Zev, Skyship Raider and Adeliz, the Cinder Wind.
2 months ago
I like 2 Kari Zev, Skyship Raider in place of two Skinshifter because it is more of a threat by itself and for less mana, and since I added two Saheeli Rai I still have four "copy" slots left like I did in the original build.
Now I'm torn where to put the Mox. Do I stick to my guns and leave them out, or do I drop a Glorious End and a Disallow to make room for a pair of Mox Amber?
The deck is really built more around the Celebrant and Tetsuko than GE, and if I use GE in a game I'm really only budgeted to use it once as a finisher. The dream of stealing turn after turn died when it was revealed that GE gets exiled from itself so I can't reuse the same copy like I thought I could.
Load more
Latest Commander