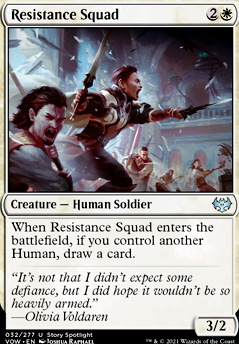 Legality
2 months ago
No, she doesn't shut down shocklands. Paying life for your shockland is not a trigger. It does not use the stack, you cannot react to it, just like you can't react to the creature type being named with a Cavern of Souls. Because the oracle text says "As ... enters the battlefield" not "When ... enters the battlefield".
It looks like the people defending her never played with Tocatli Honor Guard, Hushbringer, Torpor Orb or Hushwing Gryff and have no idea what the oracle text actually means. And Norn is worse, since it's every permanent entering the battlefield, not just creatures. Like Strict Proctor.
TypicalTimmy I looked at your Miirym deck, here's the "occasional benefits" Elesh Norn is actually going to shut down or interfere with:
That's a lot of synergy, ramp, carddraw and wincons shut down by a commander. About 1/3rd of all your nonland cards. And that deck is going to have a hard time removing her too, by the looks of it.
Now there are a few cards that get better playing against Norn: bouncelands like Boros Garrison don't return lands to hand anymore, Kroxa, Titan of Death's Hunger doesn't need to sacrifice itself, but effects like those are not enough to catch up with the Norn player.
What's this "no game-winning effects in white" everyone is talking about? Cathars' Crusade will end the game in a hurry, especially if you pair it up with something like Blessed Sanctuary. Double up on every O-ring effect. Stonehorn Dignitary will keep you alive, especially if you play Teleportation Circle and Conjurer's Closet, as one definitely will in this deck. Felidar Retreat and Emeria Shepherd with all your Land Tax effects will snowball into an enormous boardstate easily. Solitude will rule the table. Sun Titan is still one of the most played white creatures for a reason. For carddraw that white wasn't supposed to have, Spirited Companion, Carrier Pigeons, Combat Thresher, Farsight Adept, Inspiring Overseer, Mentor of the Meek, Priest of Ancient Lore, Resistance Squad, Roving Harper, Rumor Gatherer, Search Party Captain, Skyscanner, Thraben Inspector, Wall of Omens all double up with Norn. Because everyone memed that white is a bad colour, nobody seems to know what the color has to offer. It could already hold its own without such a saltmine of a card for the command zone, and if you need this middle finger to half the popular deck archetypes to even consider building it, you do you, but prepare to be avoided.
10 months ago
Stax, tax & boardwipes? Forcing your own weaknesses for others to enjoy is something white is great at. Not many great tutors? Aven Mindcensor, now neither do you. Bad at drawing cards? Spirit of the Labyrinth, now you are too. Overwhelming me with many spells I can't keep up with? Rule of Law. I don't have very efficient noncreature spells compared to other colors? Thalia, Guardian of Thraben now neither do you.
All these things are powerful, and giving white good carddraw so they can collect and stack these kinds of effects, will make white a lot more powerful, which is why it's a good thing that Rhystic Study isn't actually white, even though it feels like a white effect.
Yet, Mentor of the Meek, Dawn of Hope, Welcoming Vampire, Esper Sentinel, Bennie Bracks, Zoologist, Bygone Bishop, Thorough Investigation, even when you exclude colorless supplements, white is building a catalog of consistent carddraw anyway, especially if you consider Teleportation Circle has an array of targets to blink for carddraw in mono W as well: Spirited Companion, Inspiring Overseer, Priest of Ancient Lore, Thraben Inspector, Professor of Symbology, Resistance Squad, Search Party Captain and Wall of Omens.
Also strategy-specific stuff like Mesa Enchantress, Sram, Senior Edificer, Puresteel Paladin, Losheel, Clockwork Scholar. I think it's weird to say white can't draw cards, I'd say you're not trying hard enough if you're still complaining about that today. At least for Commander. In 1v1 formats, carddraw just isn't as important to win the game if it has to happen before turn 5.