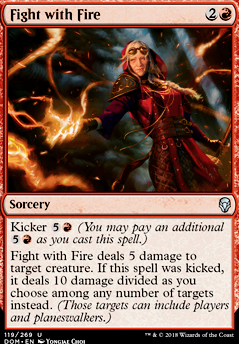 Legality
11 months ago
Ok here is my take on the budget side. TLDR: Land total and Ramp increased. A lot of subpar removal taken out, and better ones put in. Some cheaper dragons/shapeshifters added to smooth out curve and provide cheap dragon drops for commander ability. Most importantly is added some value for getting extra dragons from cards, either by creating tokens or playing them for free from hand/deck. Added in 3 additional wincons similar to Terror of the Peaks to make it easier to win just by populating board and swinging in. Note that the wincons also can serve as creature removal, which is why so many of the outs are instant/sorcery removals
2 years ago
I considered Fight with Fire but didn't have room for it. I didn't realise the The Flame of Keld was also an option, but I don't have room floor it either.
2 years ago
Here's my take on what to cut:
Elvish Aberration: 6 mana is a lot just to ramp. Cycling is nice, but doesn't directly Ramp.

Ghitu Chronicler: Again, expensive. There are much better things to do with our 6-mana

Krosan Tusker: Same as before. Expensive for what it is, doesn't directly ramp.

Magus of the Candelabra: Unless we can double mana somehow, doesn't actually ramp.

Nessian Demolok: Can be useful, but I've found tribute usually gets paid with these cards since creatures are pretty easy to deal with.

Oblivion Sower: Fun card, but just doesn't fit the deck

Treasonous Ogre: Just seems really slow to me

Valley Rannet: Same reasons as the tusker

Void Attendant: Again, just doesn't fit with the deck

Vessel of Volatility: Slow, and I honestly prefer my ramp to be repeatable

Land. I usually stick to around 36, I'd go down to there and test to see if it works out all right (Maybe 1 or 2 more since you seem to have a good amount of lands that can be sacrificed).

Chromatic Lantern: Pretty much useless in a 2-color deck. Here it's basically an Arcane Signet, but more expensive.

The Chain Veil: Not exactly useful here. You have some Planeswalkers, but not enough to really make it worth it.

Blood Feud: Too expensive for what it does. Green has a lot cheaper options

Burning Inquiry: Not a fan. Cathartic Reunion, Thrill of Possibility, Faithless Looting, etc. are all better in my opinion.

Fight with Fire: If you're going to scale up, might as well go with Banefire, Comet Storm, Crater's Claws, etc.

Processor Assault: Good value for your mana, but how often does exile come up in your games?

Sweltering Suns: Anger of the Gods is better in my opinion.

Volcanic Vision: Has potential, but I'm not really seeing a whole lot of spells that make it great.

Yawning Fissure: Doesn't fit strategy of the deck

Fiery Fall: Expensive.

Chandra, Flamecaller: Just meh in my opinion. Chandra, Fire of Kaladesh  Flip and Chandra, Torch of Defiance seem like better alternatives.
These are just my thoughts, hope it helped!
(Also, Pyromancer's Goggles seems good here.)
3 years ago
This is a good start! Here are a few suggestions.
Load more