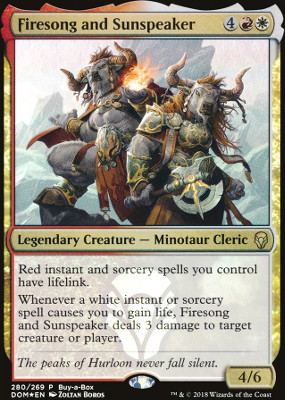 Firesong and Sunspeaker
Legendary Creature — Minotaur
Red instant and sorcery spells you control have lifelink.
Whenever a white instant or sorcery spell causes you to gain life, Firesong and Sunspeaker deals 3 damage to target creature or player.
Latest Decks as Commander
Firesong and Sunspeaker Discussion
1 week ago
I think I would more or less do the same with the commanders you have laid out so I don't have much to offer there. Instead here are some deck ideas I have planned/currently working on:
Adamaro, First to Desire: Mono-Red group hug
Barrin, Master Wizard: Modular-control deck (Arcbound Ravager)
Firesong and Sunspeaker: Angel Spellslinging
Daughter of Autumn: Damage Redirection Deck (Pariah/Vigor)
General Jarkeld: Block everything! (Hundred-Handed One)
Kentaro, the Smiling Cat: No plains in the deck, maybe cat tribal
Baru, Fist of Krosa | Korlash, Heir to Blackblade: Utilize grandeur
Korvold, Fae-Cursed King: Food token and Stuffy Doll with Gyome, Master Chef and Asmoranomardicadaistinaculdacar as the secret commanders.
Kogla, the Titan Ape: King Kong theme (2005 Peter Jackson)
Yidaro, Wandering Monster: Battle Cruiser (Unpredictable Cyclone/Sneak Attack)
Any tribal deck because tribal is my favorite
2 weeks ago
Curse of Surveillance: Yeah, one of the scarier pieces of art so far. Get some gloves!
Spellrune Painter: Not really a fan of this design; feel that there's not enough of a payoff for managing the tension between one ability that rewards you for casting multiple spells and another that rewards you for not casting.
Stuffed Bear: Haha so goofy, I love it. Kinda wish it became a 2/2 with a 1 + 1 cost tho but whatever
Sigarda's Splendor: Meh, not the hero mono-white EDH is holding out for. You've all heard the criticism of Phyrexian Arena by now, and this is both more expensive and requires you to jump trough a hoop, all while making it harder to synergize life gain with life payment.
Lier, Disciple of the Drowned: Spells, period? Were they concerned with mindless counterspelling being too efficient for card advantage? Anyway, EDH-blue got unholy abominations like Resculpt available to it, so the lack of counterspells isn't as painful as it could be. Both Dralnu and Kess have been successful in EDH, but I can't say how much Lier trading extra colors for the ability to flashback more than will hurt him. Also, the flavor text foreshadowing more lovecraftian gods feels kinda redundant with Emrakul chilling in the moon, even if it's not new.
Moonsilver Key: oof, looks like Avacyn has gone and lost her head again
Vadrix, Astral Archmage: Obviously similar to Mizzix of the Izmagnus. Similarly to Spellrune Painter, I feel the actual day/night part is kinda incidental and self-deafeating. You can use power-boosting spells as rituals. Runechanter's Pike has found a home! Also, while I mean no offense, I feel like it was a mistake to include a bald black wizard-man with a black beard, white robes and a blue jacket in the same set as Teferi. (Yes, the latter has hair on his head but it's cut very short.)
Outland Liberator: That's more like it! The front is already rubbing shoulders with Thrashing Brontodon & Caustic Caterpillar, while the back gives pretty incredible repeatable value. (Also, is the flavor of the front that she gets eaten by the wolf?)
Ludevic: Yeah I always felt that the flavor justification for Ludevic, Necro-Alchemist being red was off, the guy's so unfettered... and it looks like he's gone completly off the rails here! Despite being an absolute clusterfuck, his backside has managed to avoided Horror-typing. (And yes, Olag seems to be him and not just a new creation.) Mechanically, I feel like he's mostly a The Mimeoplasm that traded green for more self-sufficiency. He might be more useful in the 99 as a self-miller that can eventually reanimate something.
Rem Karolus, Stalwart Slayer: Meh, feels like a rehash of Tajic, Legion's Edge or a cheaper Firesong and Sunspeaker. But sure, go ahead with e.g. Earthquake, Price of Progress, and Arcbond.
Katilda, Dawnhart Headwitch: You leave my poor furries alone, they've suffered enough! Anyway, People-elfball goooo
Thraben Exorcism: StopShot, this is probably the closest you'll get to that whiteVictim of Night throwback
Dauntless Avenger: Quite nice payoff for aristocrats decks
Morbid Opportunist: I like this design, making sure something dies each turn sounds pretty fun. No nontoken clause either!
Hound Tamer: How is the flipside a "Pup"?
2 months ago
Oh yeah, forgot to apply Firesong and Sunspeaker 's trigger (knew I forgot something). As outlined above, each time a copy of Lightning Helix resolves, you have gained 12 life and 3 life, so Firesong and Sunspeaker will trigger twice (four times total). Similar to how it worked with Lightning Helix, the best arrangement of Embermaw Hellion and Fiery Emancipation will boost the 3 damage to 12 each time, so the four Firesong and Sunspeaker triggers will net you another 48 damage. If you've been keeping track, that's 72 damage total to go with your 30 life gained.
Ultimately, this is your opponent's fault for not removing any of your 5 and 6 mana combo pieces before you did this.
2 months ago
Most of the interactions you're asking about are replacement effects, so let's give those a quick run-down first. A replacement effect is written "if X, Y instead." In this case, you'll see these on Embermaw Hellion , Fiery Emancipation , and a secret one on Firesong and Sunspeaker , since lifelink replaces "dealing damage" with "dealing damage and gaining life." Replacement effects don't use the stack, and when they apply to an event you can think of them rewriting the event: This thing with lifelink deals damage (actually, it deals damage and you gain life).
So, with that out of the way, on to your question. You unattach Sunforger to cast Lightning Helix . Then you Reverberate it, so after Reverberate resolves you have two Lightning Helixes ready to resolve. When the copy resolves, it first tries to deal damage, and all three replacement effects apply. Since you control them all, you can apply them in any order you want. Lifelink can go anywhere in the order, since it's not changing any relevant numbers.
Mathematically, it's advantageous to add the 1 damage from Embermaw Hellion and then triple the damage with Fiery Emancipation, so if you apply them like that, the event now reads like this: Lightning Helix deals 3 (Embermaw Hellion: actually 4) (Fiery Emancipation: actually 12) damage (lifelink: actually 12 damage and 12 lifegain). It deals the 12 damage and you gain 12 life, then you do the second effect of Lightning Helix and gain another 3 life.
The original Lightning Helix's resolution goes the same way, so you end up dealing 24 damage and gaining 30 life. If you have other abilities that trigger when you deal damage or gain life, they'll see you dealing 12 damage twice and gaining 12 life, then 3 life, then 12 life, then 3 life (so Heliod, Sun-Crowned would trigger four times total to put a +1/+1 counter on something).
4 months ago
this deck is awesome and effective. The primer was very detailed and thank you for putting in the time to make it. I think Firesong and Sunspeaker would be strong in this deck and I think the average CMC of our deck is low enough to put it in.
Load more