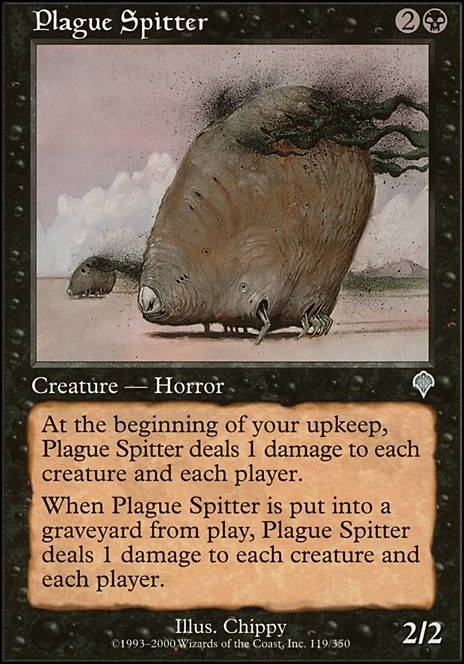 Plague Spitter
Creature — Horror
At the beginning of your upkeep, Plague Spitter deals 1 damage to each creature and each player.
When Plague Spitter is put into a graveyard from the battlefield, Plague Spitter deals 1 damage to each creature and each player.
Latest Decks as Commander
Plague Spitter Discussion
1 year ago
Engineered Plague, Contagion Engine, Contagion Clasp, Dakmor Plague, Desecration Plague, Endemic Plague, Tim Curry, Kelsien, the Plague, Necrotic Plague, Phyrexian Plaguelord, Plaguebearer, Plague Beetle, Plague Belcher, Plaguecrafter, Plague Dogs, Plagued Rusalka, Plague Engineer, Plague Fiend, Plague Mare, Plaguemaw Beast, Plague Myr, Plague of Vermin, Plague Rats, Plague Reaver, Plague Sliver, Plague Spitter, Plague Spores, Plague Stinger, Plague Wight, Plague Wind, Plague Witch, Spreading Plague, Swallowing Plague, Traveling Plague, Undercity Plague, Virulent Plague, Disease Carriers, Diseased Vermin, Exotic Disease, Quag Sickness, Spread the Sickness, Illness in the Ranks.
There, that should just about cover it.
1 year ago
You know 3n3rgy2, I thought about running Chainer but I honestly like Balthor more. It's such a powerful (though expensive) ability! And yep, it's called An Old-School Nightmare; you may have seen it before? There is also a really awesome old-school Volrath the Fallen deck I see from time to time - highly recommend checking it out if you haven't already!
PAHamster, Plague Spitter seems like it might go really well here. Gloomdrifter, Plague Dogs, and Death's-Head Buzzard also might be useful if you have reiable sac outlets. I use them as dusters in my own deck :)
1 year ago
DeinoStinkus Thank you. I have considered Lightning Bolt but opted to use Abrade instead as it offers more versatile and answers more threats. Mana Vault was also considered but to get the ball rolling we really need our commander out and the pips make generic rocks not as good; granted, we could ramp into a nice pay off eldrazi but for the most part I wanted colored rocks. Spawn of Mayhem may replace Plague Spitter after a bit of testing; admittedly I'm not a huge fan of the art on it - but this is meant to be an optimal deck so it could see an inclusion eventually. Rift Bolt is way too slow and doesn't do enough. Perhaps you meant Flame Rift?
1 year ago
So happy to see someone build a commander deck exclusively with old school frames, especially black which has the best old frame IMO. I have a five color Karona, False God deck with the same theme myself :)
Only suggestions I can offer are Cuombajj Witches, Unnatural Hunger, Plague Spitter, Cabal Ritual, and Last Laugh.
Subbing to this deck as it has given me ideas to maximize the old frame cards in my own mono-black deck.
1 year ago
Curve looks a little high without much ramp or fixing. Maybe something like Loam Dryad and Ulvenwald Captive  Flip can help out with that if you're not looking to run more traditional ramp.
Some other on-flavor options to bring the curve down a bit are Wharf Infiltrator (also lets you ditch higher-costed cards you might not be able to use for value and recur with your Hell's Caretaker) and Plague Spitter. Woe Strider is a nice piece of recurrable value that helps you smooth your draws a bit.
Fleshwrither is a nice utility horror that lets you go search for pieces like Hell's Caretaker or Ravenous Chupacabra.
And while it may not be as budget, Phyrexian Revoker helps you answer some threats from across the board.
Happy haunting!
Load more