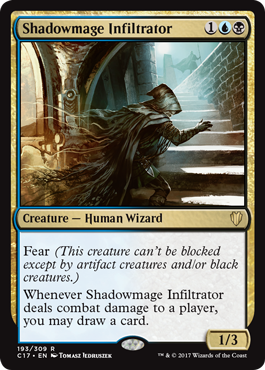 Shadowmage Infiltrator
Creature — Human Wizard
Fear (This creature can't be blocked except by artifact creatures and/or black creatures.)
Whenever Shadowmage Infiltrator deals combat damage to a player, you may draw a card.
Browse Alters
View at Gatherer
Trade
Legality
| | |
| --- | --- |
| Format | Legality |
| Commander / EDH | Legal |
| Legacy | Legal |
| Tiny Leaders | Legal |
| 1v1 Commander | Legal |
| Canadian Highlander | Legal |
| Oathbreaker | Legal |
| Modern | Legal |
| Casual | Legal |
| Block Constructed | Legal |
| Custom | Legal |
| Highlander | Legal |
| Duel Commander | Legal |
| 2019-10-04 | Legal |
| Limited | Legal |
| Leviathan | Legal |
| Vintage | Legal |
| Unformat | Legal |
Shadowmage Infiltrator occurrence in decks from the last year
Latest Decks as Commander
Shadowmage Infiltrator Discussion
7 months ago
I have a few notes here.
Crumbling Necropolis is a tap land, and, for a rather swift game plan of aggro, this is a large detriment. I'd recommend more basics in their place.
The curve is quite low, thence twenty-four lands is a little much. I'd cut 2-4 lands and try some removal. Unsummon, Terminate, Brazen Borrower, or Fatal Push could be better. Lightning Bolt would probably be best.
Unearth is a little odd here. Perhaps a mere two copies? It doesn't work well with this proactive gameplan.
Shadowmage Infiltrator is a late-game engine that allows this to sustain card draw, but is three mana and doesn't do much early. Try two copies.
Knight of the Ebon Legion could be fine. Pump it after blocks and the Calvalcade's attack trigger, hit for far more.
I'd put in Scorch Spitter. It seems to do well.
Tetsuko Umezawa, Fugitive is legendary and doesn't stack due to this. I'd go down to three.
Servant of Tymaret is useless. Do not run this. Put in some Gingerbrutes.
Thar it be. Good luck!
10 months ago
Hi, welcome to edh!
First off, I want to say I think the deck looks great so far! I've been playing Yuriko for about 8-9 months now, and here are some things I'd suggest:
12-16. Inkfathom Infiltrator, Invisible Stalker, Quickling, Shadowmage Infiltrator, and Spark Double aren't good enough to justify their mana cost in my opinion. Some replacements I would suggest are Changeling Outcast, Dimir Infiltrator, Gudul Lurker, Mist-Cloaked Herald, Tormented Soul, and Baleful Strix
I hope this was helpful! If you want to check out my Yuriko deck, the link is https://tappedout.net/mtg-decks/26-07-19-yuriko-edh/
Don't hesitate to ask if you have any questions!
1 year ago
Azeworai Thank you! All these sound great in this deck. Shadowmage Infiltrator would be perfect for some draw, which I can use, and also themes perfectly. Spinal Embrace would be crazy! Especially since my playgroup likes to play big creatures. lol And Life's Finale would give me so much more options. Something like Animate Dead would really make that card shine. Great suggestions! Thanks
1 year ago
Love the flavor here. Usurp the opponents, seize the crown.
Life's Finale could be interesting to manipulate an opponent's graveyards and sculpt a strategy. Spinal Embrace is a fun one for me, but it's personal preference. Shadowmage Infiltrator could be potent, but 'tis personal preference.
May you connive well, enshrouded by gloom and unseen by all.
1 year ago
Alrighty I'm back home and here we go!
Decks added:
Load more