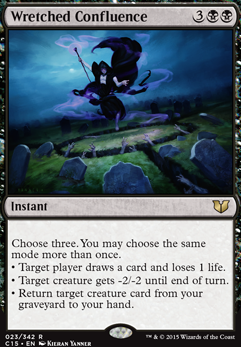 Legality
| | |
| --- | --- |
| Format | Legality |
| 1v1 Commander | Legal |
| Vintage | Legal |
| Pauper | Legal |
| Legacy | Legal |
| Duel Commander | Legal |
| Casual | Legal |
| Commander / EDH | Legal |
Related Questions
Wretched Confluence
Instant
Choose three. You may choose the same mode more than once.
Target player draws a card and loses 1 life.
Target creature gets -2/-2 until end of turn.
Return target creature card from your graveyard to your hand.
Wretched Confluence Discussion
1 month ago
Alright, understandable. The way I look at any deck is I give myself a set number of cards for each type or what each card offers. So since you want Treefolk/fatty bootied plants, I'd go with... 25 "theme" cards. 35 lands is my go to which would put you at 60 cards with the rest being support/fill. Of those remaining 40 I'd go, 5 wipes 5 spot removal, 10 draw, 10 ramp, and 10 general support. Of course you can tweak those numbers however, but it's good to have a basis. Once you start doing that you might realize you're going total overkill on one category and swapping cards around isn't as hard as it was (sometimes it is harder though lol).
All that said, a rough list I'd go with is something like this (again this is your deck and by all means take this with a grain of salt and/or ignore it if you see fit):
Regardless of what you do with any/all of that, good luck and hope you enjoy playing your deck!
1 month ago
Chaotic Confluence
Instant
choose three. you may select the same option more than once
Each player sacrifices a creature.
Each player sacrifices an artifact.
Each player sacrifices a land.
Make this a cycle of guild-color confluences. Templating should be based off of Mystic Confluence, Wretched Confluence, etc.
2 months ago
I actually like this build a lot, it seems pretty functional already! Lots of fun little interactions and ways to abuse your lifegain.
That being said, here are my suggestions:
First, you need more sources of card draw - at least a couple more. Harmonize, Ambition's Cost/Ancient Craving, Erebos, God of the Dead, Damnable Pact, Bloodgift Demon, Harvester of Souls, Painful Truths, Promise of Power, and Wretched Confluence are all good options. Decree of Pain pulls double duty in being a board-wipe and a hand-refiller!
In order to make room for a couple of those, I would cut Ghostly Prison and Faith's Reward. For Ghostly Prison, you're already padding your life total a lot, so that will mitigate any attacks coming your way. Additionally, you're playing a lot of big, scary stuff that people aren't going to want to swing in to anyway. It doesn't really seem to go with the gameplan of the deck. With Faith's Reward, I've always found this card to underperform. In a permanent-heavy deck like this, very rarely are you going to want to hold up 4 mana on the off-chance that your opponent uses a boardwipe. And even if you wanted to use this in conjunction with your own, that's a minimum of 8 mana right there. There are better things to be doing at that stage of the game. I can just foresee that a lot of the time, that card will be a dead card in your hand.
Another thing that sticks out to me is that you have a LOT of high-CMC creatures. In fact, of all your creatures currently in the deck, only 5 are below CMC 4. You may want to consider eschewing some of those bigger CMC creatures for smaller ones that will help you out - stuff like Soul Warden, Soul's Attendant, Essence Warden, maybe Ayli, Eternal Pilgrim. You don't want to get stuck with an empty board by the time Ikra Shadiqi hits the board!
2 months ago
Okay, so I like the ramp that is in there, but I think you could leverage some things for late game that aren't currently in the deck, mainly Songs of the Damned, but in that vein, you should probably have a Dark Ritual or something akin to that in there too.
I think you'll need some answers if someone smacks you with a Melira, Sylvok Outcast or Thief of Blood (you know I have both lmao). With that, you could add a few from: Ultimate Price, Victim of Night, Terror, or Dark Banishing. If you really want a end-game winning spell, there is also always Plague Wind, but I really doubt you'll need it. I think you'll be wiping out most stuff pretty easily.
Things you have in your maybe board that I think are worth it: Deity of Scars, Awakening Zone, and Grim Affliction.
I think you can safely cut: Tamiyo's Journal, Tireless Tracker, Regal Force, From Beyond, Zulaport Cutthroat, and Wretched Confluence.
I get the appeal of the snake tribal. If you want to expand it, there's Snake Pit and Sakura-Tribe Elder. But, as it is, I think cutting it honestly wouldn't hurt you too much. Otherwise, I think you should expand it to really take advantage of tribal (Coat of Arms type things).
Other things I thought of looking though this you could add: Traverse the Ulvenwald, Mycoloth, Verdant Force, Regrowth, and Pathbreaker Ibex.
2 months ago
@ frwtr1968 Love the deck so far! It seems like a very fun and efficient mix of ramp, stax, sacrifice effects and reanimation! Normally, I would suggest adding some more ramp, but honestly I think you are pretty good! However, 37 lands for a deck with an average cmc of 2.86 is a lot and I would suggest cutting a land or two and adding in some more mana doublers like Nirkana Revenant and Magus of the Coffers to help ramp you (I would lower your land count to 36 lands if it was up to me, but 37 is just fine too). Nirkana Revenant is also a great finisher if you can somehow manage to get it through unblocked with something like a Whispersilk Cloak! The only thing I am struggling with is how you plan to win the game. While winning through attrition and recursion is definitely possible, I feel like you deck lacks staying power late game. Since you have a bunch of 1/1s and 2/2s, you aren't really winning through combat damage, and since you don't have any infinite combos (that I can see) you can't threaten to combo off and win that way. I would personally recommend adding in at least one infinite combo, a few more tutors and some more sac effects to help you win the game easier! In particular, I would recommend including the Mikaeus, the Unhallowed + Walking Ballista/Triskelion combo to close out games that go long. In addition to being a combo piece, Mikaeus, the Unhallowed is an amazing value engine that provides redundancy in terms of recursion and synergizes with Black Sun's Zenith! Another way to increase the power level of your deck is to add more tutors. Some tutors that are underused and would work great in your deck are Diabolic Intent, Increasing Ambition and Beseech the Queen. Lastly there are a TON of cards that synergize with your sacrifice theme (of permanents in general, not just creatures) or that benefit from creatures dying, that I think warrant some serious consideration. It don't have time to explain them all, so I will just provide a list and let you decide which ones to include! Alright, here are the cards I think should probably be in your deck: Fume Spitter, Tree of Perdition, Toxic Deluge, Death Cloud, Deathgreeter, Demon of Death's Gate, Ob nixilis, the unshackled, Ob Nixilis of the Black Oath, Weaponcraft Enthusiast (amazing reanimation target), Nezumi Bone-Reader, Malicious Affliction (Best removal for your colors!), Exsanguinate, Lake of the Dead, Bitterblossom (a must include in my opinion), Tragic Slip, Darksteel Plate (to protect Shirei), Hope of Ghirapur, Champion's Helm (same reasoning as Darksteel Plate), Bone Splinters, Killing Wave, Ashnod's Altar, Altar of Dementia, Waste Not, Cryptbreaker, Strionic Resonator (Does double Shirei triggers sound fun?!), Wretched Confluence, Entomb, and Champion of Stray Souls! Anyways, I know that's a lot of suggestions and a lot of information to take in, but I figured I should give you all the advice I have and let you decide what to do with it! Feel free to ask me for more advice or suggestions if you need to. Good luck with this amazing deck!
4 months ago
The deck seems pretty solid. I think it has a few too many spells near the top end and would some more value creatures lower but overall seems like a great job! Meren is a lot of fun and powerful. Your style of play is a little more stax heavy which some people may not like, but good decks should be able to deal with it. If you feel like it gets too powerful, take out 1-2 (not all) cards that make your opponents have to sacrifice their creature
These cards are a little bit more expensive but I think they are all excellent pick ups and will help bring your deck to a new power level. They are also likely going to keep rising in power as well. I think your deck needs a better early game ramp package because a Meren on turn two or even 3 is backbreaking. All decks should have graveyard hate or board wipes to stop opponents who may be ahead of you.
High Market A good way to stop your opponents from exiling something. If they were to exile with Anguished Unmaking or Reality Shift use this land's effect in response and goes to graveyard instead of exile.
Deathrite Shaman A great way to stop other graveyard shenanigans.
Phyrexian Arena One of best draw spells in format. Drawing two cards while your opponents only get 1 puts you so far ahead. The life you lose is not important at all in our 40 life format.
Animate Dead Really good recursion spell that is usually used to grab something from an opponents graveyard.
Demon of Dark Schemes Board wipe on a creature that can also reanimate is very good.
Gray Merchant of Asphodel This card wins games and can help you when you are in a losing situation.
Beast Within One of best removal spells in the game.
Dread Return Great recursion spell that can be used twice.
Temple of Malady Good value card that gives you colors and helps get away cards you don't want at the top of your library.
Bojuka Bog Need to be able to stop other graveyard decks your opponents might be doing.
Elves of Deep Shadow the lifegain doesn't matter and being able to give you another color is soo good.
Scavenging Ooze Need to be able to stop other graveyard decks your opponents might be doing.
Spore Frog Good way to stop other creature decks that are faster than yours.
Shaman of Forgotten Ways Both a good way to ramp and also can be a win con if opponents have no creatures.
Victimize Great recursion spell in case Meren is not in play.
Viscera Seer Great sac outlet that also helps you draw to something useful.
Westvale Abbey Flip Both can provide creatures and get a indestructible creature that can turn the game around
Cultivate Great ramp card that also replaces itself.
Kodama's Reach Great ramp card that also replaces itself.
Black Sun's Zenith board wipes for when you are behind
Crux of Fate board wipes for when you are behind. This one is bad, but very cheap.
Life's Finale board wipes for when you are behind
Decree of Pain board wipes for when you are behind
Exsanguinate Extra win con for when you can get in with damage Propaganda effects. Really good with a board full of creatures and Ashnod's alter
Birthing Pod Helps you deck progress it's board state while adding to Meren's experience counters
Cards I would remove are ones that are less synergystic with the theme of your deck and/or have very little utility other than being big beaters.
Champion of Stray Souls Not a bad card, but I think it is a win more card. If you want to bring back creatures I would recommend Chainer, Dementia Master over this one as it costs less mana to cast and use its ability. But not bad.
Viridian Emissary requires another sac outlet to get value and you would rather have a cultivate or a Llanowar Elves than this.
Thief of Blood Useful against planeswalkers decks mostly but Vampire Hexmage does the same thing and cheaper.
Satyr Wayfinder Creatures that cause you to overextend into your graveyard. not bad but better ways of getting lands.
Caller of the Pack Creatures are just big beaters but have no value.
Scourge of Nel Toth Creatures are just big beaters but have no value.
Banshee of the Dread Choir Creatures are just big beaters but have no value.
Wretched Confluence Too costly for it's effect
Cloudthresher Not a good way to get rid of fliers
Bonehoard Better options to cast at 4 mana
Dread Summons card seems good but never works out in practice. Cannot use multiple times and only gives you a few zombies.
Corpse Augur better options to be playing at 4 mana
Phyrexian Plaguelord Better options to be playing at 5 mana.
Diabolic Servitude I think Animate dead is better. Cheaper to cast, and does not exile.
Powerful cards that are sweet to trade for (as in will always have value for a commander player imo). However these are over 5 bucks in some cases and may be better to trade up or I don't think are going to rise up in price in the next few months.
Birds of Paradise one of the best one drops you can play.
Avenger of Zendikar closes out many games very quickly.
Overgrown Tomb Great land that helps give you your colors and when you eventually get fetch lands you can find it. That being said, Windswept Heath can grab this for you and was heavily printed. Lands are always good things to pick up as they keep their value compared to any other card as they are used in every format.
Grave Titan One of the best 6 drops of all time
Panharmonicon Good in any deck that Enter the Battlefield effects
Leyline of the Voidcreatures in black in the 6-drop spot.
Toxic Deluge One of the best board wipes. Cheapest in converted mana cost and life is not important for how much damage it will usually save you from.
Sheoldred, Whispering One This creature is such a house. Hurts opponents and helps you.
Buried Alive a great tutor effect for your deck as your graveyard is an extension of your hand.
Noxious Gearhulk A pretty decent way to gain life and stop opponents
Erebos, God of the Dead Allow for a way to stop opponents life shenanigans and draws cards.
Kalitas, Traitor of Ghet is another way to stop graveyard shenanigans of opponents. He cost a lot because of standard so I would wait until he rotates.
Load more