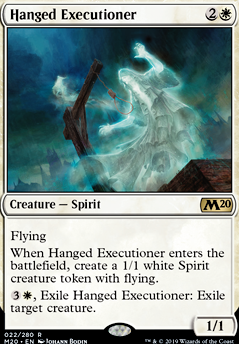 Legality
| | |
| --- | --- |
| Format | Legality |
| Pre-release | Legal |
| Tiny Leaders | Legal |
| Magic Duels | Legal |
| Canadian Highlander | Legal |
| Vintage | Legal |
| Modern | Legal |
| Arena | Legal |
| Standard | Legal |
| Pioneer | Legal |
| Leviathan | Legal |
| Legacy | Legal |
| Brawl | Legal |
| 1v1 Commander | Legal |
| Duel Commander | Legal |
| Oathbreaker | Legal |
| Unformat | Legal |
| Casual | Legal |
| Commander / EDH | Legal |
Hanged Executioner
Creature — Spirit
Flying
When Hanged Executioner enters the battlefield, create a 1/1 white Spirit creature token with flying.
, Exile Hanged Executioner: Exile target creature.
Hanged Executioner Discussion
1 month ago
I think you should define the route you plan to take the deck. Two ways I can see building would be to play Control, OR play aggressive fliers. Melding the two might make it harder to achieve what you're going for. With that being said, I have a few suggestions:
If going the aggressive fliers route, I would definitely be sure to include cards such as Healer's Hawk , Faerie Miscreant , Hanged Executioner and Spectral Sailor . The value these add is pretty good on their own, and combo with your "lords" or anthem effects of Empyrean Eagle and Sephara, Sky's Blade . Casting Sephara, Sky's Blade for 1 mana is the main goal in this style of build, and packing the deck full of cheap fliers is your best chance of success. Consider cards like Winged Words and Rally of Wings to keep up the pressure. On my profile I have an example of this type of build intended to be budget for playing in paper if you need some inspiration.

If planning to play a more control route, I would focus more on playing counter magic. Cards like Absorb , Negate , and Essence Capture all help you proactively stay ahead on board, allowing you to slowly get in chip damage over time. Cards like Teferi, Time Raveler , Narset, Parter of Veils and Hushbringer serve to hinder your opponent's ability to interact with your game plan as well. I would ditch some of the lower curve plays such as Healer's Hawk and Faerie Miscreant in favor of Pteramander and Spectral Sailor . The later two provide you with something to do with your mana on your opponents turn, as in this control shell you would be ideally be holding up mana for counter spells. Now to finish off the game, you would ideally like to play something you opponent will have a hard time stopping. Cutting Sephara, Sky's Blade in favor of Angel of Grace or Dream Eater will allow you to hold up mana to flash a creature in on your opponents turn, and effectively provide the same benefits that Sephara, Sky's Blade would at a discounted mana cost. In this style of build, prioritize removal such as Prison Realm over anthem effects as they will provide less of an overall benefit to the strategy.
I hope this helps guide your deck building into a more focused direction. Let me know if you need any more help!
No data for this card yet.