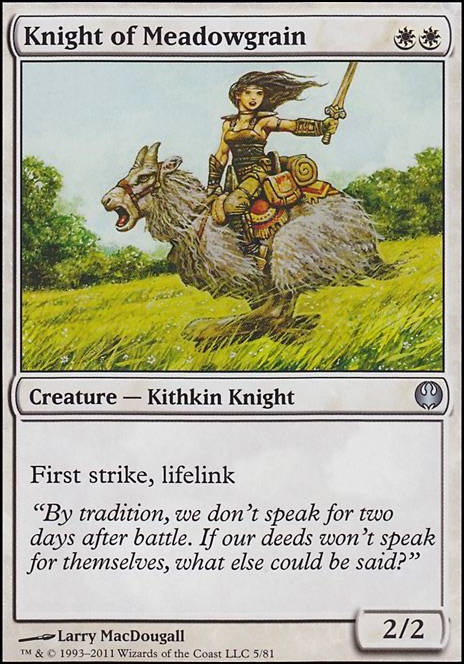 Legality
| | |
| --- | --- |
| Format | Legality |
| Pre-release | Legal |
| Noble | Legal |
| Leviathan | Legal |
| Magic Duels | Legal |
| Canadian Highlander | Legal |
| Vintage | Legal |
| Modern | Legal |
| Vanguard | Legal |
| Legacy | Legal |
| Archenemy | Legal |
| Planechase | Legal |
| Duel Commander | Legal |
| Unformat | Legal |
| Casual | Legal |
| Commander / EDH | Legal |
Knight of Meadowgrain
Creature — Kithkin Knight
First strike
Lifelink (Whenever this creature deals damage, you gain that much life.)
Knight of Meadowgrain Discussion
1 day ago
In my opinion, Hero of Bladehold and Gideon, Ally of Zendikar set the bar exceedingly high for White Weenie 4-drops. Every other current 4-drop can't measure up to what they can accomplish:
Light from Within: Gideon trumps it by being an anthem or a threat depending on the situation. Light also can't boost Mutavault or tokens.

Wilt-Leaf Liege: Hero attacks harder with multiple bodies and can similarly pump other Knights with its battle cry trigger. Not every deck uses discard. Liege's replacement effect won't be relevant every game.

Kinsbaile Cavalier: I like to have my 4-drops to be effective by themselves so that they can still keep me in the game if my earlier creatures are hit with heavy removal. Cavalier requires other Knights, otherwise it's an unimpressive creature. Compared to what Hero and Gideon are capable of, Cavalier isn't that great. Silverblade Paladin also curves better than Cavalier after a leveled up Student or a 2-drop Knight.
-
Student of Warfare is the one of the best White Weenie 1-drop ever printed. It may take an additional mana investment, but it's worth having a flexible creature for every stage of the game:
It becomes a 3/3 first striker on Turn 2, putting heavy pressure on opponents early game.
It acts like a 3 mana creature after the first few turns.
It can be a lone, double striking threat in the mid-late game.
The same can't be said for Knight of Meadowgrain.
-
Aether Vial will never be a part of this deck. If you look at the top Vial strategies:
5c Humans is an all-creature deck that uses Vial to spam bodies.
U/x Merfolk is loaded with 2-drops and uses the mana not spent on creatures to cast countermagic, Spreading Seas, and other forms of disruption.
This deck doesn't do any of that. My creatures' CMCs are too varied, there aren't enough creatures for Vial to begin with, and this deck has a low amount of disruption. Shoehorning Vial isn't going to make the deck better, and changing the deck to accommodate Vial isn't the deck I want to play.
-
Using sweepers in a Weenie Aggro deck is insanity. Knight Exemplar is in the deck to boost my Knights, not an excuse for questionable card choices. If Exemplar is left unanswered, then it takes over combat.
-
Another thing, why so many 2-ofs? Mono-White has the worst card draw and selection. All of those 2-ofs would lead to an inconsistent mess.
2 days ago
I have a similar deck and love it. Although a main card I use is Light from Within as a 2-of.
Also Wilt-Leaf Liege as a 2-of at the top end really helps against decks running Lilliana of the Veil as well as having an immediate impact on the board compared to Hero of Bladehold
Kinsbaile Cavalier as a 2-of over Silverblade Paladin seems like a no-brainer, and one other main addition is to cut a 2 lands, a Fragmentize, and a Dismember for 4 Aether Vials. Being able to instant-speed drop a liege, Calvallier or a Knight Exemplar really can mess things up for the opponent.
Personal perference but I've found Knight of Meadowgrain to be a nice 2 of instead of 2 Student of Warfares. Students are the only 1-drop but the mana needed to invest in them doesn't seem worth it especially how easily they get killed right after. Adding Aether Vials really helps having a turn-1 play, and cutting down to 2 Students still gives Vial on 1 to have a chance to hit.
Also consider having a board wipe such as a Wrath of God if you can manage to stick a Knight Exemplar it's just bonkers.
1 week ago
Definitely needs some Knight of Meadowgrain, probably over the Skyhunters.
Mirran Crusader is an absolute beast; protection from a color known for removal, and double strike is brutal with all your anthems/lords.
If you plan on making a sideboard, Pentarch Paladin is good facing against other monocolored decks.
Stillmoon Cavalier seems interesting, but never played with it before, so I don't know if I would recommend it.
1 month ago
@TheDuggernaught - This is a very rough list. I'm not glued to two colors but I at least want w/b. And yes necrogen mists is in place of LotV. If i'm building a deck I am even slightly considering I try to keep it somewhat budget. Court Hussar is very interesting if I can repeat its effect multiple times. Ethersworn Adjudicator seems it could be too much mana for this deck but perhaps not. I think I'm leaning more towards the blue splash as it's more interesting and that's usually what I try to do when making homebrews. Green is probably more practical but meh who cares. Knight of Meadowgrain is in for lifegain that is hard to remove with haakon in our grave.
2 months ago
Probably could replace those Chord of Callings.
Also, 4x Crusaders is better than running Silverblade and Fiendslayer.
Plus 1 for knights
2 months ago
Hey, I recommend more two and three drop Knights, additional mass protection for Knights, anthems and some ETB untapped dual lands.
Here's some budget (each card $3 or less) suggestions:
Consider reducing the mana curve? Get more Knights into play faster making anthem effects better. Spirit and Escort are not Knights, but they can sac themselves to protect Knights from a board wipe or removal. Both can be reanimated with Sun Titan. Entity is a Knight(Changeling) and very powerful for tribal strategies, it can be a massive anthem.
Cards too consider cutting:
Angelic Arbiter
Exquisite Archangel
Cloud Crusader
Reverse Damage
Hallowed Burial
Consulate Crackdown
Guilty Conscience
Spirit Mantle
Orbs of Warding
Isolation Cell
Damping Matrix
Whispersilk Cloak
Veilstone Amulet
Wildfield Borderpost
---
Due to the overwhelming amount of cards especially Knights with double white in their mana cost I suggest for the manabase cutting all Forests, but one. In their place consider more Selesnya dual lands that can ETB untapped: Command Tower, Canopy Vista, Fortified Village, Sungrass Prairie? Evolving Wilds and Terramorphic Expanse can also fetch a Forest or a Plains. Tower is a must add for only $1 it's one of the best lands in Commander.
Good luck with your deck.
Load more